AUSTIN, Texas — The Uvalde school shooter wrote 'LOL' in the blood of his victims on a classroom whiteboard, a Texas lawmaker revealed at an emotional hearing with victims' families late Tuesday.
The revelation from Texas House Rep. Joe Moody, D-El Paso, who took part in an investigation of the attack, prompted family members of the slain children and teachers who were in attendance to gasp and openly sob.
"The attacker scooped up the blood of his victims and smeared it into his disgusting message," Moody said. "What he wrote in innocent blood next to that (whiteboard) was the phrase, 'LOL'."
The new detail came hours into a hearing of a state House committee that started Tuesday morning and stretched past midnight, with families waiting for hours to testify and plead for stricter gun laws.
The committee is considering a bill that would raise the age to purchase certain semiautomatic rifles from 18 to 21. It's legislation that the families and their supporters say they most want passed in response to last year's massacre, but which has languished in the face of opposition from Republicans, led by Gov. Greg Abbott.
When their chance to testify finally came, after nearly 13 hours of waiting, the families angrily pleaded with the Texas legislators to do something. Through heavy tears and visible anguish, they testified about their ongoing grief, questioned whether they could have done something to keep their children alive and expressed frustration that they have not seen action on guns from state leaders.
"My daughter tried to buy Super Glue at Walmart the other day and was flagged as being under 18 … What's wrong with this picture?" said Javier Cazares, who lost another daughter, 9-year-old Jacklyn Cazares, in the shooting.
"I saw my daughter draped in a white sheet, cold and alone in an operating room," he said, in a tearful voice.
Several family members testified that had the age restriction bill been the law before May 24, 2022, the day of the mass shooting, their children would still be alive.
Kimberly Rubio, mother of Alexi Rubio, chided the committee members through her sobs.
"We waited for 13 hours" to testify she said. "Did you think we'd go home?"
She asked whether they had watched the coverage of the shootings?
"Did you imagine what it would feel like to bury your child?" she asked. "Sit with that image as we do because only when you imagine will you as lawmakers take the necessary action, including voting for" the bill.
Had 21 been the minimum age to purchase the gun a year ago the attacker would not have been able to purchase the semiautomatic weapon "he used to murder our daughter and 20 others eight days after his 18th birthday," she said.
The bill was introduced by state Rep. Tracy King, D-Uvalde. He said had it been introduced in the last session of the Texas Legislature, which meets every two years, he would probably have voted against it. But "everything changed" when the 18-year-old shooter walked into the classrooms in Uvalde and killed 19 children and two teachers.
"That changed my life," he said.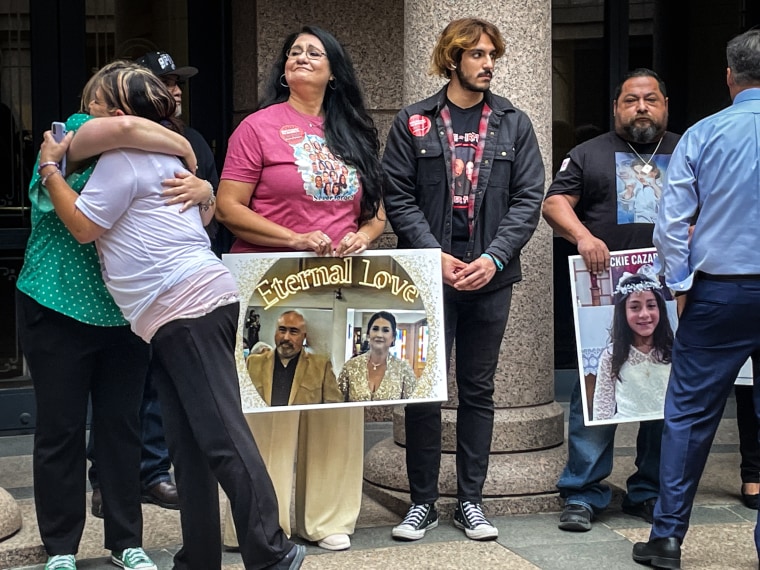 King's bill specifies that the age would be raised for purchases of a semiautomatic rifle with a detachable magazine and with a caliber greater than .22. The bill exempts police, members of the military or anyone honorably discharged from the military.
The proposal also drew several witnesses who spoke in opposition, including a regional lobbyist for the National Rifle Association.
They gave a range of reasons for their objections, from the Second Amendment to saying that the bill would be litigated and found unconstitutional.
Stephen Willeford, who helped disrupt the shooting at a church in Sutherland Springs, Texas, that killed 26 people in 2017 by confronting the gunman with his own rifle, also testified against the bill.
"If you think he (the shooter) couldn't have found a gun other ways or waited until he was 21 to do his murder spree you are wrong," Willeford said.
The hearing continued into the early hours of Wednesday morning.
Weary parents hold smiling pictures
Several Uvalde families have been working for months to change Texas laws on guns, waging an uphill battle despite the state suffering multiple mass and school shootings.
The families' weariness was as visible as the smiling faces of their slain children on the T-shirts they wore or on the placards they carried into the halls of the Capitol hearing room.
Cazares said he has been to the Capitol too many times for him to remember how many. He started June 10, 2022 for a March for Our Lives rally — just after the first marking of his daughter's birthday since her death.
Cazares is a gun owner and said he isn't trying to persuade anyone to give up their guns. He was one of the first parents who spoke up and challenged Texas law enforcement's original story about how authorities responded to the shooting.
Tuesday's meeting also came in the wake of another series of mass shootings that have shaken the U.S. and reopened debates over gun violence across the country.
Legislative processes tend to be slow, but Tennessee Gov. Bill Lee of sped things up recently.
He signed an executive order strengthening background checks about two weeks after the March 27 shooting at The Covenant School in Nashville where six people, including 3 children, were killed. Tennessee's legislature had been considering bills easing gun laws before the shooting, which has thrown their future into uncertainty.
"It isn't right that these folks should have to work this hard to change something and to have something done. And it isn't right that you should have to come up here session after session … and not have these lawmakers listen to you," state Sen. Roland Gutierrez, D-San Antonio, said at an impromptu rally while the parents and family and friends stood nearby.
With the one-year anniversary of the Uvalde shooting approaching on May 24, some families said they are trying to focus on May 29, when the Texas Legislature is scheduled to go home.
They can't stop the anniversary of the horrific day from coming, they said, but they still hope they can change the hearts and minds of some Texas lawmakers.