With the spread of the coronavirus, 2020 was a year of uncertainty. In the United States, it was also a year of record gun sales. Even people who had never owned a firearm made their way into gun stores.
Roughly 40% of gun sales in the first four months of 2020 (pandemic lockdowns in the US began in March) were made by first-time buyers — far higher than the annual average of 24% over the past 20 years, according to the National Shooting Sports Foundation, a trade association that tracks gun sales.  
There are a variety of reasons as to why so many people in the US are buying guns. For Erin Palette, it's self-defense.
"There are people who wish to end my life because I am queer," said Palette, the national coordinator of the Pink Pistols, an organization that advocates for LGBTQ gun owners, in an email to DW. "Guns allow me to defend my queer life."
She believes it's crucial that a person's right to own firearms isn't infringed upon. "People want guns to protect themselves and their families in a crisis where the police may be late to arrive," she wrote.   
Guns and ammunition have been highly sought-after in the pandemic, like at this gun store in Culver City, California
No significant changes since Parkland shooting
On the other side of the spectrum, gun-control activist groups like Everytown for Gun Safety and its grassroots networks, Moms Demand Action as well as Students Demand Action, are lobbying for stricter laws to curb gun violence, which they say kills more than 100 Americans a day and injures many more.
"In an average month, 53 American women are shot to death by a partner. I have watched this issue in this country for too long," Shannon Watts, the founder of Moms Demand Action, told Forbes.
In 2018, there was a big push for stricter gun laws after the February 14 school shooting in Parkland, Florida. On Valentine's Day of that year, a former student walked into Marjory Stoneman Douglas High School and shot and killed 14 students as well as three staff members. In the aftermath, the Democratic majority in the US House of Representatives passed tighter firearms legislation ― which was then blocked by the Republican-controlled Senate at the time.
On the third anniversary of the shooting on Sunday, President Joe Biden announced that his administration would try again. He praised the Parkland students, who in 2018 organized the March for Our Lives protest in Washington, DC, that sparked satellite marches around the world, saying young people like them are shaping US history and demanding change.
"This administration will not wait for the next mass shooting to heed that call," Biden said in a White House statement. "We will take action to end our epidemic of gun violence and make our schools and communities safer… The time to act is now."
Opposition to assault weapons ban likely
The president in his statement called on the House and the Senate to pass "commonsense" gun law reform. Biden suggested measures such as background checks on any and all firearm purchases; banning assault weapons like the AR-15, which has been the weapon of choice for perpetrators of mass shootings, including in Parkland; and banning high-capacity magazines.
Biden cannot instate these proposed regulations himself ― that's where Congress comes in.
"Now that the Democrats have won the House and the Senate (if we count the tie-breaking vote), it looks like he has a fair chance of getting serious legislation passed," Claire Boine, a researcher at the Boston University School of Public Health and an expert on US gun culture, wrote in an email to DW. 
Boine believes that universal background checks are likely to become law, but that a ban on assault weapons is a lot harder to achieve. "Gun owners usually oppose these policies because they don't think they are fair," she wrote in her email. "They support preventing criminals from getting guns. However, they oppose any legislation that restrict their own access to certain firearms."
The US: More guns than people
The US is famous for the passionate relationship the country has with guns. There is no federal registration requirement, so no one can say with certainty how many handguns there are in the US. But according to a 2017 Pew survey, 42% of Americans said they lived in a household with a gun. And the Switzerland-based Small Arms Survey estimates that US civilians own 393 million handguns. With a population of roughly 331 million people, that means the US has the most firearms per capita worldwide: 120.5 firearms for every 100 people.  
Deaths from gun violence are more prevalent in the US than they are in similarly developed nations. In 2017, there were 4.43 deaths per 100,000 people that were caused by gun violence in the US, according to a report by University of Washington's Institute for Health Metrics and Evaluation. That's far from the highest rate in the world ― that sad record is held by El Salvador with 43.11 deaths from gun violence per 100,000 people.
But in developed nations other than the US, the rates are far lower: In Germany, it stood at 0.10 in 2017, in Japan it was at 0.04. According to the Small Arms Survey, these countries have significantly fewer guns than the US, too. In Germany, there are 19.6 guns per 100 people, in Japan that number is 0.3. Both countries have stricter gun laws than the US.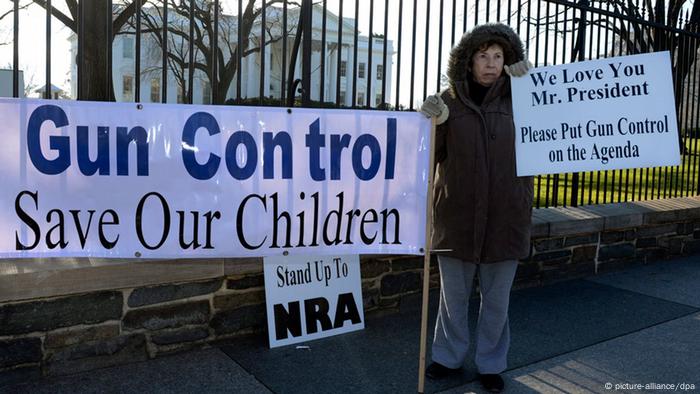 Gun control activists called on President Barack Obama to act after a shooter killed 20 elementary school students and six adults at Sandy Hook Elementary School in 2012
Gun control: Of minor importance or long overdue?
Palette is not a fan of Biden's proposed measures. "Gun control makes it more difficult for queer people to defend themselves," she wrote in her email. Palette also stated that it's a risky political move by Biden and the Democrats to lean into gun control after a year that saw gun purchases soar. The midterm election, where all House representatives and one-third of the Senate are up for reelection, is next year, after all.
"I think it would be very dangerous for Democrats' re-election chances to seriously push gun control right now," Palette wrote. "The economy and COVID-19 are bigger and more important problems."
Moms Demand Action founder Watts has welcomed Biden's proposition. "These recommendations are a welcome change from the inaction of the Trump administration over the past four years," she said in a statement released Tuesday.
"Families across the country impacted by gun violence — including the Parkland victims and survivors — have been waiting for this day for far too long."