Over about an hour, West Virginia's Senate Judiciary Committee passed four gun measures.
The votes took place as America has rekindled its debate over firearms in society, following a mass shooting at three Atlanta massage parlors one week ago and another at a Boulder, Colo., grocery store one day ago.
Gov. Jim Justice on Tuesday afternoon ordered that all West Virginia and United States flags be displayed at half-staff until sunset Saturday in remembrance of the shooting victims.
The recent tragedies were not a central topic of the Senate Judiciary, though. Discussion instead focused on ensuring the rights of West Virginia gun owners.
The committee discussed and passed one proposed amendment to the state Constitution, one resolution urging federal officials to not infringe on the 2nd Amendment and two bills that would change West Virginia firearms laws.
Senate Joint Resolution 1 could lead to the "Protection of the Right to Bear Arms Amendment."
"I think this is a very good chance for us to stand our ground on our 2nd Amendment rights," said Senator Rupie Phillips, R-Logan.
It would specify in the state Constitution that local governments could not pass gun laws stricter than state code. Both chambers of the Legislature would need to pass this by a two-thirds majority, and then the citizens would vote on the possible constitutional amendment.
The proposed amendment is summarized as: "To amend the State Constitution to prohibit the state, counties, municipalities or other political subdivisions of the state from restricting the right to keep and bear arms."
Senator Mike Romano, D-Harrison, said the state Constitution already provides for this and proposed converting the resolution into a bill instead. "This is already covered by our Constitution, he said. "We have the authority to limit the authority of counties and cities all across the state to prevent them from doing this."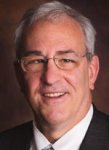 After pausing discussion for a while, Judiciary Chairman Charles Trump, R-Morgan, ruled that converting the proposed amendment into a bill couldn't be done procedurally: "It would be like converting it into a log splitter. It is a different thing."
Art Thom, a lobbyist for the National Rifle Association in West Virginia, said possible holes still exist under the state Constitution.
He also described recent actions in states like Virginia, where "now they're passing every anti-gun law that they can salivate to get to the podium."
"They flipped the Legislature to the point, the mindset, that firearms aren't something that are good," Thom said. "If a future Legislature in the state of West Virginia were to to decide that they agreed with the likes of Virginia, it could cause serious problems for residents of the state of West Virginia, whereas this would prevent that by now it being in the state Constitution."
And he referenced Stacy Abrams, the Georgia politician and activist. "She has done, if nothing else, a very excellent job in recruiting folks to run for state Legislature and changing laws."
Already in West Virginia, Thom said he has witnessed attempts, usually by municipalities, to pass stricter gun ordinances. He said those are usually headed off by a conversation from him or the Citizens Defense League, another gun rights organization.
"Morgantown tried it. We traveled up there and had a discussion, showed them the law," Thom said.
"They backed down," Romano said.
"They absolutely backed down," Thom responded. "But the thing still is that they're trying."
"You understand they can always try," Romano said. "This isn't going to change anything to keep them from trying."
Senate Bill 458 would prevent the governor from suspending or limiting the sale of firearms or ammunition during a state of emergency. That would include any limits on the operating hours of stores selling firearms or ammunition unless the restriction applies equally to all forms of commerce in the affected area.
Romano wondered if such a situation had ever arisen in West Virginia. "I can't imagine a time I'd want access to my firearms more than a state of emergency," he said.
Senator Patricia Rucker, R-Jefferson, said such a situation arose in Jefferson County this past year, although she didn't provide more context. Thom later said the situation related to counties not processing concealed carry permits during the pandemic.
"So I'm really happy to see the language in this bill," Rucker said. "It would exactly answer for what tried to occur in my county."
Thom spoke more on this bill and said firearms were taken in a Louisiana State of Emergency related to Hurricane Katrina in 2005. "That is the absolute time you need the right and ability to defend yourself immediately," he said.
Thom said the situation was underscored during shutdowns last year related to the coronavirus pandemic.
"They would just close retailers. They did not deem them essential," he said. "So the ability for you to obtain a firearm or obtain ammunition, whether it be to protect yourself or to practice and keep yourself up on the ability to protect yourself was severely limited."
SB 419 redefines "firearm" to match federal code. That assures that antique firearms, a replica of a firearm, or any muzzle loading gun using black powder can be possessed by people who would otherwise be prohibited, meaning convicted felons or domestic violence offenders.
The committee passed the bill without discussion.
A resolution passed by the committee, mostly symbolic, requests the president and Congress "to refrain from the enactment of any law or laws that would infringe upon the rights to keep and bear arms."