by Mark Bunch/President Royal Gorge Gun Club/Chairman Fremont County NRA
You have had a rough week. Fighting with your spouse and the summer heat has been merciless this year, making it almost impossible to sleep at night. This is probably the first night you have actually been able to fall asleep in a couple of weeks and now something has just woken you up. You lie there listening to the sounds of your house, your wife is sound asleep as is your ankle biting pet dog at the foot of the bed.
You can hear the whir of the ceiling fan and distant sounds of traffic but none of those startled you back into consciousness. You are just about to drift back off to sleep when you hear an eerie noise coming from your living room. It is a distinct scratching noise, possibly a tree branch slowly moving against your window you tell yourself. Then you remember that the previous week you had pruned all your trees and bushes back from your house to at least 36 inches so you could begin painting as soon as the summer heat breaks for the year, so obviously that isn't it tonight.
In an instant you go from half-asleep thinking you might have heard a noise, into full on Adrenalin heart pounding protect my family mode. As you slowly get out of bed and head down the hallway, you can smell that someone is smoking a cigarette very near the side of your house. Where is my flashlight when I need it? You curse to yourself as you grope around in the darkness. Comforted by the weight of your 1911 in your hand you continue on your journey into the living room.
Crouching down you see by the moonlight that you have a couple of neighborhood scumbags trying to pry your window screen out. You yell at them to get the F out of here, waking your poor wife and your ankle biting dog, Daisy. For an instant you feel relieved but then you realize that your mission is not complete. Just because you scared a couple of criminals off, does not mean that they have completely left your property. After all, most criminals today are using crystal meth, crack cocaine or who knows what else and for them to brazenly try to pry off your window screen at 2 a.m. when there is almost a 100% chance that you the homeowner will be present… Well, that translates into they likely would have had no problem assaulting you and your wife or even killing you both to get whatever items of value they wanted.
You can sit quietly in the dark as your wife calls 911 and hope that the criminals have left, or you can venture out into the darkness without a flashlight and conduct a ground search. Calling 911 is a good idea but let's face it, depending on where you live and what else happens to be going on in the world at that particular moment in time, help from the police is minutes away when your family might have only seconds for you to act.
This particular night you have a much bigger problem because your 14-year-old son and two of his friends wanted to sleep out in your tent in the back yard and this propels you into action.
That is a pretty scary situation to have to contemplate, but as the man of your household, keeping everyone safe is ultimately YOUR responsibility. You can of course, outfit yourself a little better on the front end just in case you end up having to defend your family in the middle of the night.
Most of you reading this undoubtedly have a handgun, rifle or shotgun you can use for self-defense, but how many of you reading this would have the right set up to venture out into the darkness after an attempted home invasion? You have to be able to illuminate your yard and still be able to deploy your firearm in an instant if it becomes necessary. Holding a flashlight in one hand while you carry your rifle, shotgun or handgun in the other is not the hot set up, trust me on this.
Many of us would find ourselves in the same set of circumstances as the gentleman in my article lead found himself in. Awoken in the middle of the night out of a deep sleep, and unable to remember where, or find his flashlight and having no other choice than to venture out into the darkness against possible multiple assailants to rescue his son and friends from likely danger. Do you really want to find yourself in that scenario when you could take some steps now that could make that all a whole lot easier?

We hold Halloween matches at the Royal Gorge Gun Club in our sunken combat tactical range, sponsored by Myra and Sam Smallwood of Remax Properties. We have bleeding Zombie targets, road flares, Jack O lanterns, and multiple hidden silhouette targets in the multiple combat lanes for each shooter who dares shoot in this match to have to find, identify and dispatch with his/her firearm. Not all that difficult during daylight hours, but doing it night makes things all the more difficult. Some shooters show up with the proverbial 3 D cell Maglite in one hand and their trusty sidearm in the other. Generally speaking, shooters running that kind of set up do not fair very well in this match as it is way more difficult to do those two things at the same time under stress than most shooters realize.
Other shooters including myself, have shot pretty well through this course with pistols having only Tritium night sights. The downside to this is that even though you can see your sights to aim into the shadows or at a shadowy figure in the darkness, you can't be completely sure of what you are shooting at without the ability to light up your target.
I have a couple of pistols that have red laser sights but honestly, I have never been that impressed by red lasers so I decided to try one of the new green laser pistols, the new Smith and Wesson Shield 2.0 with green laser and flashlight, called the Shield Laserguard. These pistols come in 9mm, .45 acp or .40 S&W and the ones I prefer come with a 150 lumen light in a very attractive package. I chose 9mm for increased magazine capacity and less muzzle flash, which can be very important at night. Yes both .40 and .45 are better man stoppers than the 9mm is. However, 9mm has been killing people for over a hundred years and will certainly do the job if you need it to. Total capacity with the new 2.0 shield is 9 rounds, 8 plus 1. Recently S&W came out with a larger model shield called the plus, which holds 10 and or 13 rounds of 9mm. Not sure if the green flashlight/laser will fit on this model just yet, but I have ordered one to try it out.
These new S&W 2.0's have a much improved trigger and you can get one with or without a frame mounted safety. I personally prefer my pistols to have a frame mounted safety, just a little bit more added safety is always a good thing in my book. The Frame Laser Guard which has the remote switch on the front of the magazine well that is activated by simply squeezing your shooting hand once you pick up your pistol.
Yes, these things take batteries, but one awesome added benefit is that Crimson Trace, will provide you with free batteries for life so that will save you a little bit of money. For those of you who didn't know, Smith and Wesson purchased the Crimson Trace company about two years ago, and the combination of these two great products has resulted in some truly superior handguns capable of defending your family when something goes bump in the night. Striker fired and considered to be double action only, I found that the trigger pull is quite good for a pistol of this size. Having a single stack magazine allows for easy concealed carry plus being a good choice for your management team as a concealed carry handgun for her as well.
Taking nighttime pictures with an iPhone just does not give this pistol's performance justice, kind of like every picture you have ever seen of the Grand Canyon vs seeing it live so please forgive me if some of these come out too dark in newsprint.
How does it perform?
I'm glad you asked me that, lol ! I have tested these 2.0 laser/light combo pistols extensively out around my 5-acre property, in my house and also out at the RGGC. The 150 lumen light is very impressive, reaching out to approximately 100 yards, illuminating everything directly in front of your shooting position and also spreading to approximately a 20 degree arc which would no doubt get anyone and everyone's attention on a dark night once you activate this light. This picture shows my Shield 2.0 laserguard employed at a distance of about 55 yards and you can clearly see how bright both the flashlight and laser are.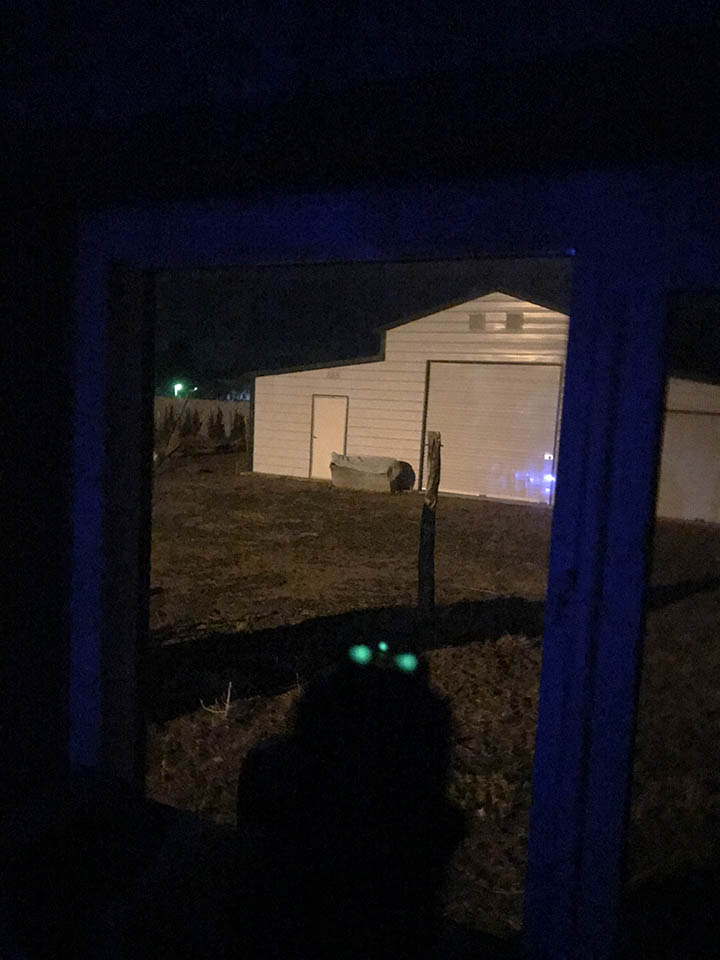 The green laser at night is simply amazing, traveling hundreds of yards in a highly visible green beam. My pistols with red lasers are visible to maybe 200 yards where the green laser 2.0 is visible to many hundreds of yards.
You can of course, opt to simply have the light come on once you squeeze your pistol, or just the laser, or both which I prefer, or yes you can deactivate both for daylight shooting if you like. These new 2.0s are now dedicated pistols for us, so I leave them activated with both green laser and light which saves time should I have to grab it and go. These new 2.0s come with a 3.1 inch barrel, good for about 1,075 fps with 124 grain hollow point defense bullets and as I write this Sunday night, it is indeed this pistol that rests on my night stand.
Our world is a very dangerous place
I am sure that all of you reading this would agree that every single day you read, hear or see something that makes you go OMG what is happening to our world and sadly, it was all foretold a couple of thousand years ago by prophecy. I have no idea what is going to happen in our immediate future any more than you do, but I know that it is my God given right to bear arms and be ready, willing and able to defend my family and myself, which is why I encourage everyone reading this to take the steps necessary to be able to do the same while you still can. Apathy on the part of a huge number of registered Republicans who stayed home and didn't come out to vote has left us stuck with the likes of Governor Polis who is no friend of ours, I can assure you.
At this point, all readers of the Sentinel should realize that commie dems are for everything that is bad for America and bad for you and for me and will eventually get ammo and guns banned completely so you better get busy acquiring everything you are going to need for the rest of your life on this planet… Remember, he or she who hesitates is lost.
The author, Mark Bunch is a Law Enforcement Certified Firearms Instructor in handgun, shotgun, defensive pistol, law enforcement rifle, urban rifle, CMP rifle, sub-gun and long distance rifle disciplines.