by Jeff Gross, contributing writer
Hello from the great state of Maine. 
Like in Little Rhody, the bass and some trout are biting everywhere, though one needs to work for the trout. Took a while to find what works for lures but the bass cannot resist a Black and Gold Yo-zuri Medium runner.  I am pushing my publishing deadline tonight but it is worth it as 8 smallies and a 4-lb largemouth plus a bucket load of white Perch and Crappies were running interference.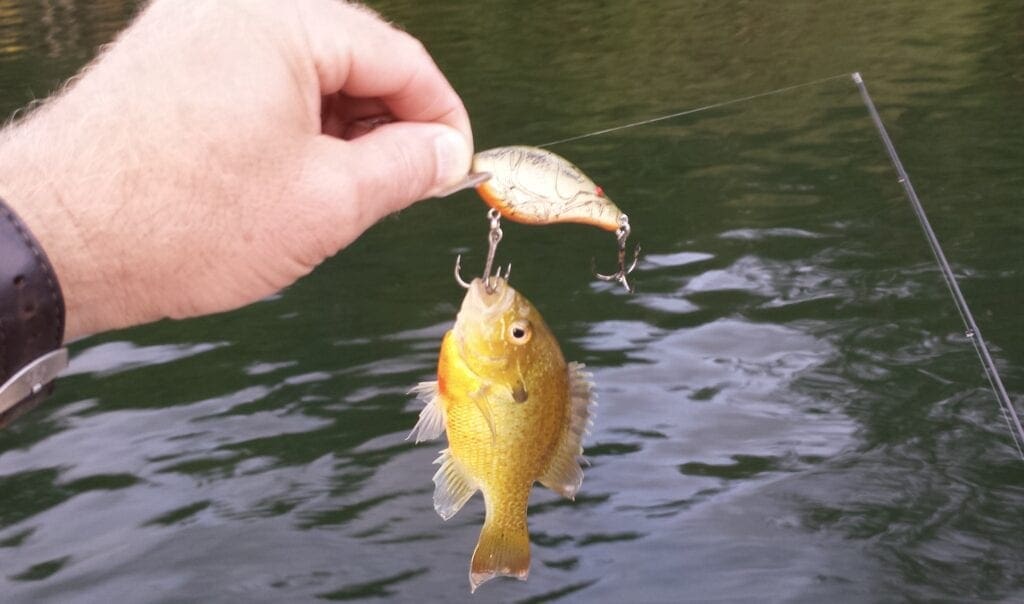 Note the picture of the Punkinseed. The colors are so vibrant the fish could be tropical. The lesson learned today is ALWAYS carry your cell phone with you. Not only is it a necessity in case of emergency but there is always the slight chance of a once in a lifetime photo or video.  That happened today.  Cell phone was left charging in the cabin so a photo of today's 1st 4-lb largemouth bass was not possible. That was only a minor problem…
The real problem occurred when I noticed a Bald Eagle buzz my boat when I threw a yellow perch over the side. The Eagle landed in a 100′ pine tree about 200 yards from me.  Soooo when I caught a 2nd perch I stunned it and whistled very loud and lobbed the fish like a Brady to Gronk touch pass. The Eagle swooped out of the pine and streaked about 4 feet above the water like its namesake, an F-15 E Strike Eagle. (The very same that Joe Biden has mentioned this past week)  About 20 feet from the fish she went flaps down and like a maneuver in Top Gun pulled her nose up and grabbed the perch. Off she went to dine on fish. What I witnessed electrified all the hair on my body. Had my cell phone been in hand I would be sharing it with all of you. Lesson learned.
Later that evening an Osprey was buzzing my boat, only this time my cell was where it belonged – in my hand.  So, a video of an Osprey fishing may be of interest. See for yourself!
Today's Tip: Always keep you cell or camera with you. You'll never know when you will get a photo or video of a lifeime. The Osprey Video is very Amateur. The 1st Eagle flight would have been a Hollywood production quality if the cell phone was in the boat. The Osprey video is what happens when you don't watch your Six!  Fighter Pilots creed:  "It is the one you don't see coming that gets you"!  
Every once in a lifetime Lady Luck does come about for a second pass.  Happy 4th of July Everyone!  The Eagle has landed!
______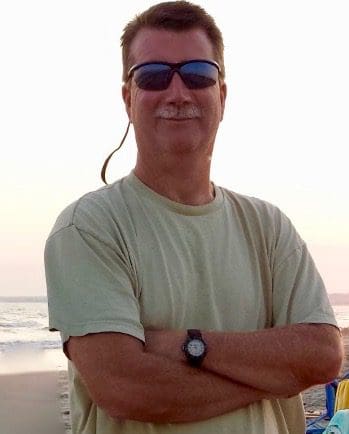 Jeffrey "Jeff" Gross spent 21 years as an Analytical Chemist at the USCG R&D Center in Groton, Connecticut, Woods Hole Laboratories, and Helix Technologies. Changing careers is a "great learning experience for everyone", Jeff says, and I'm an avid outdoorsman and conservationist, a student of the sciences, and the world. The US holds too many wonders not to take a chance and explore them".
Jeff is the Model Train and Railroad entrepreneur. Proud Golden Retriever owner. Ultra strong Second Amendment Advocate and Constitutionalist. "Determined seeker of the truth". 
Jeff is a RIFGPA Legislative and Legal Officer, Freshwater Chairman, NRA Liaison.
His subjects include Outdoors, Second Amendment, Model Railroading, and Whimsical.
He can be reached at: trainsbythe144@aol.com