WASHINGTON — Justice Department officials eager to stanch the rising tide of gun violence in America plan to ratchet up prosecutions of small-level "straw" buyers of weapons that are later transported to major cities and used in crimes.
Attorney General Merrick Garland unveiled a series of "strike forces" Thursday in D.C., New York, Chicago, Los Angeles and the San Francisco area to combat gun trafficking.
The effort does not involve more agents, officials said, but rather a refocusing — particularly of investigators at the Bureau of Alcohol, Tobacco, Firearms and Explosives — to crack down on the sources of illegal guns.
During a precedent-shattering pandemic, shootings rose dramatically in both large and small American cities in 2020, with initial data showing that killings spiked by about 20% — the largest single-year increase since such record-keeping began in the 20th century.
Many Democrats say lax gun laws have fueled the bloodshed; many Republicans counter that Democrats have encouraged a crime wave by criticizing police and loosening bail requirements for criminal suspects.
[Video not showing up above? Click here to watch » arkansasonline.com/723atf/]
Historically, violent-crime levels are still far below the record highs experienced in the 1990s. But there is growing concern among politicians and police that more must be done to reverse the recent trend.
ATF officials have long said that firearms trafficking is not typically the work of large, coordinated criminal enterprises. Instead, in small-scale operations, illicit gun dealers find individuals to buy weapons, then hand them over to be resold to criminals out of town or out of state.
Such straw purchases are illegal, but it is often difficult to prove the initial gun buyers deliberately lied on their paperwork. For that reason, officials say, many cases are not prosecuted. At a briefing this week, one ATF official compared gun traffickers to "ants marching from one place to another."
"These are challenging prosecutions to make, and a lot of times the prosecutable crimes occur where the firearms are obtained," said the ATF official, speaking on the condition of anonymity to discuss the new investigative and prosecutorial strategy. "And in that source area, a prosecutor may dismiss such a violation as simply a paperwork violation."
Going forward, officials said, U.S. attorneys offices and ATF agents will seek to prosecute more straw purchases.
"This is not a short-term infusion of resources, rather it's a long-term, coordinated, multijurisdictional strategy," a Justice Department official said.
Garland has announced previously other measures aimed at reducing violence, including tougher scrutiny of firearms dealers, a planned detailed public study of gun-trafficking trends in America, and a crackdown on "ghost guns" — kits that allow buyers to assemble firearms that don't have serial numbers.
The new effort to charge more people at the start of the gun-trafficking pipeline is central to the administration's anti-crime efforts.
"All too often, guns found at crime scenes come from hundreds or even thousands of miles away," Garland said in a statement. "We are redoubling our efforts as ATF works with law enforcement to track the movement of illegal firearms used in violent crimes."
While officials so far have mostly talked about the effort in terms of reducing violence in the highlighted cities, the strategy calls for agents and prosecutors to get more aggressive in the neighboring towns and states that supply many of the guns used in crimes — states along the Interstate 95 corridor on the East Coast, as well as Indiana, Nevada and Arizona, officials said.
Some past attempts to crack down on the sources of illegal guns have become mired in arguments over a piece of federal law known as the Tiahrt Amendment, which bars the ATF from publicly identifying the major sources of guns later used in crimes.
The Justice Department official said the current version of the amendment — which gun-control groups decry as a major obstacle to their efforts — would not inhibit the department's investigations or public statements about the new effort to fight gun trafficking.
ATF NOMINEE
As part of his initiative to take on illegal gun sales, Garland said Thursday that he hoped the Senate would confirm David Chapman as the head of the ATF.
Chapman's nomination has been stalled as Republicans and the National Rifle Association work to sink it. Chapman is a two-decade veteran of the ATF who served as an adviser to a major gun-control group and would be the first formal leader since 2015.
"As you all know, ATF is on the front lines of our efforts to battle gun violence," Garland said during a visit to the agency's headquarters. "We are very hopeful that the Senate will soon act."
Garland and Deputy Attorney General Lisa Monaco met with agents before traveling to Chicago to open the effort there and in four other cities to reduce spiking gun violence by addressing illegal trafficking.
"We all know our job is to go after those who pull the trigger," Monaco said outside the ATF building. "But our job is also of course to go after the sources of those guns, the corridors that they travel in and the networks that feed those guns to the places where they are doing the most violent crime and that is what this series of strike force efforts is all about."
Besides prioritizing gun crimes, the strike forces will embrace intelligence-sharing and prosecutions across jurisdictions, Justice Department officials said. Authorities also have embedded federal agents in homicide units of police departments across the U.S., have been deploying additional crime analysts and are conducting fugitive sweeps to arrest people who have outstanding state and federal warrants for violent crimes.
SOME SKEPTICISM
In Chicago, there is skepticism and worry. The Rev. Marvin Hunter has held a number of news conferences in recent weeks objecting to the strike forces — which many residents believe will flood their neighborhoods with more police — or any solution that relies on police to curb the violence.
He and other residents of the predominantly Black and Hispanic west side of Chicago said they're afraid having police focus more on their neighborhoods will lead to "attacks" on Black and brown people. Hunter is the great-uncle of Laquan McDonald, who died from a Chicago police officer's 16 shots. Corniki Bornds, whose only child was killed in 2017, said a better solution to more policing is to spend more money on education.
"There was a police officer sitting on the corner when my son was shot," Bornds said. "I don't see the benefit of it. But if you get in front of it and try to keep bad guys from wanting to kill each other, I think that's a better place to send resources than to the police. Because the police be there, and it doesn't mean anything."
Violent crimes, particularly killings and shootings, are up in many cities around the country, and the Biden administration has sought to aid communities hamstrung by violence. But the initiative begun this week differs from other recent federal efforts to address violence, because it is not sending agents or prosecutors into cities with crime spikes. Justice Department officials say the strike forces are targeted prosecutions meant to be a longer-term effort to combat gun trafficking.
There is no federal gun-trafficking law, so federal agents often must rely on other statutes, like lying on a firearms purchase form, to prosecute gun-trafficking cases or stop straw purchasers.
Officials hope the new plan will mean federal prosecutors in some of the supply cities will be more likely to file charges in those cases.
But if the effort sounds familiar, it is. In 2017, Chicago police, federal agents and prosecutors used a similar initiative — the Chicago Crime Gun Strike Force — to try to stem the flow of illegal firearms in the city and curb rampant gun violence.
The Justice Department said that strike force was formed in response to a surge in firearm violence and its work is continuing, but it has been focused locally in Chicago on reducing violence and not on gun trafficking from other jurisdictions that put the guns in the hands of criminals. That's been the case with similar gun task forces, too, including in New York.
Information for this article was contributed by Devlin Barrett of The Washington Post and by Michael Balsamo and Sara Burnett of The Associated Press.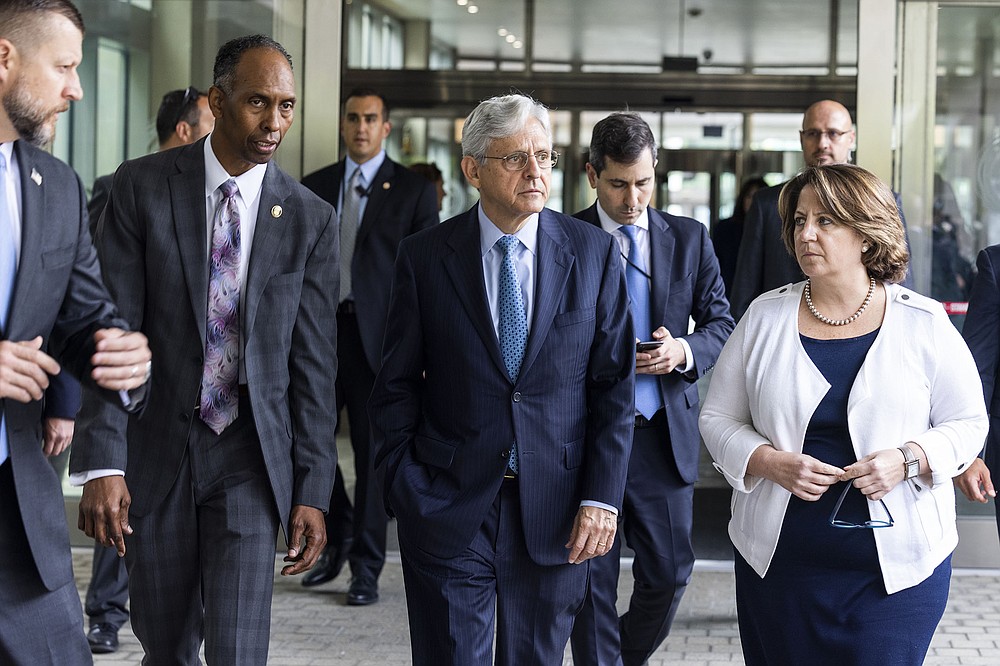 Attorney General Merrick Garland (center) leaves the Bureau of Alcohol, Tobacco Firearms and Explosives headquarters Thursday in Washington with ATF acting Director Marvin Richardson and Deputy Attorney General Lisa Monaco after announcing gun crime "strike forces" for five major areas of the country. "This is not a short-term infusion of resources, rather it's a long-term, coordinated, multijurisdictional strategy," a Justice Department official said.
(AP/Jim Lo Scalzo)