Gun control advocates are directing their efforts toward a lawsuit involving Chicago after they scored a win Wednesday when the Bureau of Alcohol, Tobacco, Firearms and Explosives (ATF) announced it would revoke the license of a Nevada-based gun manufacturer targeted in another lawsuit.
In what the organization Everytown for Gun Safety calls a "first-of-its-kind victory," the ATF issued a notice of license revocation to J.A. Industries, the successor company of now-bankrupt Jimenez Arms, for illegal trafficking of cheap guns.
Wednesday's win could pave the way for not only stricter application processes but for other lawsuits that Everytown is engaged in, like one filed against Indiana-based gun dealer Westforth Sports over the alleged sale of hundreds of illegal firearms that have been trafficked into Chicago.
In 2020, Kansas City, Missouri, filed a lawsuit against Jimenez Arms alleging the manufacturer contributed to gun trafficking in the city. But shortly after the suit was filed, Jimenez declared bankruptcy and obtained a new federal firearms license in the same city.
In response, Everytown Law, the litigation arm of the Everytown for Gun Safety Support Fund, filed a lawsuit, along with the state of Illinois and the city of Kansas City, against the ATF for granting J.A. Industries the firearms license. The suit accused the company's owner of misleading the ATF in licensing applications and sought a court order reversing the federal regulator's initial decision to issue the reorganized company a license.
Data from a five-year period, from 2016 to 2020, shows that the AFT denied only 0.1 percent of the applications received.
John Feinblatt, president of Everytown for Gun Safety, said in a Wednesday statement about the ATF's move, "We can only hope this decision marks the beginning of a new era at ATF, one that is consistent with President Biden's commitment to holding rogue and reckless members of the gun industry accountable for breaking the law and putting lives in danger."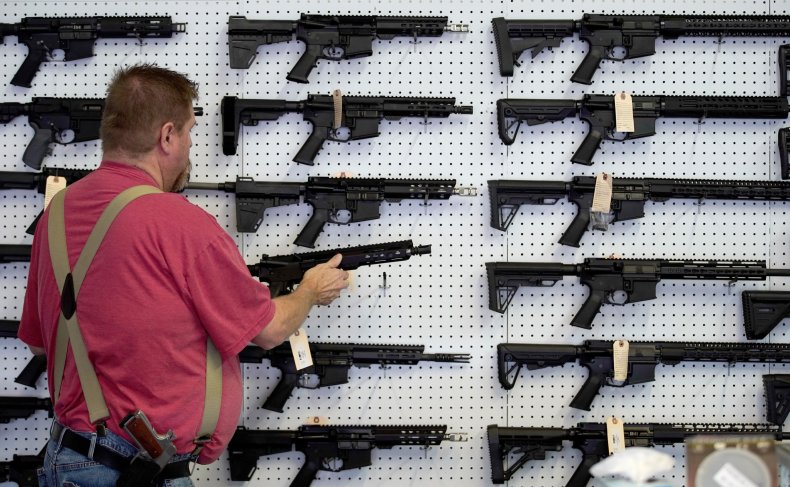 At a Thursday press conference, Feinblatt said, "For decades, a small minority of bad actors in the industry have actually operated like they're above the law, and this can be traced directly back to Washington because nearly 20 years ago Congress bowed down to the [National Rifle Association] and granted the industry a level of immunity."
He added, "Despite Congress' best efforts, the gun industry is not completely untouchable. We just needed to find the weak spots in their shield, and Jimenez Arms served them up to us by shipping guns to someone who wasn't a licensed dealer and turned out to be a trafficker."
The complaint in Chicago's Westforth Sports lawsuit, which was filed by Everytown along with the city of Chicago's Department of Law and the law firm Mayer Brown, cites years of audit reports from AFT that show repeat violations and two recommendations for revocation of Westforth's license.
Court records show that over 40 federal criminal prosecutions for illegal gun purchases in the Northern District of Indiana between 2014 and 2021 involved guns sold by Westforth.
"In that lawsuit, we have alleged that Westforth, through its business practices, is responsible for the flow of hundreds of illegal guns into the city of Chicago," Alla Lefkowitz, senior director of affirmative litigation at Everytown Law, said Thursday. "That's definitely a case that we're working on now, and we think will be incredibly impactful."
The plaintiffs are seeking a court order that would require the gun dealer to stop practices believed to be contributing to gun trafficking and gun violence in Chicago.
"It has become even more clear that holding accountable all those who contribute to gun violence here, regardless of where they are located, is key to our ability to create a safer Chicago," Mayor Lori Lightfoot said last year.
"This lawsuit is about addressing a major source of illegal guns recovered in our city, and it should send an unmistakable signal about our commitment to reducing gun violence and stopping gun trafficking," the mayor added.