With the May 3 primary a month away, Ohio Gov. Mike DeWine continues to face more decisions regarding gun rights.
On March 14, the Republican governor signed a bill that makes concealed carry permits optional in the state. While that decision joined the Stand Your Ground legislation that took effect in 2021, critics point out that DeWine's track record on gun rights issues has been inconsistent since he took office in January 2019.
Pro-gun organizations in Ohio are working to advance more laws that will protect the Second Amendment.
Senate Bill 21—more widely known as "constitutional carry" or "permitless carry"—will become law on June 12, meaning that state residents 21 and older can legally have a concealed firearm without training or permits, starting that day. The bill also eliminated the requirement for gun owners to inform police that they're armed if they're pulled over; law enforcement officers will have to ask. Individuals who lie about a concealed weapon will face a misdemeanor offense.
"We kind of view it as a down payment on the interest that Republicans owe the gun vote in Ohio," said Chris Dorr, executive director of Ohio Gun Owners. "It's a good start, but we have a lot more work to do.
"Gun owners in Ohio have been treated so unfairly for so long by Republican supermajorities that gun owners elected," he said. "Passing bills like constitutional carry is only the start."
Representatives from the Buckeye Firearms Association and Ohio Gun Owners are shifting their focus to additional proposals they hope will become law.
In January 2021, DeWine signed a Stand Your Ground law, which ended the requirement for a person to retreat before he or she could shoot someone in self-defense. The longtime politician also announced multiple gun reform proposals after a 2019 mass shooting in Dayton, although those recommendations haven't been embraced by the Republican-controlled Ohio legislature.
DeWine faces challenges from former U.S. Rep. Jim Renacci, farmer and restaurant owner Joe Blystone, and former state Rep. Ron Hood in the GOP gubernatorial primary. All three of his opponents are outspoken about preserving gun rights.
DeWine has an "F" rating from the National Rifle Association (NRA) at a time when GOP voters are more likely to own guns and less likely to support gun restrictions than their Democratic peers, according to a Pew Research Center survey. The same poll also indicated that DeWine has more support from Democrats (47 percent) than Republicans (46 percent).
The Buckeye Firearms Association, the Ohio Gun Owner, and the NRA have yet to make an endorsement in the governor's race.
Another gun-rights bill could land on DeWine's desk before the primary. House Bill 99, which would give local school boards the ability to allow teachers to carry firearms in the classroom, received its first Senate hearing on March 30 after winning House approval last November.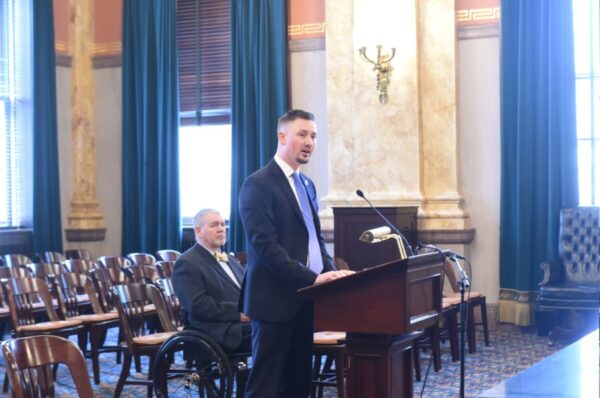 "At the end of the day, what we are talking about here is empowering our local schools to make the best decision for their students and educators so that our children feel safe and are safe in Ohio schools," said GOP Rep. Thomas Hall, the bill's sponsor. "We have worked tirelessly on this bill to do our part in protecting our schools and our communities."
HB 99 would require a school employee to complete concealed carry weapon training to carry a firearm on school grounds and finish 20 initial hours of training, along with four recurring hours of training. If the bill is signed into law, staff members would have to meet set range requirements, and school boards would have to notify the public if it chooses to allow staff members to be armed.
Hall believes the bill is especially essential in rural areas, where there are fewer first responders. DeWine hasn't said if he will sign the legislation if it reaches his desk. While the House approved HB 99 on a party-line vote by Republicans, the measure encountered significant opposition from law enforcement, education, and parental groups among other organizations.
"If a school employee, regardless of her position, is carrying a firearm, they are considered on duty according to the Ohio Revised Code," Mike Weinman said as he testified on behalf of the Fraternal Order of Police of Ohio. "When armed, the teacher's primary responsibility is no longer teaching but an armed first responder. She will be required to abandon her students and respond to whatever threat may be in the building at a moment's notice."
Two county sheriff's departments and six school districts expressed their support for the bill.
"Trust the locally elected officials to do their jobs and govern on behalf of the people who elected them and put them in their positions. Trust that they care for the safety and well-being of their students and staff," Ira Wentworth, superintendent of Indian Valley Local Schools, said in testimony.
"The school boards and those staff members who are selected and volunteer to conceal and carry are not the bad guys; they are the good guys wanting to protect others from the bad guys. Put your trust in the good guys."
State Rep. Stephanie Howse, a Democrat from Cleveland, said she believes the bill likely wouldn't be welcomed at predominantly black schools, and by individuals who must pass through metal detectors to enter.
"Ask our black boys how safe will they feel knowing that they have armed teachers," Howse said. "When you look statistically, our children, black babies, are overcriminalized."
There are more proposed bills in Ohio awaiting their next step.
House Bill 325, sponsored by Republican State Rep. Scott Wiggam, and its companion legislation, Senate Bill 185, sponsored by GOP Sen. Tim Schaffer, would prevent state and local governments from restricting gun possession and limiting firearms businesses from operating when there is a declared state of emergency.
HB 325 passed the House on Feb. 16 and was referred to the Senate Veterans and Public Safety Committee on March 2. SB 185 was approved by the Senate on Oct. 20 of last year and arrived in the House Government Oversight Committee on Oct. 26.
Co-sponsored by GOP Reps. Mike Loychik and Diane Grendell, House Bill 62 is called the "Ohio Second Amendment Safe Haven Act." Referred to the House State and Local Government Committee on Feb. 4, 2021, the proposal would designate Ohio as a Second Amendment protective state.
Under the 10th Amendment of the U.S. Constitution, HB 62 would assert the power of states' rights over the federal government regarding Second Amendment rights. The measure also confirms that the courts and law enforcement agencies are duty-bound to protect Second Amendment rights of law-abiding Ohioans.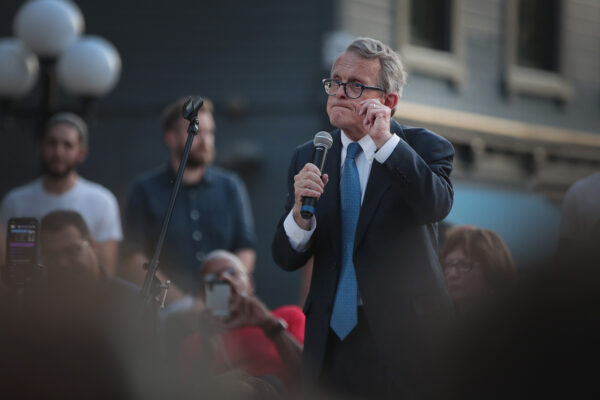 After a mass shooting in Dayton's Oregon District that left nine people dead on Aug. 4, 2019, DeWine was encouraged to "do something" by gun control advocates. He announced multiple proposals designed to reduce gun deaths.
Among the ideas included the creation of a voluntary state-level background check process for gun sales between private sellers, stricter state penalties for illegally selling a firearm, and the expansion of an existing "pink-slip" law that allows authorities to send people with drug or alcohol issues to a psychiatric hospital, where they aren't legally able to have guns.
DeWine also recommended a "red flag" law that permits family members or police to request the removal of firearms from individuals if they are deemed to be a danger to themselves or others.
Known as the STRONG Ohio bill, Senate Bill 221 includes the recommendations that DeWine announced after the mass shooting. The proposed legislation remains in the Senate Government Oversight and Reform Committee, where it was sent on Oct. 23, 2019.
Pro-gun organizations have their work cut out for them in continuing to advocate for gun rights legislation, said Dorr, who said he'll continue to keep DeWine and his "career support of gun control" under the microscope.
"It's a good start, but I think DeWine has a lot of work to do in order to convince conservatives and gun owners that he'll be pro-gun."