BISMARCK — More than 250 party delegates attended the North Dakota Democratic-NPL's state convention in Minot last month. Not a single one wanted to run for secretary of state or tax commissioner, two of the premier races on the 2022 ballot.
The party that entered the convention with six gaping holes in its slate of contenders for statewide office
managed to find and endorse candidates
for U.S. representative, attorney general, agriculture commissioner and Public Service Commission. Democrats also gave their blessing to two candidates who began their campaigns before the event:
for U.S. Senate and
for the other spot on the Public Service Commission.
But before delegates departed Minot, party chairman Patrick Hart solemnly announced that endorsements for secretary of state and tax commissioner would be deferred "due to a lack of nominations."
The Democratic-NPL's inability to field candidates in major races is an "extremely bad sign" for a party that has struggled to remain relevant over the last decade, said Mark Jendrysik, a political science professor at the University of North Dakota.
"They're at a very, very low ebb," Jendrysik said, adding that the party's troubles with candidate recruitment show "how hard it is to get people to volunteer for what are basically hopeless endeavors."
Just 12 years ago, Democrats occupied all three of North Dakota's congressional offices, but the party currently holds no statewide or congressional offices and just 15% of the seats in the state Legislature.
In recent years, the party hasn't even been competitive at the ballot box: No Democrat has won a statewide election since former U.S. Sen. Heidi Heitkamp in 2012. Only three Democratic candidates — Heitkamp, Kylie Oversen and Ryan Taylor — have received more than 40% of the vote in any statewide election since 2014, and all three of them still lost by at least a 10-point margin.
Across the aisle, North Dakota Republicans are stronger than ever — at least on paper. The
GOP state convention in Bismarck
last weekend drew more than 2,000 delegates, but a rift between moderate Republicans and ultra-conservatives continues to widen. Still, the dominant party endorsed a formidable lineup of statewide candidates, most of whom have the benefit of incumbency.
Hart, who unsuccessfully ran for state auditor two years ago, said contending for a major public office is "a huge undertaking," and convincing party members to run is difficult when Democrats have such poor odds of winning.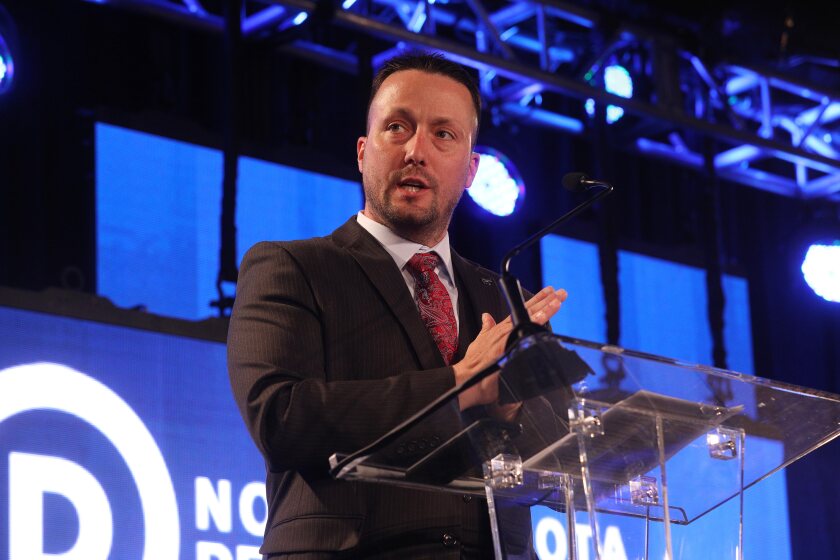 The party chairman said the redistricting process also hurt candidate recruitment efforts. Nearly all of the Democrats in the Legislature will have to run if they want to keep their seats, erasing any chance they could put their recognizable names in the running for a statewide office.
For Democratic candidates who only just started their campaigns at the convention, like Tim Lamb for attorney general and Mark Haugen for U.S. representative, the chance of victory is close to zero, Jendrysik said.
Candidates in big races need to build statewide name recognition, which takes time and money, the professor said. Serious contenders should start campaigning at least a year before the election to present themselves as credible to voters and donors, he added.
Hart admitted it will be difficult to unseat well-established Republicans this election cycle, but he hopes Democratic statewide candidates can "punch above their weight class" and hold their opponents accountable for their records.
House Minority Leader Josh Boschee, a Fargo Democrat who unsuccessfully ran for secretary of state in 2018, said "it's a long road" back for the party, but today's candidates can start building the kind of momentum that carries over into future elections.
"I have no illusions as to what the outcomes are going to be (in 2022), but the fact that we have people willing to step up and say there's a way we can do this is inspiring," Boschee said. "We're not going to flip the House or the Senate in the next cycle, but in 10 or 15 years, if we can continue building relationships and trust with North Dakotans, I think there are going to be plenty of opportunities."
The roots of a losing streak
Nationally, North Dakota Democrats are not that unique in their lack of electoral success. Most states are run by officials from a single dominant party, and political organizations in the small minority struggle to recruit candidates, raise funds and win elections, Jendrysik said.
The Democratic-NPL may be on the downslope, but Republicans have held power at the state level for most of the last 50 years. In that sense, it could be argued the current party dynamics are just a return to the norm, Jendrysik said.
However, there's no doubt the state's Republicans have employed a modern strategy for vanquishing their historic rivals over the last decade.
Capitalizing on North Dakota's conservative lean, Republicans have done a good job nationalizing races by associating Democratic opponents with locally unpopular figures, like House Speaker Nancy Pelosi and former presidential candidate Hillary Clinton, Jendrysik noted.
The state GOP has also followed the lead of nationally broadcast conservative media by focusing heavily on "culture war" issues like abortion and painting Democrats "as not only wrong, but evil," the professor said.
"It's hard to run when you have the weight of the national party on you. You're forced to defend positions you probably don't hold," Jendrysik said. "It's become a lot harder to be a conservative Democrat."
Hart acknowledged the local party is being defined by its competitors and has to distance itself from the national perception of Democrats pushed out by Fox News and other conservative outlets.
But if North Dakotans gave their Democratic neighbors a chance, they would find a lot to like in the party's platform, Hart said.
The party plans to use social media to tell the stories of its locally elected officials who stand for popular positions like funding education and expanding access to child care and mental health resources, the chairman said.
Hart added that North Dakota Democrats are not a monolith on social issues, and there's room in the party for people who don't fully agree on religion, abortion and guns.
For Shelley Lenz, the Democratic-NPL candidate for governor in 2020, the party still has a long way to go if it wants to appeal to rural voters.
Lenz recently
started her campaign for the state Senate
out of Dickinson, but she decided to run as an independent.
The veterinarian said she originally identified with the Democratic-NPL because she believed in the ideals of the Nonpartisan League, a left-wing political organization that sought to bring institutions under state control and lessen corporate influence in the first half of the 1900s.
But the Democratic-NPL has strayed too far from the last three letters of its name and become more aligned with the national Democratic party, Lenz said.
Lenz recalls hearing an audible gasp when she told some Democratic-NPL supporters she holds a membership with the National Rifle Association. The party needs to listen to rural residents and focus on issues like food and energy production if they want to gain a foothold outside of Fargo and Grand Forks, she said.
Getting back in the win column
Near the end of a rousing speech at the Minot convention, Boschee presented a simple formula for Democrats to make up lost ground: "Regionalize, energize, mobilize."
The party must focus on what it stands for and how it can improve the lives of North Dakotans across the state, Boschee said. Democrats have to do the hard work of tapping into rural communities and "meeting people where they are," he added.
Jendrysik is less optimistic about the party's prospects, but he said Democrats can make some adjustments to their messaging tactics.
One-party states are often riddled with corruption, and Democrats could try to spread the message that North Dakota would benefit from having two parties that can hold each other accountable, Jendrysik said. Though it would be quite expensive, Democrats could buy up radio stations and other media outlets to counter conservative programming, the professor added.
Hart said there's a lot of energy within the party and he's confident the pendulum of power will eventually swing back in the Democrats' favor.
Holding Republican officials accountable is easy "because no one likes the way their government is working," he said.
"Right now, that bullseye is 100% on the North Dakota GOP," Hart said. "We have had setbacks at the ballot box, however I think our values, our ideas and the proposals our elected officials put forth are really in line with North Dakota ideals."