PUNTA GORDA, Fla.–Gov. Ron DeSantis vowed on April 29 that Florida will have a Constitutional Carry gun law before the end of his term.
"Constitutional Carry," sometimes called permitless carry, allows people to carry a weapon without a license or permit. The term was derived from the Second Amendment to the Constitution, which gives citizens the right to bear arms.
"I can't say if it will be next week or in six months, but before I'm done as governor" it will be signed into law, DeSantis said at a press conference in Levy County.
Pointing out that 25 states have already enacted permitless carry legislation, he said, "We used to be the leader on Second Amendment issues."
In the State of Florida concealed carry applications are processed by the Department of Agriculture and Consumer Services which is headed by Nikki Fried, who was the only statewide elected Democrat in the last election.
Fried is vying with two other Democrats for a spot on the ticket in the November elections.  One is Charlie Crist, who in his bid for governor in 2014 lost to then-Gov. Rick Scott, who is now in his third term as a member of Congress. The other is state Sen. Annette Taddeo of Miami.
DeSantis took aim at Fried during the press conference.
"The official in charge of [applications] doesn't even support the Second Amendment," DeSantis said. "Why would you want to subcontract out your constitutional rights to a public official that rejects the very existence of those rights?"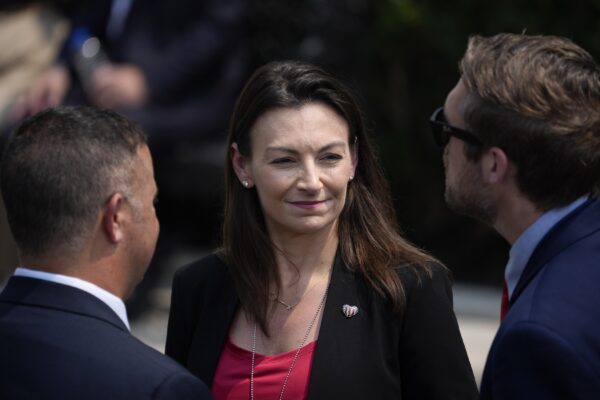 Fried said in a written statement that DeSantis's comments were "absurd political pandering," noting that Florida has experienced several of the worst mass shootings in the country.
"It's an insult to the memories and families of every victim of gun violence," she wrote. "We should be passing laws to prevent gun violence and working to fix our state's affordable housing crisis, not creating chaos to score political points."
In 2018, Florida lawmakers passed one of the nation's toughest gun control laws after the Valentine's Day shooting at Marjory Stoneman Douglas High School in Parkland.  The shooting occurred during the legislative session and legislators crafted a bipartisan bill that was signed into law by then-Gov. Rick Scott. It imposed a three-day waiting period and raising the legal age for purchase.
The National Rifle Association pushed back.
The NRA filed a lawsuit that challenged the constitutionality of the law, which raised the legal age to buy a gun from 18 to 21. However, a federal judge dismisses the lawsuit in June 2021.
DeSantis said signing the constitutional carry bill was the "one thing I wanted the Legislature to do" but he did not indicate how or when that would happen.  The bill died in its first committee in March without being heard.