US President Joe Biden has made a televised address to the nation, calling on members of congress to take immediate action on gun control.
His intervention comes after the third mass shooting in as many weeks.
President Biden used a rare prime-time address to the nation to call for sweeping changes to America's gun laws.
Among them, a ban on assault weapons, or at a minimum, he said lawmakers should raise the age at which assault weapons can be purchased from 18 to 21.
He also called for a limit on the capacity of magazines such weapons can hold, and more rigorous background checks on prospective gun buyers.
The president criticised Republican senators for blocking even debate on restrictions, saying he found their actions unconscionable.
Mr Biden made the 17-minute address with 56 lit candles arrayed along a long corridor behind him, representing US states and territories suffering from gun violence.
"How much more carnage are we willing to accept?" the president asked in the speech, which he delivered with anger in his voice, and at times dipping close to a whisper.
"We can't fail the American people again," he said.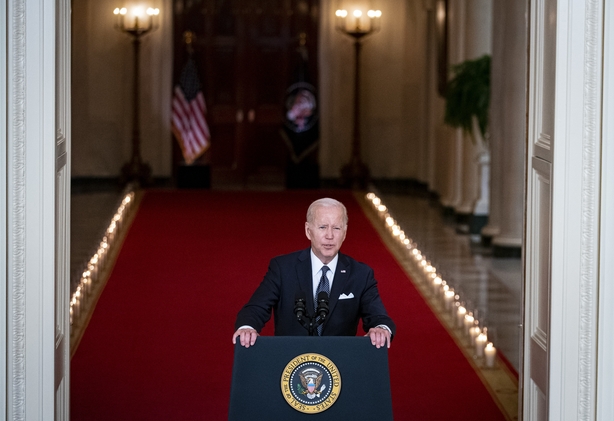 He also urged them to take steps to mandate safe storage of firearms, and allow gun manufacturers to be held liable for crimes committed with their products.
In a televised address calling for stronger gun control, US President Joe Biden cited data showing 'guns are the number one killer of children in the United States of America, the number one killer, more than car accidents, more than cancer' | https://t.co/yS3397QZS5 pic.twitter.com/W6no41is3B

— RTÉ News (@rtenews) June 3, 2022
Mr Biden highlighted the story of a young student who smeared a dead classmate's blood on herself to hide from the gunman during last month's shooting at a Texas elementary school, saying: "Imagine what it would be like for her to walk down the hallway of any school again."
"There are too many other schools, too many other everyday places that have become killing fields, battlefields here in America," Mr Biden said.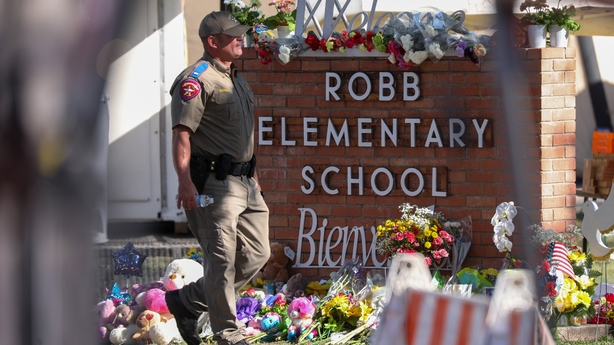 While Republican lawmakers have largely resisted tougher gun laws, a cross-party group of US senators held talks yesterday on a package of firearms controls.
Nine senators have been meeting this week to discuss a response to the mass shootings that have appalled the nation, projecting optimism over the prospects for modest reforms.
The group has focused on school security, bolstering mental health services and incentives for states to grant courts "red flag" authority to temporarily remove guns from owners considered a threat – a measure Mr Biden also called for in his remarks.
---
Read more:
Biden vows to keep up pressure for gun regulation in wake of mass shootings
Texas Governor 'running scared' after Uvalde school shooting
Freedom and fear – the foundations of America's deadly gun culture
---
Noting the majority of voters favour some more restrictive measures, Mr Biden said if Congress did not act, he believed Americans would make the issue central when they vote in November mid-term elections.
His intervention comes as a small group of Republican and Democratic senators are working on a compromise measure that may see some restrictions on gun sales passed by the upper house.
The talks are described as being at a delicate stage.
"Over the last two decades, more school-age children have died from guns than on-duty police officers and active duty military combined. Think about that," Mr Biden said.
The National Rifle Association gun lobby said in a statement that these latest proposals would infringe on the rights of law-abiding gun owners.
"This isn't a real solution, it isn't true leadership, and it isn't what America needs," it said.
The US Constitution's second amendment protects Americans' right to bear arms. Mr Biden said that amendment was not "absolute", while adding that new measures he supported were not aimed at taking away people's guns.
"After Columbine, after Sandy Hook, after Charleston, after Orlando, after Las Vegas, after Parkland, nothing has been done," Mr Biden said, ticking off a list of mass shootings over more than two decades.
"This time that can't be true."
Three people dead after shooting in Iowa church parking lot
Shortly after Mr Biden made his address a man shot and killed two women in the carpark of a church in Iowa state, before taking his own life, police said, adding three more dead to the toll in a series of recent shootings that have rocked the United States.
The Iowa shooting took place outside Cornerstone Church, a fundamentalist Christian church east of the city of Ames, while a church programme was on inside, said Nicholas Lennie, chief deputy of the Story County Sheriff's Office.
"This appears to be an isolated, single-shooter incident," Mr Lennie said.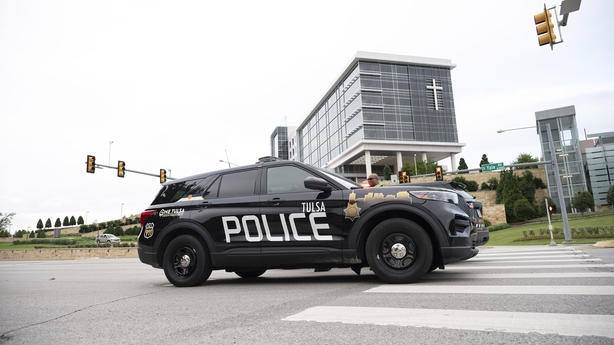 It comes after an attack in Oklahoma earlier yesterday which saw a man with a pistol and a rifle kill two doctors, a receptionist and a patient in a Tulsa hospital complex before killing himself as police arrived.
Lawmakers are aware that they risk wasting momentum as the urgency for reforms sparked by the killings dissipates, and another smaller group of senators is holding parallel discussions on expanding background checks on gun sales.
The political challenge of legislating in a 50-50 Senate, where most bills require 60 votes to pass, means that more wide-ranging reforms are unrealistic.
Mitch McConnell, leader of the Senate Republicans, told reporters that senators were trying to "target the problem" – which he said was "mental illness and school safety" rather than the availability of firearms.
House Democrats are nevertheless set to pass a much broader but largely symbolic "Protecting Our Kids Act," which calls for raising the purchasing age for semi-automatic rifles from 18 to 21 and a ban on high-capacity magazines.
The package will likely pass the Democratic-led House next week before dying amid Republican opposition in the Senate.
With regulation being so difficult at the federal level, an effort is also underway among state legislatures to push for tighter gun laws.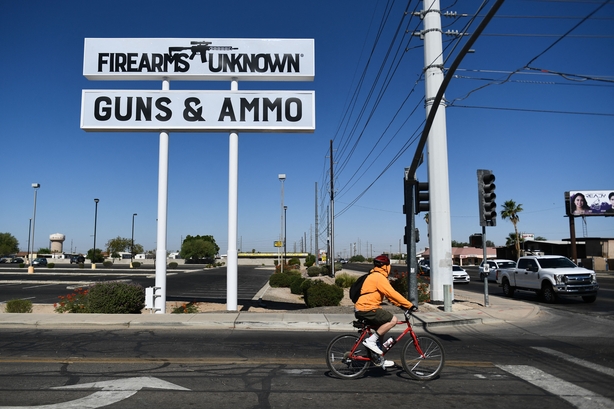 California lawmakers advanced a gun control package in the aftermath of the Uvalde shooting that included proposals to open up gunmakers to civil legal liability in certain cases.
The proposals echo action by lawmakers in New York state, while a permit-to-buy bill is moving through the Delaware legislature and pro-gun rights Texas is looking to "make legislative recommendations" in response to the Uvalde shooting.
Activists for greater restrictions fear a setback at the federal level however as the Supreme Court is set to issue its first major Second Amendment opinion in more than a decade.
Justices are expected to rule in the coming weeks in a dispute over New York state's stringent limits on the concealed carry of handguns outside the home.
A narrow opinion could affect just a few states with similar laws, but campaigners fear the conservative majority will make a broader ruling clearing the way for constitutional challenges to gun safety laws across the country.
Gun safety advocates have pushed Mr Biden to take stronger measures on his own to curb gun violence, but the White House wants Congress to pass legislation that would have more lasting impact than any presidential order.
Mr Biden's evening address was aimed in part at keeping the issue at the forefront of voters' minds.
The president has made only a handful of evening speeches from the White House during his term, including one on the Covid-19 pandemic in 2021 and one about the Texas shooting last week.
More than 18,000 people have died from gun violence in the United States so far in 2022, including through homicide and suicide, according to the Gun Violence Archive, a non-profit research group.
Canada, Australia and Britain all passed stricter gun laws after mass shootings in their countries, banning assault weapons and increasing background checks.
America has experienced years of massacres in schools, stores and places of work and worship without any such legislation.
Mr Biden said he received a handwritten note from a grandmother who had lost her granddaughter in Uvalde that read: "Erase the invisible line that is dividing our nation. Come up with a solution and fix what's broken and make the changes that are necessary to prevent this from happening again."
Additional reporting AFP/Reuters