Oklahoma Republicans will sort through 10 candidates to select a candidate to run for U.S. Senator, two Mississippi GOP congressional incumbents face runoffs, and controversial Colorado Rep. Lauren Boebert (R) is being challenged by a party rival in her first re-election campaign.
Those races are among the dozens of local, state, and congressional races on tap as voters in seven states head to polls for June 28 runoffs and primaries, capping a busy month of preliminary contests to set November general election ballots.
Mississippi and South Carolina will stage runoffs to settle unfinished business from June primaries. In Colorado, Illinois, New York, Oklahoma, and Utah, Republicans and Democrats are voting in party primaries.
After the June 28 elections, 29 states will have completed inter-party rounds leading up to fall's 2022 midterm elections.
The primary pace slackens in July, with only Maryland on the docket before picking up in August. Of the 19 states with primaries still on tap—Louisiana and Rhode Island do not have primaries—15 will stage them between Aug. 2-23.
New York is moving ahead with June 28 primaries for governor, lieutenant governor, and state assembly, while preliminary contests for Congressional and state senate seats were shifted to Aug. 23 after the Democrat-controlled legislature's proposed electoral district maps were rejected and revised in May court rulings.
A roundup of June 28 runoffs and primaries:
Oklahoma
Ten GOP candidates are vying in the June 28 primary to replace 87-year-old Republican Sen. Jim Inhofe, who took office in 1994 and was elected to a fifth term in 2020 before announcing his retirement in February.
Rep. Markwayne Mullin (R-Okla.) is regarded as the frontrunner, but in the crowded field, it is unlikely he'll secure the 50 percent threshold that will allow him to advance to November without a runoff on Aug. 23.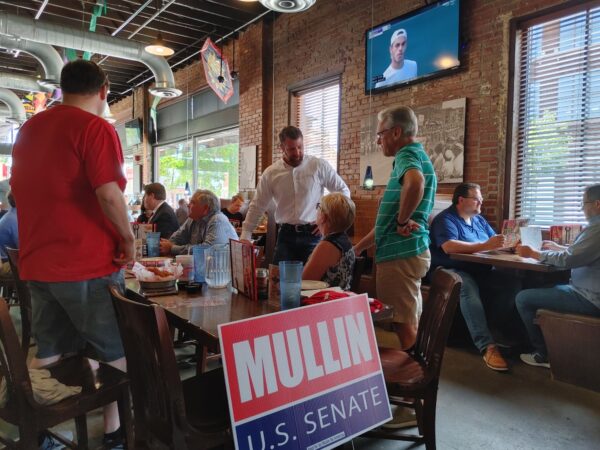 A poll jointly conducted by Oklahoma City's KWTV News 9 and Tulsa's KOTV News on 6, released on June 23, indicated that Mullin stands in first with 38.7 percent, followed by top contender and former Oklahoma Speaker of the House T.W. Shannon at 13 percent.
State Sen. Nathan Dahm is in third with 8.1 percent, followed by Luke Holland (5 percent), Scott Pruitt (2.4 percent), Alex Gray (1.8 percent), and Dr. Randy Grellner (1 percent).
According to the poll, 30 percent of the likely Republican primary voters questioned are undecided.
The winner will take on former Rep. Kendra Horn (D-Okla.), who represented the state's CD 5 in 2019-20. She faces no opposition in the Democratic primary.
Three candidates are challenging Republican Gov. Kevin Stitt in the GOP primary. The victor will take on the winner of the Democratic primary between Joy Hofmeister and Connie Johnson.
Stitt, the former CEO of Gateway Mortgage Group, is seeking his first reelection after winning his first-ever campaign as a "political outsider" with an endorsement from President Donald Trump in 2018. He is again endorsed by former President Trump, the National Rifle Association, and 68 GOP state lawmakers.
Stitt is being challenged by naturopathic doctor and former Tulsa SWAT team officer Mark Sherwood, Oklahoma Department of Veterans Affairs Executive Director Joel Kintsel, and stay-at-home mother, Moria McCabe.
Meanwhile, 14 candidates are on the ballot in Oklahoma's Republican CD 2 primary to succeed Mullin, including Quapaw Nation Secretary-Treasurer Guy Barker, former chair of the state GOP John Bennett, former state Rep. Avery Frix, Cherokee Nation tribal councilor Wes Nofire, state Rep. Dustin Roberts, and Muskogee chief of police Johnny Teehee.
In Oklahoma's CD 1, incumbent Republican Rep. Kevin Hern (R-Okla.) is unopposed and will face Democrat Adam Martin and independent candidate Evelyn Rogers in November's general election. Hern is endorsed by Trump.
Mississippi
There are two runoffs on the ballot, including in Congressional District 3, where Rep. Michael Guest (R-Miss.), who voted in favor of forming the Jan. 6 commission, could be ousted from his seat by U.S. Navy veteran Michael Cassidy.
Cassidy finished first in their June 7 GOP primary, edging Guest 47.5 percent to 46.9 percent but failing to capture the required 50 percent plurality to avoid the runoff.
In Mississippi's CD 4, Rep. Steven Palazzo is seeking a sixth term in the House but needs to shake off Jackson County Sheriff Mike Ezell to advance.
In their five-candidate June 7 primary, Palazzo finished with 32 percent, with 25 percent going to Ezell. The other three candidates on the primary ballot have since endorsed Ezell.
South Carolina
There are more than 20 runoffs on tap for local and state offices, including for state Superintendent of Education and nine state House seats. The runoff generating the most attention is between two Democratic candidates vying for the party's nod to run against incumbent Sen. Tim Scott (R-S.C.) in November.
Author and preservationist Catherine Fleming Bruce and state Rep. Krystle Matthews finished first and second in the June 14 Democrat primary but failed to secure the 50 percent plurality to avoid the runoff.
Project Veritas has released an audio of Matthews strategizing on how to utilize Democrat "sleepers" to run as Republicans in local elections, as well as requesting drug money from a Perry Correctional Institution inmate in a February phone call.
"We need some secret sleepers," she is heard saying. "Like, you need, we need them to run as the other side, even though they for our side, and we need them to win," the Senate primary candidate said. "We need people to run as Republicans in these local elections."
Illinois
Voters will pick their party's candidates for 17 U.S. House seats, and one U.S. Senate seat, with Republicans set to select one of six candidates to challenge incumbent Democrat Gov. J.B. Pritzker in November.
Darren Bailey, a pro-Trump conservative state senator and staunch critic of Pritzker's pandemic mandates, and Richard Irvin, mayor of Illinois's second-largest city, Aurora, are among the Republican frontrunners.
Pritzker, who contributed $90 million to his reelection campaign in January, does not face a serious challenger in the party's primary.
In the U.S. Senate race, incumbent Sen. Tammy Duckworth (D-Ill.) is unopposed in the party's primary, while seven candidates seek the Republican nomination in the GOP primary. Duckworth will be the odds-on favorite to win a second term in November.
Among the state's 18 House seats, Cook Political Report rates five in Democratic-leaning districts as winnable for Republican candidates, including the state's refashioned CD 13, where incumbent Republican Rep. Rodney Davis (R-Ill.) has opted not to run in, choosing instead to run in more Republican-friendly CD 5.
Nikki Budzinski, a former union organizer and former chief of staff of the Office of Management and Budget in the Biden administration, has emerged as the front-runner in the CD 13 Democratic primary.
Her campaign has raised $1.7 million, far outraising any other candidate in the race, according to its June 8 filing with the Federal Election Commission (FEC).
In the Republican CD 13 primary, Jesse Reising, founder of the Warrior-Scholar Project and a former federal prosecutor, and Regan Deering are running on a similar Republican platform, that of pro-life, pro-Second Amendment, and border security.
In CD 17, also redrawn to annex more Democratic-leaning urban centers into the district, the retirement of five-term Democratic incumbent Rep. Cheri Bustos (D-Ill.) has spurred a bevy of candidates to seek the seat.
Meteorologist Eric Sorensen and former Rockford Alderman Jonathan Logemann are among the leading contenders in the Democratic primary.
The winner will likely take on Esther King, a real estate lawyer, and former U.S. Army captain, who is heavily favored to win the GOP CD 17 primary. She lost to Bustos by 4 points in 2020.
CD 6's Democratic primary will feature one of the eight primary races nationwide where post-2020 Census redistricting has pit incumbents against each other.
Two-term Rep. Sean Casten (D-Ill.) and first-term Rep. Marie Newman (D-Ill.) are vying for the seat. The survivor will take on the winner of the Republican primary, where suburban mayors Gary Grasso and Keith Pekau have emerged as the top contenders.
Colorado
Voters will see a new congressional district in 2022 and competitive races across the board in this prickly purple state where the rural-urban divide is a vivid factor.
Three congressional races are drawing the most attention, most notably in CD 3, where Trump-endorsed Republican incumbent Rep. Lauren Boebert (R-Colo.) faces four challengers, including rancher and state senator Don Coram in the GOP primary.
In the state's newly-created CD 8, four contenders are seeking the Republican berth to take on Democratic state Rep. Yadira Caraveo while in CD 7, GOP voters will select one of three candidates to face off with Democrat state Sen. Brittany Pettersen.
Utah
All four of the state's incumbent Republican U.S. House representatives are being challenged by party rivals in primaries.
In CD 1, Rep. Blake Moore (R-Utah) seeks a second term by defeating Andrew Badger and Tina Cannon. Moore voted against Trump's second impeachment, twice to keep Liz Cheney (R-Wyo.) as Republican House conference chair, and supported bipartisan legislation to form the commission to investigate the Jan. 6 protest at the U.S. Capitol.
Rep. Chris Stewart (R-Utah) is seeking a sixth term in November but first must get by Erin Rider in the CD 2 Republican primary. Incumbent Reps. John Curtis (R-Utah) and Burgess Owens (R-Utah) also face June 28 inter-party tests.