Cook County Board President Toni Preckwinkle says she backs President Joe Biden's call to renew a federal ban on assault weapons.
Preckwinkle spoke to WTTW News following Biden's White House celebration of the passage of a federal gun safety law that was attended by elected officials, gun control advocates, gun violence survivors and the families of victims.
Preckwinkle described the event as "very moving."
At one point, Biden was interrupted by Manuel Oliver, who lost his 17-year-old son, Joaquin, in the mass shooting at Parkland High School in Florida in 2018.
Oliver objected to the event being described as a celebration, writing on Twitter: "The word CELEBRATION has no space in a society that saw 19 kids massacred just a month ago."
At the end of his speech, Biden acknowledged that more needed to be done, and that assault weapons should not be available for civilians to purchase.
"We're living in a country awash in weapons of war," said Biden. "What is the rationale for these weapons outside war zones?"
"Assault weapons need to be banned," said Biden, noting his efforts to get the original ban passed in 1994.
"I led the fight in 1994," said Biden. "And then under pressure from the NRA and the gun manufacturers and others, that ban was lifted in 2004. In that 10 years it was law, mass shootings went down."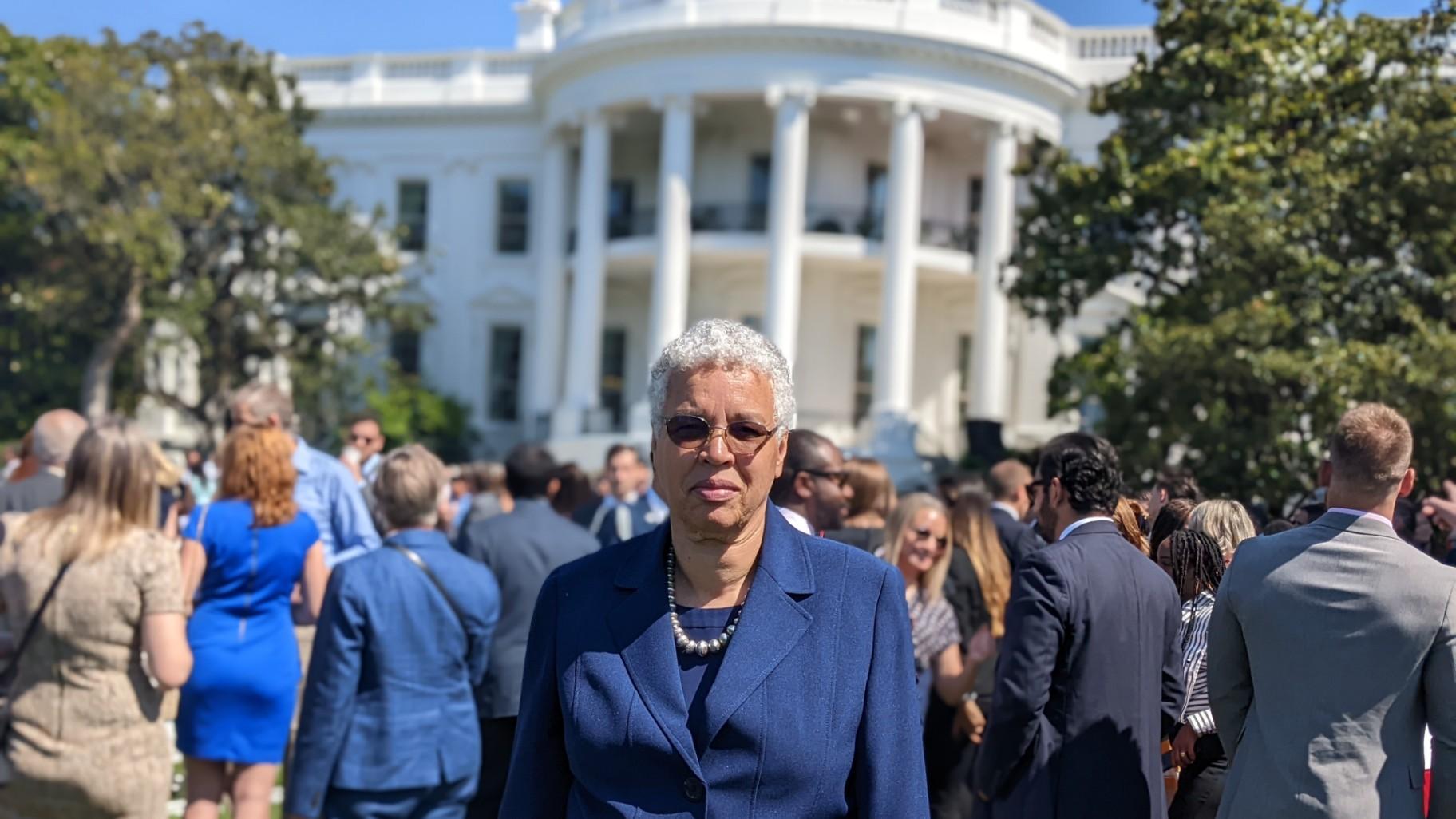 Cook County Board President Toni Preckwinkle at the White House on July 11, 2022. (Credit: Nick Shields / Cook County)

While Preckwinkle supports Biden's call for a renewed ban, she doubts whether enough Republicans in Congress can be persuaded of the need to act.
"We haven't had sensible gun legislation come out of Congress in 30 years, so this (new gun safety law) is a pretty important milestone, but there's still a lot of work that needs to be done," said Preckwinkle. "And unfortunately, most of those who are in favor of sensible gun laws are Democrats.  And until we change significantly the balance in the Senate, I think we're going to have a tough time."
Beyond a national ban on assault weapons, Preckwinkle also supports more investment in mental health services and in the communities most plagued by violence
"If we look at the troubled history of the young man allegedly involved in the Highland Park shootings, there's clearly points of intervention that should have been taken," said Preckwinkle. "We also need to invest in the communities that are struggling the most with the violence. So on one hand, we need gun laws, but on the other hand, we need to invest in our people, both in their good mental health and in the communities in which so many live that are marginalized and where people despair."
Note: This story will be updated with video.
---