Viewers in Florida with a penchant for skipping past TV or internet ads may miss juicy material coming across the airwaves between now and Election Day in November.
Political communications experts viewed the first crop of campaign ads from Gov. Ron DeSantis and his two top Democratic opponents in the Sunshine State.
Here are some quick takes:
A major theme associated with the state's gubernatorial race is "freedom." But how candidates define "freedom" seems to vary widely, experts told The Epoch Times.
Another observation: DeSantis, with buckets of campaign cash and a predicted victory in the fall, wisely is taking "the high road." His ads poke at no one, tout his accomplishments, and appeal to a wide range of voters, even outside his base.
If the race tightens, he can afford to pummel his challengers by flooding the state's expensive media markets with harder-hitting messages, the experts said.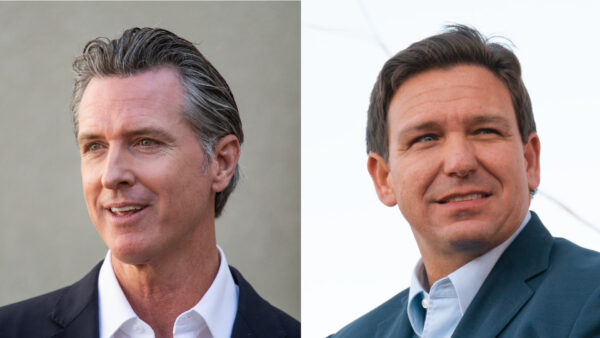 Meanwhile, a cheeky ad campaign directed at DeSantis by another governor, California's Gavin Newsom, attracted viral national news coverage following its Independence Day launch in Florida.
With his ad, Newsom ventured onto DeSantis's turf to try to tear him down. But the attack could backfire on the Democrat, who appears to be teeing up a presidential run, one expert predicts.  Newsom's suggestion that Floridians may want to flee to California to experience more freedom can be easily deflected by DeSantis through data that show where Americans are moving to or from, the expert said.
DeSantis challenger Charlie Crist—a Democratic congressman who previously served as a Republican governor of Florida—has ignored his top opponent in the two ads he's released in advance of the Democratic gubernatorial primary on Aug. 23.
In addition, Florida Agriculture Commissioner Nikki Fried, who trails Crist in polling, may be making a misstep by taking an "angry tone" in ads that swipe at both her current opponent and DeSantis, experts said.
Crist, Fried, and two other Democrats will square off in the primary. The winner will advance to face DeSantis, three write-in candidates, a libertarian, and two others with no party affiliation (NPA).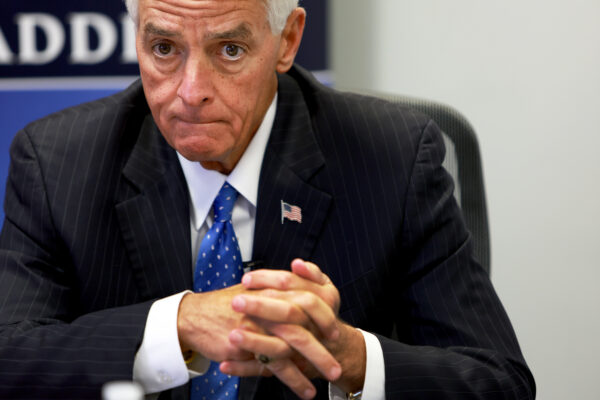 DeSantis Campaign Ads
DeSantis, who doesn't have a Republican challenger, won't have to participate in a primary. He'll automatically advance to the Nov. 8 general election.
DeSantis launched his second campaign ad on Aug. 10, a week after his first ad hit the airwaves statewide.
DeSantis's first two ads won't win over hard-core opponents, experts said. But they're likely to sway some moderates and independents, a coveted group of voters for any candidate, said political media strategy expert Tobe Berkovitz, an advertising professor emeritus at Boston University.
The incumbent Republican's ads are likely to hit their target: winning over independents as well as Democrats frustrated by pandemic lockdowns and school closures, Berkovitz said.
The newer DeSantis campaign ad features a 30-second montage of patriotic images and video snippets of the governor interacting with smiling Floridians.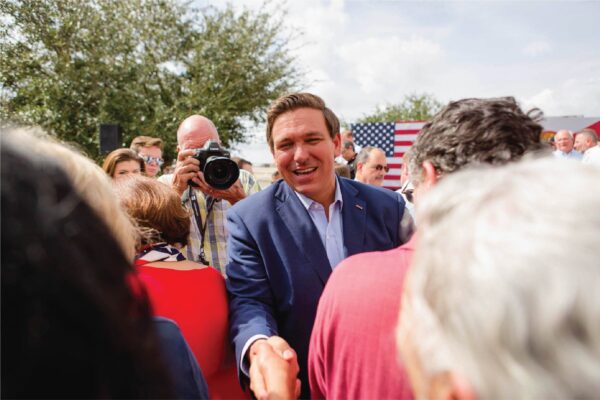 "America has long been the world's bastion of freedom," the ad's narrator begins in a deep, velvety voice.
"Now, Florida is our nation's hope. When other states shut people down, Florida lifted people up. We make decisions based on facts, not fear. But some want to take it all away. We cannot stop fighting. This November, let's show the world freedom is here to stay."
A week earlier, the DeSantis campaign released a 60-second ad for statewide broadcast. That spot features images of the governor reading letters from Floridians expressing gratitude for his leadership throughout the pandemic.
The ad begins with DeSantis at his desk in a dark office, dimly illuminated by a desk lamp. He's reviewing a letter from a stack of mail topped with a thank-you card. A female voice begins, "Dear Governor DeSantis, I wanted to write and thank you for working so hard for the citizens of Florida."
A male voice continues: "Dear Governor DeSantis, I've never written a political leader. …"
Then, an older woman's voice cuts in, "but I'm writing to express my appreciation for keeping us Floridians free and thriving."
"A governor who says what he is going to do and then does it," a male voice cuts in. Photos of the governor with Floridians, presumably that arrived with the letters, are shown in frames and on an office corkboard.
Then, a female voice continues, "I realize that the right thing is not always the easy thing."
The video shows DeSantis walking through a hallway and climbing into a waiting car. Dramatic music plays, and the voices continue.
"Without your leadership, we wouldn't have been able to stay open," a man says.
A woman adds, "Because of you, my child has thrived through this pandemic."
DeSantis looks over more letters from a manila folder on his lap.
"The monoclonal antibodies saved my mother's life," a male voice says.
A child's voice adds, "I'm 11 years old, and I'm glad I could go to school."
DeSantis chuckles, as he looks at another letter, and a male voice says emphatically, "Watching you beat back the woke liberal media makes me so proud to be a Floridian."
"Freedom to live. Freedom to go to school. Freedom," say overlapping voices.
"Thank you for keeping Florida free," they say, as the video shows DeSantis walking into a crowded ballroom to cheers.
"Keep fighting the good fight."
The ad first appeared in a Twitter post by his wife, Florida's popular first lady, Casey DeSantis, along with the words, "And I can tell you this, he's only begun to fight."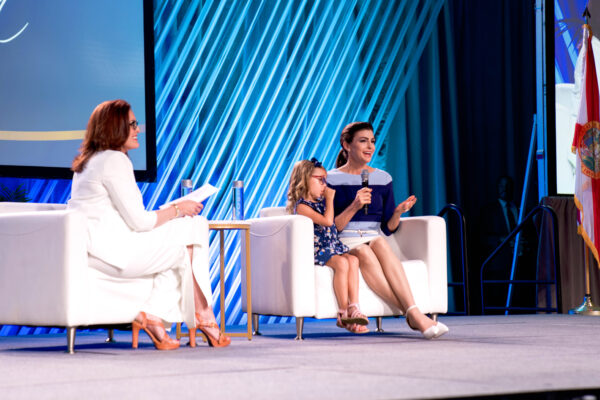 Including the young mom-of-three, who recently triumphed over breast cancer, as part of his "media machine" is a wise strategy, Berkovitz said. President Joe Biden employed a similar tactic, often sending his wife, Jill, to represent him on the campaign trail.
The DeSantis ad also serves to "humanize him" and may sway independent and Democratic voters who haven't made up their minds and are tired of political mud-slinging and far-left-leaning policies, Berkovitz added.
"It's nice for DeSantis to be able to run what's termed as a 'high-road campaign.' At this point, he can afford to do that—he's looking strong in the polls."
The ad is "very emotional, and he's basically showing from his perspective, he's a real governor of the people, and regular people are thankful for what he's done."
Democrats likely will scoff at the ad, Berkovitz said.
"But if you're a Republican, you think, 'He's speaking and fighting for me.'"
"The [advertising] battle is for the people who vote Democratic one year, Republican one year. Besides talking to his base, he's talking to them, showing those types of voters that, in fact, DeSantis is a reasonable, sensible politician, who people like them care for."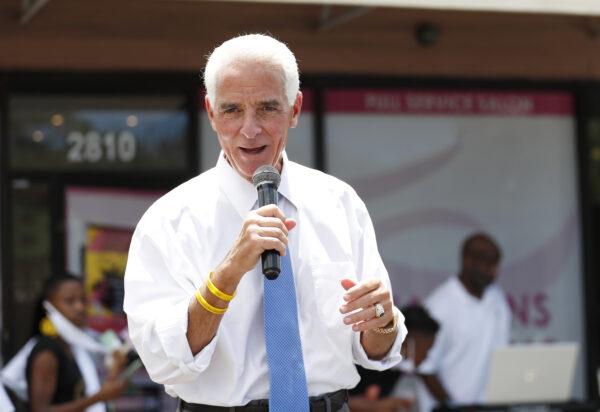 'The Hug'
Crist responded to the DeSantis ad with a prepared statement, saying, "Florida is only free if you do what Ron tells you to do. His latest ad is a slap in the face to the hundreds of thousands of Floridians who lost a loved one or family member simply because he wouldn't promote life-saving vaccines or wearing a mask."
The congressman rolled out a new 15-second campaign ad on Aug. 9. Dubbed "The Hug," the commercial ends with an embrace between Crist and former President Barack Obama, filmed while Obama was still in office.
"When the recession crippled Florida, Barack Obama and Charlie Crist stood strong," a female narrator begins.
The video then shows Obama at a podium proclaiming, "Governor Crist shares my conviction that creating jobs and turning this economy around is a mission that transcends party. And that's what Charlie Crist to doing right here today!"
In his earlier ad, Crist launched into attacks against DeSantis, while ignoring his top primary opponent, Agriculture Commissioner Nikki Fried.
"Think about what's at stake in Florida," Crist begins. "Gov. Ron DeSantis bullies schoolchildren."
The video shows footage from a press conference at a high school, with DeSantis expressing frustration because some students behind him were wearing masks.
"He wants to outlaw abortion, even for victims of rape and incest," Crist continues, as the ad shows DeSantis speaking from behind a podium labeled with a sign that says "Protect Life."
"He opposes any background checks on guns," Crist says, as a clip pans across a gun store's wall of weapons, "even for violent criminals."
Sirens scream behind his voice, and the video shows images of a crime scene, with police cars in the dark, behind yellow tape that says "Police Line Do Not Cross."
Crist continues, "And he cares more about running for the White House than your house."
Meanwhile, the video pans past the residence of the president of the United States, then shows modest homes in tidy yards.
Crist looks into the camera with a furrowed brow.
"Well, I'm fighting back. We must defend a woman's right to choose, and protect kids with common sense gun laws. Ron DeSantis has a radical agenda."
The ad ends with Crist smiling warmly and leaning into the open car window of a laughing woman.
"Together," he concludes, "we can stop it for a better Florida."
Crist's ad style can "break through the clutter and get [voters'] attention," Berkovitz said.
"It's Crist talking to the voter into the camera. So he's sort of reminding the voters of who he is. He's got a long history in Florida, and that people know him. He's just reinforcing that. I think the visuals add punch to all the bad things he's saying about DeSantis."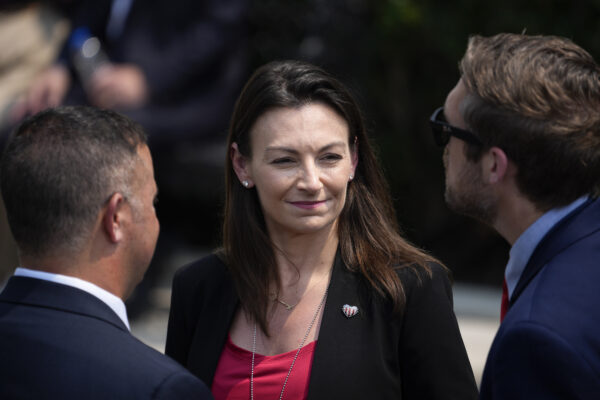 Crist's long political history was the target of Fried's first commercial, which debuted on Aug. 1, and a video she posted to Twitter a week later.
Crist served as Florida's governor as a Republican. He passed up campaigning for a second gubernatorial term to run for the U.S. Senate in 2010 against Marco Rubio, a Republican. Crist switched his party affiliation to independent during that campaign when it appeared Rubio was leading. Rubio won.
Two years later, Crist changed party affiliation again. As a Democrat, he challenged Florida's Gov. Rick Scott (R), who was running for reelection. Crist lost again.
'Try Something New'
In her first ad, Fried takes swipes at both Crist and DeSantis, promoting herself as a chance for Floridians to "try something new."
In the spot, Fried strides between two rows of faceless male mannequins in suits, saying, "Florida's had 46 governors. Some good. Some bad. And one? Depends on which way the wind's blowing."
She's joined in her march past the mannequins by others, and continues, "With Roe gone, our cost of living out of control, and no ban on assault weapons, we have to try something new."
She points out she's the only statewide-elected Democrat and only "pro-choice" Democrat. Crist now insists he's in favor of unrestricted access to abortions, after previously declaring himself to be "pro-life."
Fried concludes by saying she's the only Democrat "to have never taken a dime from the NRA. I'll beat Ron DeSantis and be a governor you can finally be proud of."
In her second ad, released the same day as Crist's second ad, Fried strolls next to a prison, just outside a chain-link fence and asks, "Want to know the difference between me and Charlie Crist? It's not just that I'm pro-choice and he's pro-life. Look at our records on criminal justice. While I was a public defender, fighting to keep innocent Floridians out of jails like this …"
Vintage newspaper clippings fill the screen, including a headline referring to Crist by the derisive moniker Chain-Gang Charlie.
She continues, "… he was passing mandatory minimums during the racist war on drugs. People are still in jail today because of it. And worse, he's never apologized. My name is Nikki Fried. And I fight for people, not prisons."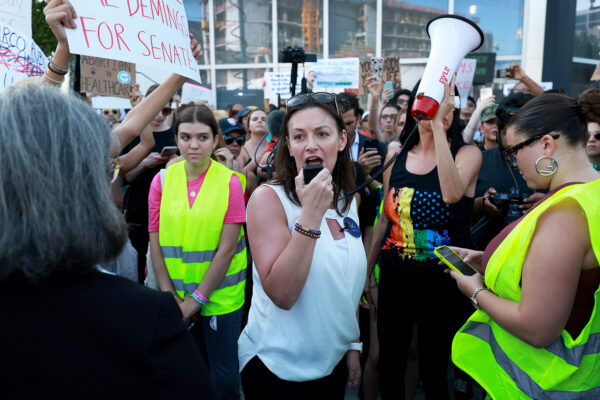 Her tone could irk voters, Berkovitz said.
Crist "hasn't come across as a nasty, bare-knuckles politician," he said. "Fried has to be careful not to be the one who is sort of the tough, angry candidate against sort of more mellow candidates."
He expects attacks between Crist and Fried to ramp up as primary Election Day approaches.
"Basically, their messages are: 'DeSantis is the devil. He has done horrible things for Florida and its citizens. And if you elect me, I will banish the devil,' which is fine," Berkovitz said.
"But sooner or later, the voters are going to have to decide, 'Which one of these two candidates do I want to banish the devil?' So they're going to have to go after each other, and that will help DeSantis because they'll soften each other up for the general election."
Wielding Power
During the pandemic, people realized just how much power their state's top executive truly wields. As campaigns cranked up for the 2022 election cycle, cash flowed into gubernatorial advertising.
As of the last week of March, the Republican Governor's Association had spent $18.8 million on advertising gubernatorial races in Arizona, Georgia, Kansas, and Nevada, according to AdImpact, a firm that analyzes political advertising.
Meanwhile, advertisers had spent $28.5 million already in Illinois on the most expensive governor's race to date. The governor's races in Pennsylvania, Georgia, Texas, Arizona, New York, Alabama, Wisconsin, Michigan, and Nevada made up the rest of the Top Ten Highest Spenders.
At that time, Republicans were spending more than three times more than Democrats on governor's races.
Across the country, there are 36 gubernatorial seats in play in the midterm elections. Nineteen are considered battlegrounds by political forecasters. Three of those—in Arizona, Kansas, and Wisconsin—are considered toss-ups.
Political forecasters expect DeSantis to win reelection in November but stop short of saying his victory is a sure thing.
Pundits from around the country also regard DeSantis as a frontrunner for the Republican nomination for president in 2024. He consistently deflects questions about whether he's considering a run.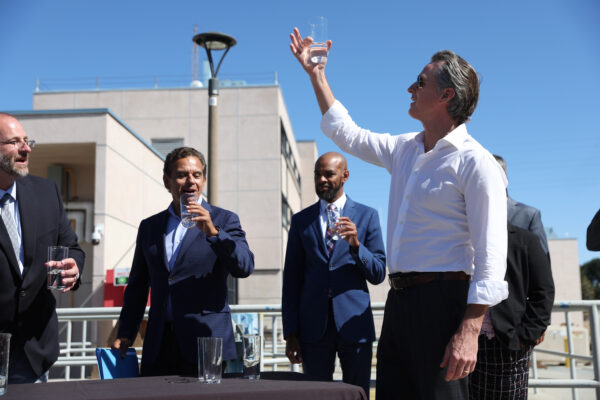 The 2024 presidential rumors apparently sparked the July 4 release of yet another freedom-related ad campaign in Florida. The ad features California's Newsom urging Floridians to leave their state and go west seeking freedom.
With "America the Beautiful" playing in the background, Newsom looks into the camera and begins cheerfully, "It's Independence Day, so let's talk about what's going on in America.
"Freedom—it's under attack in your state," he chuckles, as colorful patriotic images fill the screen.
Then they're replaced with grainy, dark images, including a Trump–DeSantis handshake, a handcuffed woman having her mug shot taken, and a grim-looking doctor at a patient's bedside.
"Your Republican leaders—they're banning books, making it harder to vote, restricting speech in classrooms, even criminalizing women and doctors."
Colorful, patriotic images and inviting landscapes reappear, as Newsom says with a grin, "I urge all of you living in Florida to join the fight, or join us in California, where we still believe in freedom. Freedom of speech. Freedom to choose. Freedom from hate, and the freedom to love. Don't let them take your freedom."
Versions of Freedom
"It looks like everyone is running on 'freedom' this year," said Jake Neiheisel, an associate political science professor at the University at Buffalo and a specialist in political communication.
"Obviously, they mean very different things when they talk about 'freedom,' but words like 'freedom' are symbols that can be imbued with a variety of meanings. Political language is often contested, and I think that this fact is boldly on display in this selection of advertisements. We've seen this many times before where political actors take a popular concept and adapt it to their own ends."
Newsom's ad is unusual, given the Democratic Party's past approach to political messaging, says Wendy Melillo, an advertising expert and associate professor of journalism at the American University School of Communication.
"It is designed to be edgier and more challenging, with the intent to capture attention," Melillo said. "Its tongue-in-cheek approach is similar to what's happening in the Senate race in Pennsylvania, where John Fetterman is effectively using social media to poke fun at Republican rival Mehmet Oz.
"Raising awareness is only one part of an effective strategy in advertising. You must also get people to take action. Floridians are not likely to move to California just because Newsom's ad tells them to. But if that ad gets Floridians to think harder about what is happening in their state and express their dissatisfaction at the ballot box, the campaign will have done its job."
From an advertising expert's perspective, the Newsom and DeSantis ads are fascinating.
"It's the flip side of the 'freedom' coin," Berkovitz said. "Newsom is saying, 'Come to California for freedom.' And DeSantis is saying, 'Come to Florida for freedom.' So you can decide which definition of 'freedom' you want."
Newsom played a crafty advertising trick to get maximum exposure for his ad without spending much, Berkovitz noted. Newsom counted on making an ad that would be shared, discussed, and featured in the news. It paid off.
"Everybody saw it on news coverage, and on Twitter, and on Facebook," Berkowitz said. "That's a very common technique now. You're really doing a minimal ad buy, and then you're letting what we call the free media—whether it's cable TV, or social media coverage—really drive the commercial.
But later, "if DeSantis feels like beating up on Newsom, he'll just use the data, like how many U-Hauls are going out of Florida, and how many are going out of California. And how many are coming into Florida, and how many are coming into California. He certainly will win that debate."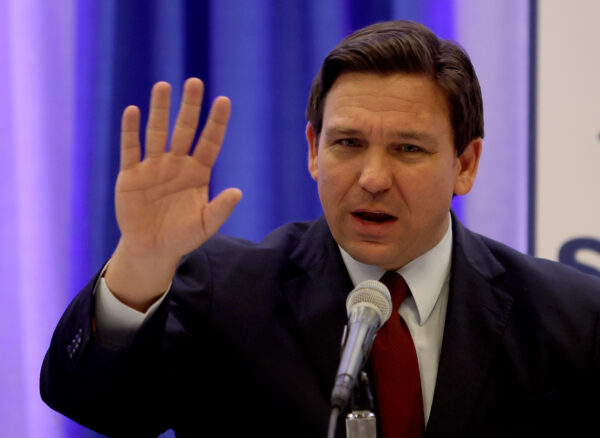 On Aug. 10, the Republican Party of Florida added a 60-second Spanish language ad in support of DeSantis to the mix. The ad is entitled "Libre," the Spanish word for "free." It shares testimonies from Floridians in Miami's Hispanic community, expressing gratitude for DeSantis's leadership.
Watching the politics surrounding the battle for the governor's mansion in Florida has been interesting for the whole country, Berkovitz said.
"It's really been sort of the lightning rod for both red and blue America. Florida has become a symbol of good, sensible government, or horrible government that's inflicting trouble upon the citizens.
"It just depends whether you're red or blue."
Political advertising is aimed more to reach the people who aren't "partisan one way or the other," Berkovitz added. "And so far, I think, DeSantis is winning that battle."