More than 100 Republicans in a letter expressed concern over the decision of several credit card giants to establish a new specific merchant code for firearms dealers, calling the effort "an assault on the Second Amendment."
Earlier this month, the International Organization for Standardization (ISO), a Switzerland-based group that sets and monitors quality standards for industries of all types, confirmed that one of its subcommittees had voted to establish a new merchant category code (MCC) for firearms, which previously fell into the "general merchandise" category.
Following the decision by the influential body Visa, one of the largest debit and credit card companies, adopted the change.
"Following ISO's decision to establish a new merchant category code, Visa will proceed with next steps, while ensuring we protect all legal commerce on the Visa network in accordance with our long-standing rules," Visa said in a statement.
The National Rifle Association (NRA) denounced the change at the time, calling it an erosion of Second Amendment rights.
"The decision to create a firearm-specific code is nothing more than a capitulation to anti-gun politicians and activists bent on eroding the rights of law-abiding Americans, one transaction at a time," an NRA spokesperson said.
Now, a coalition of more than 100 Republicans led by House Republican Caucus Chairwoman Elise Stefanik (R-N.Y.) are demanding answers from Visa over the move in a letter addressed to Visa CEO Alfred Kelly (pdf). The Republican signatories echoed the NRA's condemnation of the move as anti-Second Amendment.
"We write you today with grave concern regarding your implementation of a new firearm-specific Merchant Category Code (MCC)," the letter opened. "This implementation follows an equally concerning decision by the International Organization for Standardization (ISO) to create this MCC, which is an assault on the Second Amendment rights of law-abiding American citizens."
In the letter, Stefanik noted that two MCC codes already existed to catalog legal firearms sales, including one code for miscellaneous retail stores and another for sporting goods stores.
The push for the creation of a new firearm-specific MCC was led by Amalgamated Bank, which portrays itself as "America's socially responsible bank."
The bank, founded originally by trade union workers over a century ago, explained that the push for the creation of a new firearm retailer MCC code was "the result of nearly three years of research and partnership with issue experts at Guns Down America and Giffords Law Center and broad support from elected officials, pension funds, and others across the United States."
Initially, Amalgamated Bank's request for the creation of the new MCC had been denied by ISO in July 2021. After two appeals in October and November 2021, ISO still refused to allow the adoption of the new MCC.
ISO argued at the time that the new code would fail to capture firearms sales at sporting goods stores while placing an undue burden on smaller firearm retailers.
However, after continuing to push for the change, Amalgamated Bank was ultimately successful, with its push culminating in first ISO's adoption of the code and then Visa's.
Reportedly, the three largest card providers—Visa, American Express, and MasterCard—had been opposed to the scheme. In one statement cited by Stefanik in her letter, Visa argued that "asking payment networks to serve as a moral authority by deciding which legal goods can or cannot be purchased sets a dangerous precedent."
"We could not agree more," Stefanik wrote.
ISO's decision to finally yield to pressure from Amalgamated Bank, Stefanik continued, was an "apparent submission to the desires of liberal activists and politicians who seek to erode the Second Amendment rights of law-abiding American citizens."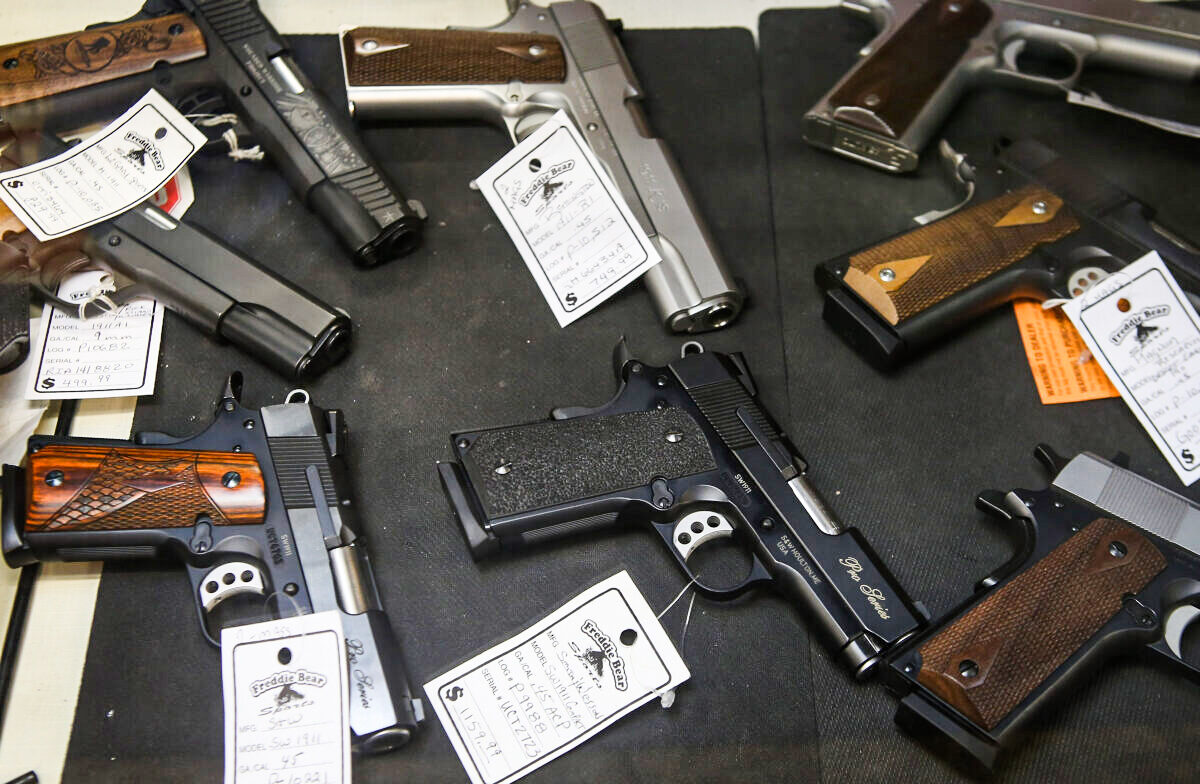 MCC Could Trigger Red Flag Petitions
Of great concern to Stefanik and her colleagues is the potential for Amalgamated Bank and others, through algorithmic software, to flag purchases deemed "suspicious" and carry out red flag law petitions to have the purchaser's firearms temporarily seized by the state. Red flag laws, which exist in several states across the United States, have long been criticized by conservatives and Second Amendment advocated for violating due process.
The move to flag gun sales, Stefanik wrote, "mirrors public statements from a myriad of liberal politicians who see this action as a first step towards further infringing on law-abiding United States citizens utilizing their Constitutional right to bear arms."
"Especially concerning," she added, "was New York Attorney General Letitia James' statement that, 'Credit card companies must now take the next step and flag suspicious transactions on gun and ammunition sales.'"
Concluding the letter, Stefanik and her colleagues argued that "there is no accepted, consistent, scientific, or legitimate way to determine from this data what is and what is not a 'suspicious' purchase. A gun control advocate could view any desire to own or obtain a firearm as per se suspicious.
"Instead," she argued, "this is a transparent attempt to chill the exercise of constitutionally protected rights and to circumvent existing legal restrictions on the creation of firearm registries by the government."
Stefanik and her colleague closed the letter with a series of questions for Visa's CEO.
Among these, Stefanik asked if Visa still opposes the new MCC as past statements indicate, as well as what specific standards and methods Visa will use to determine which purchases are and are not specific.
She also asked for Visa to explain how they would inform their customers of these changes, and whether customers would be informed if Visa sent their information to law enforcement for further action.
Stefanik also noted that "federal law contains multiple restrictions on the creation of a national firearm registry." Visa's move, she argued, "could be perceived as a bad faith attempt to circumvent those restrictions."
Bill Pan and Mimi Nguyen Ly contributed to this report.