Representative Matt Gaetz, a Florida Republican, is facing backlash from Parkland parent Fred Guttenberg over his "constitutional carry" tweet that he made on Saturday.
The GOP lawmaker took to Twitter on Saturday morning and tweeted: "Florida should be a Constitutional Carry state." His tweet has received 18,000 likes and over 5,000 comments as of Sunday afternoon.
Guttenberg, a common critic of Republican leadership, replied to Gaetz's tweet on Sunday and said, "No Matt, as usual you are wrong. There is no such thing as "constitutional" carry. You mean the dangerous permitless open carry…Florida may pass this, and more people will die because of it and because of you."
Guttenberg lost his daughter Jaime in the 2018 Parkland school shooting at Marjory Stoneman Douglas High School. The gunman, Nikolas Cruz, was sentenced to life in prison earlier this month after he was found guilty of murdering 14 students and three faculty members in one of the deadliest school mass shootings in United States history.
The tension between Gaetz and Guttenberg is not new, since the two have a rocky history. During a 2019 House Judiciary Committee hearing on preventing gun violence, Gaetz asked that Guttenberg and Manuel Oliver, another father who lost his child in the Parkland shooting, to be removed from the audience after they objected to his comments.
Oliver and Guttenberg spoke up when the GOP lawmaker changed the subject of the meeting from H.R.8, a bipartisan measure requiring background checks for all gun sales, to immigration instead.
Florida, a relatively gun-friendly state, has heard calls from Governor Ron DeSantis to make the state an open carry one. Open carry would allow citizens to visibly carry a firearm in public places. During a news conference in April, DeSantis promised to get a signature on the bill.
"We used to be a leader on the Second Amendment and now there are like 25 states that have done it," the governor said, The Florida Channel reported at the time. "I can't tell you if it's going to be next week or six months, but I can tell you that before I am done as governor, we will have a signature on that."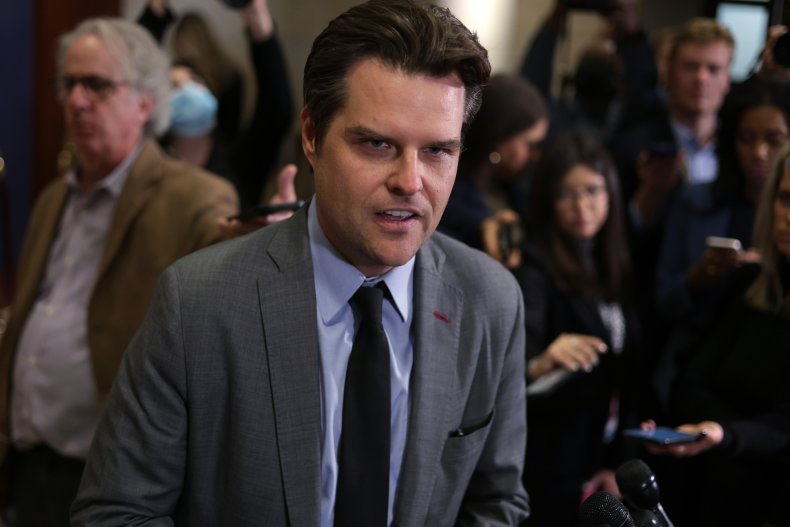 Florida attorney Jim Hattaway told Newsweek on Sunday, "Every year Florida legislators give the NRA something gun friendly. Since this is a gun friendly state, legislators want to make the NRA happy. Previously, Florida passed the bill for silencers on firearms. It is not surprising that open carry conversations have come around again. It is spreading like the plague."
Guttenberg has been a strong proponent of gun control and said after his daughter's death he dedicated his life to "saving lives fighting for gun safety in America." Guttenberg has championed "Jaime's Law" aimed at curbing gun violence through instant universal background checks for the sale of gun ammunition.