Alabama Representative Barry Moore, a staunch gun-rights supporter, is proposing that the AR-15 rifle should be the "National Gun of America."
"The #SecondAmendment is as American a right as freedom of speech, religion, & the press," Moore wrote on Twitter Tuesday evening. "Today I unveiled my bill to make the AR-15 the National Gun of America. We must send a message that we will meet every attack on any of our constitutional rights."
Along with the tweet, Moore shared photos of himself speaking with a gun shop clerk. AL.com reported that the store is in Troy, Alabama.
Congressional records indicate that the bill was first introduced by Moore on Friday, but the House has not received the full text.
If Moore's proposal were to make it through both the GOP-controlled House and the Democratic-controlled Senate, the AR-15 would take its place beside some of the nation's most coveted symbols, such as the U.S. flag that was approved by Congress in 1777.
The AR-15, a popular semiautomatic rifle, is often used by "hunters, competitors, millions of Americans seeking home-defense guns and many others who simply enjoy going to the range," according to the National Shooting Sports Foundation (NSSF).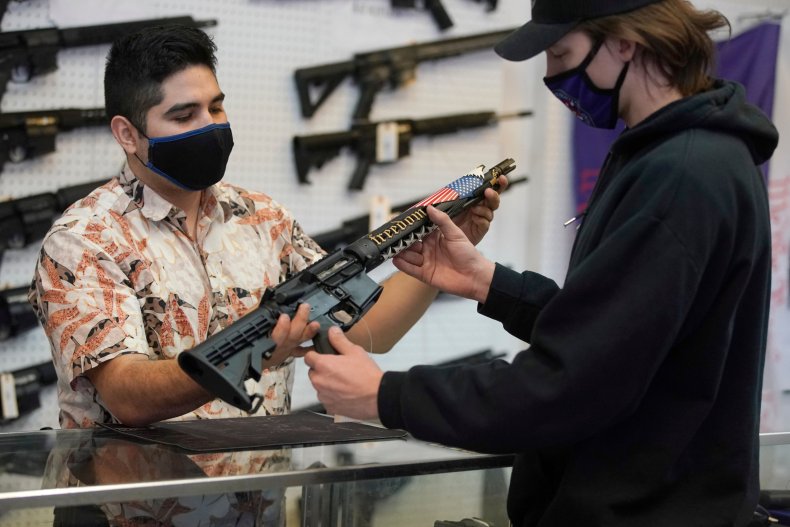 According to a May 2022 report from Insider magazine, there are around 20 million AR-15-style weapons "in circulation" throughout the U.S. In total, American citizens own around 393 million guns, a figure exceeding the national population.
Moore's home state of Alabama also ranks eighth in the nation for gun ownership, with about 55.5 percent of Alabamans owning firearms, reports the World Population Review.
Moore has been repeatedly vocal for gun rights in America, including receiving an "A" rating from the National Rifle Association in 2020. The two-term congressman was also one of 204 Republicans who voted against a package of gun-law reforms in June 2022.
Ahead of President Joe Biden signing the gun-control bill into law later that month, Moore released a statement saying that the bipartisan legislation was being pushed by "gun grabbers" who are getting "closer to their single-minded goal of eliminating the Second Amendment."
"The most fundamental job of a Congressman is to protect your liberties, and I take that duty incredibly seriously," Moore wrote. "An assault on one constitutional right is an attack on them all, and I will continue doing all I can to fight those seeking to seize power from the people and give it to the government."
Newsweek has reached out to gun-control advocacy group Giffords for comment.