The West Virginia House of Delegates voted 84-13 on Feb. 22 to approve a bill that prohibits the state's public colleges and universities from banning licensed gun holders from carrying their firearms on campus. 
With the West Virginia Senate already passing Senate Bill 10, the Campus Self-Defense Act, by a vote of 29-4 on Jan. 24, the legislation now goes to the desk of Gov. Jim Justice.  
Gov. Justice has not said publicly if he will sign the bill into law.
Second Amendment advocacy groups have thrown their weight behind the bill.  Leadership at several public universities in West Virginia oppose the act.
According to a Campus Safety Magazine report, in 2020, 11 states prohibited a ban of firearms on the campuses of public colleges and universities: Arkansas, Colorado, Georgia, Idaho, Kansas, Mississippi, Oregon, Tennessee, Texas, Utah, and Wisconsin.
Presidents from West Virginia University, Marshall University, West Virginia State University, Concord University, and Shepherd University oppose the bill. 
The National Rifle Association (NRA) and the West Virginia Citizens Defense League (WVCD) lobbied to legislature to pass the bill.
"Senate Bill 10 allows law-abiding carry permit holders to carry on the campus of a state institution of higher education," the NRA said in a release it issued after the West Virginia Senate voted overwhelmingly to back the bill.  "Current state law does not prohibit carrying of a defensive firearm on campus, but institution policy may lead to expulsion or termination of employment."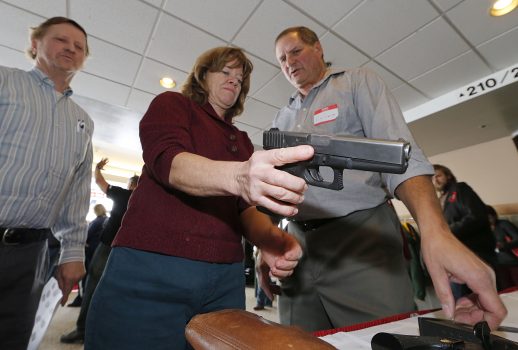 Senate Bill 10 contains several exemptions through which an institution of higher learning may continue to prohibit carrying a firearm on campus.
These exemptions include "an organized event taking place at a stadium or arena with a capacity of more than a 1,000 spectators," a "daycare facility located on a property of the state institution of higher education," and the "secure area of any building used by law-enforcement agency on the property of the state institution of higher education."
West Virginia University, while maintaining opposition to the legislation, also declares it will work with and act to accommodate the bill if it becomes law. 
"West Virginia University continues to believe local control is the preferred option, and therefore does not support statewide campus carry legislation," the university said in a statement on Feb. 21.