by Jeff Gross, contributing writer
Trout Season
Opening day of trout season is upon us. The last minute finishing touches of trout stocking are done as of today.
Taking Abby for a pre-season trout scout, we noticed there are some chunky fish out there.  At Carolina Trout Pond for example (see photo, above) the fish were en masse.  A large school of Golden Trout were at the south end of the pond.  Probably making easy targets for the Osprey. In the middle of Carolina Trout Pond other trout were jumping like playful Dolphins. Carolina is an excellent pond for families as 70% of the pond is shoreline accessible.
Most people today acquire their licenses to fish online.  Making multiple copies of your license is a great tactic. It can save much aggravation if one forgets the license at home and it is not realized until the hunting vest is donned, while the license is sitting on the nightstand at home. This saved a very annoying ride home to Tiverton and back again to Carolina Management Area. Since paper is about 1 cent per sheet, have a license copy in your tackle box, boat box, glove compartment, and a photo of it in your cell phone. A license on your cell phone is a legal method, however if your cell phone dies it is considered fishing without a license.  Charge it on the way to your favorite fishing hole. 
Going out in a kayak? Abby says wear your life Jacket. Mandatory PFD usage became law in March. Many boating regulations were enacted last month and will be addressed next week as there are some issues being voiced.  Since opening day tends to be crowded be aware of those on your flanks.  Be aware so you don't hook your neighbors, but also so you don't end up like the guy in the picture. That little incident cost $838 for removal. Some insurance companies do not cover the cost at all. It is amazing how the little incident pictured can have such a ripple effect across time. That hooking, though years before, led to an unforeseen positive encounter and outcome at the VA Hospital in 2023.  That story is for another day. 
A forecast of beautiful weather goes for the entire weekend. Wearing those sunglasses will help in spotting your bobbers and also keep from getting hooked in the eye. With the great weather, many will have their 5 trout, or 3 trout and 2 Atlantic salmon combination, in short order. https://dem.ri.gov/natural-resources-bureau/fish-wildlife/rules-regulations/freshwater-sizes-and-limits.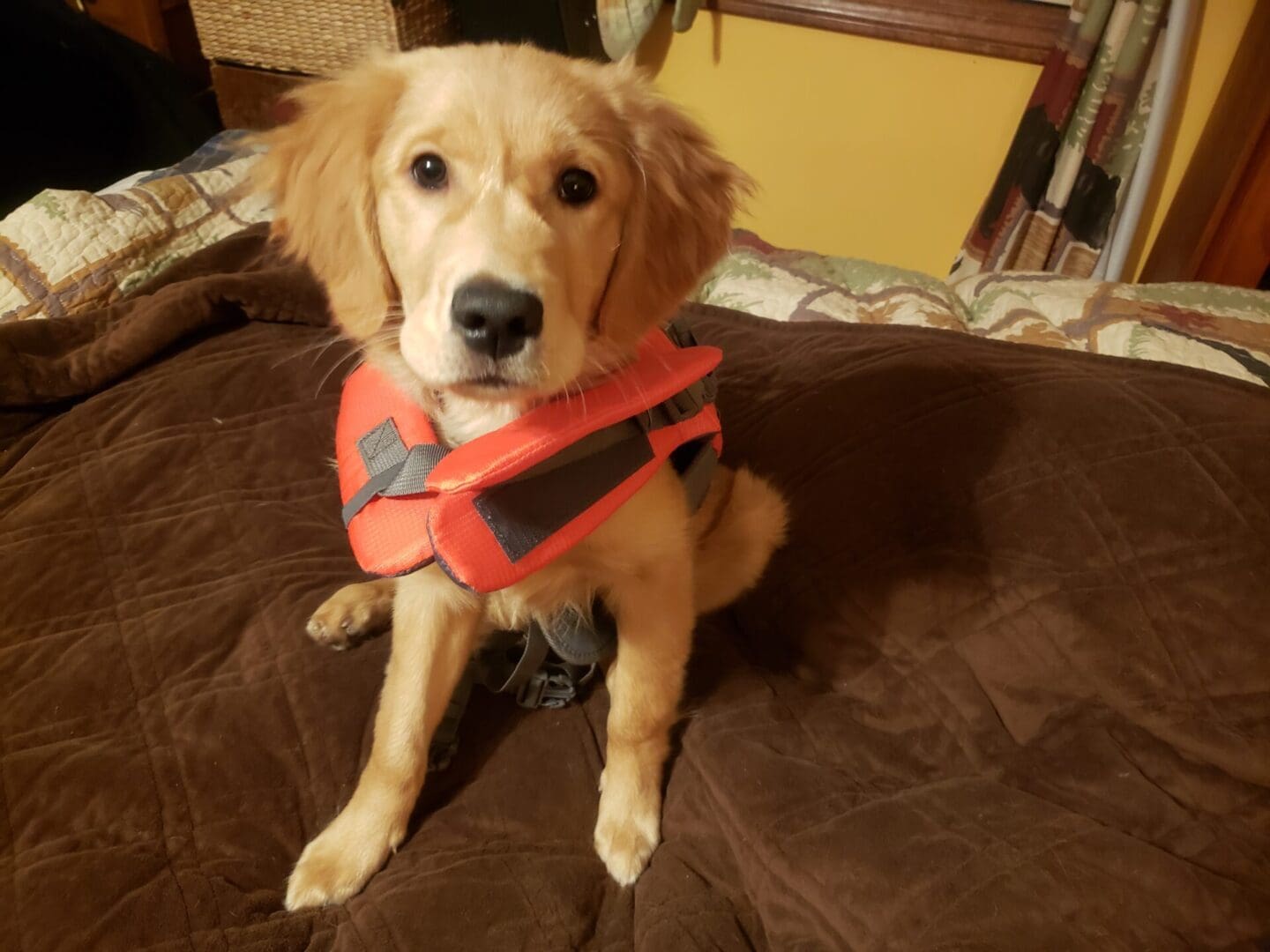 Easter Fundays
Gentlemen: Since your family was kind enough to tolerate you banging around at 3 am in an effort to head out the door to the trout waters, here is a great way to say thank you: head to Seven Cedars Farm's Easter Fundays. This wonderful event is being held at the farm on Saturday April 8th 11 am until 3 pm. Your spouses, and especially your little ones will appreciate the memories. Or, if the entire family is trout fishing in the morning the day can be capped off with an enjoyable trip to celebrate the holiday weekend. The event entails a wonderful hayride through the woods to the Christmas tree farm for an Easter egg hunt.  Have your youngsters keep an eye out for the rare Gold egg as there is a special prize that goes along with that egg.  A traditional Easter egg roll with a wooden spoon is part of the festivities and includes some wonderful prizes.
The weather is forecast to be awesome so don't forget to have your picture taken with the Easter Bunny who will make a special trip to the event. The photo taken in the beautiful sunlight will look great hanging on your living room wall. The admission is $5 per child and two accompanying adults are admitted free. Seven Cedars Farm is located at 20 John Mowry Road in Smithfield https://www.sevencedarsfarm.us/ – they are also on Facebook:  https://www.facebook.com/profile.php?id=100068630221056.  Mark your calendar for the other great events Seven Cedars Farm hosts throughout the year.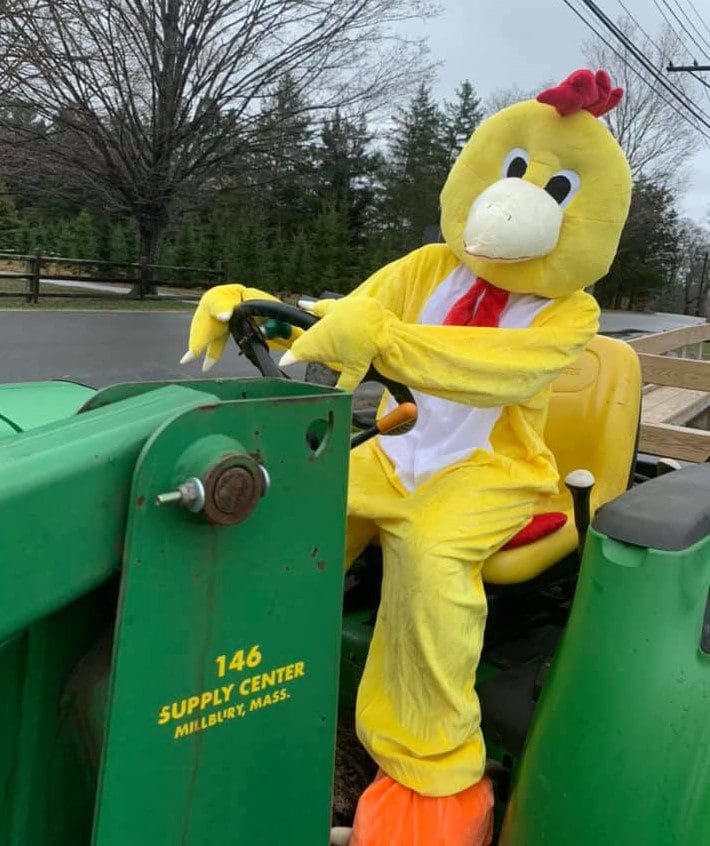 Turkey Hunting
A reminder to all people who fish and traverse the state management areas while fishing: From the 3rd Saturday in April until the last day of May: wearing Fluorescent Orange in a Hat and or a vest of 200 Square inches is required.  https://www.eregulations.com/assets/docs/resources/RI/23RIFW_LR.pdf.  This Law is due to the fact it is also Turkey hunting season. April 27th through May 21st, each hunter is allowed 2 bearded males in spring season, provided only one is taken on state land and the other is on private land. 
The 2023 seven-day youth turkey hunting season (ages 12-15) is open April 17-23. Participating youth must have either a junior hunting license (ages 12-14) or a resident hunting license (age 15) and a spring turkey permit. Junior hunters must be in the immediate company of an adult (21 or older) who holds a valid RI hunting license. The 2023 two-day paraplegic hunter turkey season runs April 22-23. Hunters must have a spring turkey permit and a permanent disability hunting license. This writer recently saw two different 30 bird flocks in southern RI back in February.  There were numerous bearded males.  It would be a choice (if one is able to call the males in) of which one would be most appealing served on the dining room table.  Last year 2 club members, Cara and also Jeff, below, had a great season.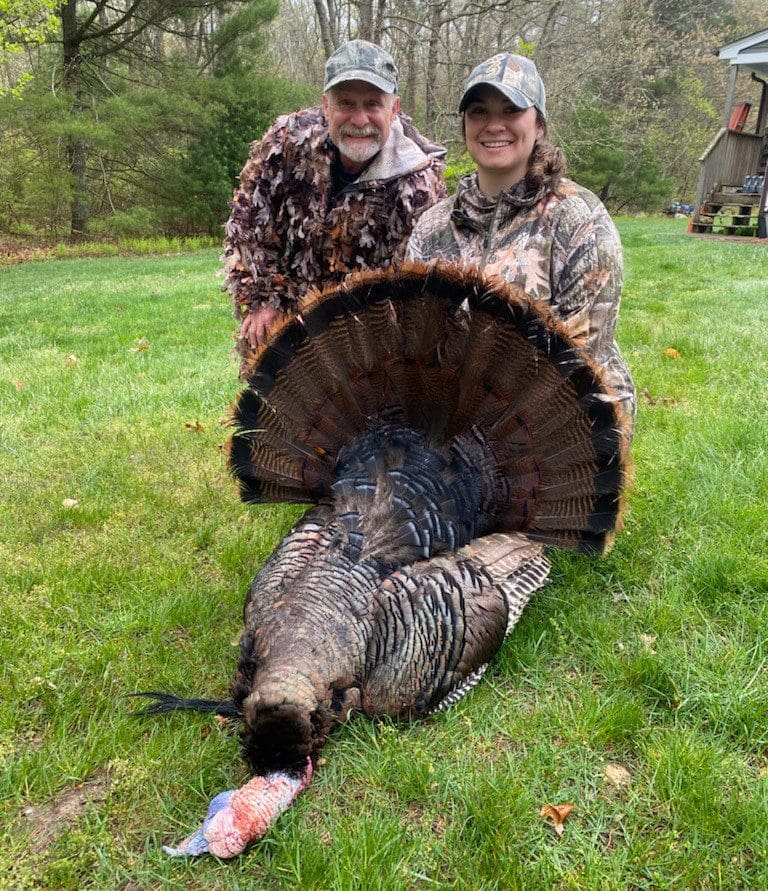 2A Community
There is a 2A article coming on April 13th. In the meantime I highly recommend following Facebook's RI Gun Owners. https://www.facebook.com/rigunowner.  The material is excellent, the page owner is professional and keeps an open mind about differing opinions in the 2A community.  Patrick is excellent on posting the very latest of 2A news often within minutes of their occurrence.
___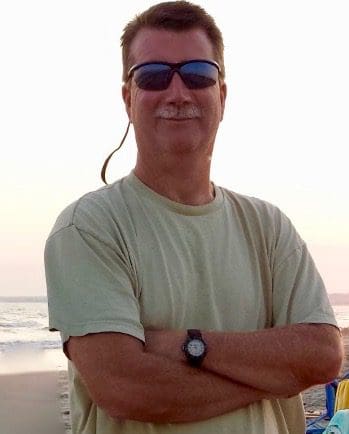 Jeffrey "Jeff" Gross spent 21 years as an Analytical Chemist at the USCG R&D Center in Groton, Connecticut, Woods Hole Laboratories, and Helix Technologies. Changing careers is a "great learning experience for everyone", Jeff says, and I'm an avid outdoorsman and conservationist, a student of the sciences, and the world. The US holds too many wonders not to take a chance and explore them".
Jeff is the Model Train and Railroad entrepreneur. Proud Golden Retriever owner. Ultra strong Second Amendment Advocate and Constitutionalist. "Determined seeker of the truth".  Jeff is a RIFGPA Legislative and Legal Officer, Freshwater Chairman, NRA Liaison.
His subjects include Outdoors, Second Amendment, Model Railroading, and Whimsical.