At least four people were killed, including a high school football player, in a shooting that erupted during a birthday party held inside a dance studio in the small town of Dadeville, Alabama, state police and local news media said.
More than 28 people were injured, some critically, during the shooting about 60 miles (100km) north-east of the state capital of Montgomery, authorities said. The shooting started shortly after 10.30pm on Saturday.
Law enforcement officers did not immediately say if a suspect was in custody or if investigators knew about any motivation. The police called for people to come forward with information.
"We're going to continue to work in a very methodical way to go through this scene, to look at the facts, and ensure that justice is brought to bear for the families," said Jeremy Burkett, a sergeant with the Alabama law enforcement agency, during a news conference on Sunday.
"We've got to have information from the community," Burkett said during a Sunday evening news conference.
President Joe Biden said in a statement on Sunday: "What has our nation come to when children cannot attend a birthday party without fear?" Biden called the rising gun violence in the US "outrageous and unacceptable", and urged Congress to pass laws that would make firearms manufacturers more liable for gun violence, ban assault weapons and high-capacity ammunition magazines, and require safe storage of firearms and background checks for gun sales.
Philstavious "Phil" Dowdell, a Dadeville high school senior who had signed with Jacksonville State University, was celebrating at his sister Alexis's party before he was fatally shot, his grandmother Annette Allen told the Montgomery Advertiser.
"He was a very, very humble child. Never messed with anybody. Always had a smile on his face," Allen told the newspaper, calling it "a million-dollar smile".
Dowdell's mother was among those hurt in the shooting. "Everybody's grieving," Allen said.
Pastor Ben Hayes, who serves as the chaplain for the Dadeville police department and for the local high school football team, said most of the victims were teenagers. Dowdell was within weeks of graduation and faced a bright future, Hayes told the Associated Press.
"He was a strong competitor on the field," Hayes said. "You didn't want to try to tackle him or get tackled by him. But when he came off the field, he was one of the nicest young men that you could ever meet, very respectful and well respected by his peers."
Hayes said worried families swarmed the local hospital on Saturday night trying to find the condition of their children. He said serious crime was rare in Dadeville, and the small city was "sad, traumatized, in shock".
This is at least the second time in recent years that multiple people were shot in Dadeville. Five people were wounded in July 2016 during a shooting at an American Legion hall, and a man was later charged with five counts of attempted murder, news outlets reported.
Investigators believed an altercation led to the shooting at the Mahogany Masterpiece studio, WRBL reported.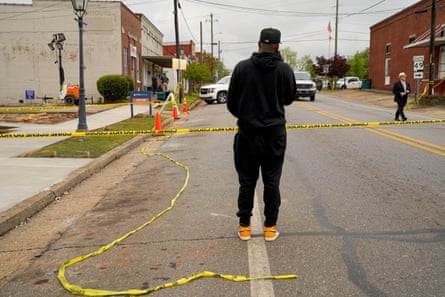 Jonathan Floyd, chief of the Dadeville police, said at a news conference: "What we've dealt with is something that no community should have to endure. I just ask for your patience. It's going to be a long process, but I do earnestly solicit your prayers."
More than 12 hours after the shooting, investigators continued filing in and out of the Mahogany Masterpiece dance studio on Sunday.
City and county officials milled about the Tallapoosa county courthouse less than a block away, where officials lowered the American and Alabama flags to half-staff.
"This morning, I grieve with the people of Dadeville and my fellow Alabamians," Kay Ivey, the governor of Alabama, said on Twitter.
"Violent crime has NO place in our state, and we are staying closely updated by law enforcement as details emerge."
In 2022 Ivey signed a bill into law that ended the requirement for a person to obtain a permit to legally carry a concealed handgun in public. The National Rifle Association (NRA) had lobbied for it.
In an ad for her re-election campaign last year, Ivey was shown withdrawing a handgun from her purse as she touted her gun-friendly approach, describing the second amendment as "sacred".
Alabama has the third-highest rate of gun deaths in the US, according to a 2020 report by Everytown, an organization that works to improve gun safety and end gun violence.
Biden asked what was wrong "when parents have to worry every time their kids walk out the door to school, to the movie theater, or to the park? Guns are the leading killer of children in America, and the numbers are rising – not declining. This is outrageous and unacceptable."
Biden called on Congress to "require safe storage of firearms, require background checks for all gun sales, eliminate gun manufacturers' immunity from liability, and ban assault weapons and high-capacity magazines".
The latest shooting comes as two people were killed in a shooting in Louisville, Kentucky, on Saturday night, days after a gunman shot and killed five people in the city. Associated Press reported that an unidentified suspect fired a gun into a crowd of hundreds in Chickasaw Park in Louisville, killing two people and wounding four others.
On Monday five people were killed when a man opened fire with an assault-style rifle at the Louisville bank where he worked. Eight others were wounded.
"This has been an unspeakable week of tragedy for our city," Louisville mayor Craig Greenberg on Saturday night. "On Monday, we lost five of our fellow citizens to a horrific act of workplace gun violence," Greenberg said. "And now, five days later, we're at another scene of a reckless act of gun violence."