INDIANAPOLIS, Ind.–Kerry Worthington drove almost two hours to deliver a message to the National Rifle Association (NRA).
"I believe that AR-15s should be taken out of society; there's no use for an AR-15 in our society," Worthington told The Epoch Times.
Worthington was one of several demonstrators across the street from the NRA's Annual Meetings and Exhibitions in the Indianapolis Convention Center. The gun rights organization has been a lightning rod for gun control protests. But this year, demonstrations at the April 14–16 event were peaceful.
Worthington is a business owner and former city councilman from Cass County, Indiana. He said he is also chairman of the "Indivisible Movement of Cass County." The movement's objective, he said, is to oppose former President Donald Trump, who had spoken to the NRA membership the night before.
He and seven protesters sat in the afternoon sun and held signs on the event's second day. He supports the Second Amendment, but said he doesn't believe all weapons should be legal.
"I cannot understand why anybody needs a weapon of war," Worthington said.
A female protester, who did not identify herself, agreed. She said she had spoken to one of the convention attendees who told her she used her AR-15 for hunting and self-protection. The protester was incredulous.
"I can't believe she said she was using that tiny little bullet," she said.
Most AR-15s are chambered in .223 or 5.56 mm calibers. The bullet for the AR-15 is the size of a .22 caliber bullet but is loaded with a larger powder charge so that the bullet will travel faster and farther. Many, but not all, states prohibit hunting deer with that caliber.
Worthington said the hotter round is not suitable for hunting.
"That would tear a deer apart," he said.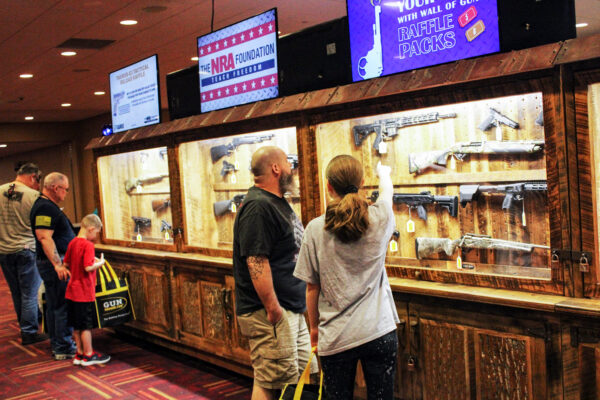 When asked why the turnout for demonstrations seemed so low, he said they were working in shifts to keep a steady presence during the event.
Earlier that day, according to Worthington, approximately 100 people lay down on the grass for about an hour at Hudnut Commons, a small park across from the convention center, to symbolize the children killed by gunfire this year.
On April 16, the gun control group 'Moms Demand Action' planned to place shoes in front of Christ Church Cathedral in Indianapolis to illustrate the same problem.
Worthington added that none of the local demonstrators wanted violence or to cause any trouble. He said they just wanted to send their message opposing the NRA and calling for stricter gun laws.
Worthington pointed out that Indiana is now a "constitutional carry" state. This means that anyone who can legally own a gun can carry it in public without a license. On the other hand, he pointed out that people must be licensed to drive and get married.
Why Not Require a Firearms License?
"If you have to have a license for everything else, why don't you have to have a license to carry a gun?" he asked.
The demonstrations in Indianapolis starkly contrasted the protests at the NRA's 2022 event in Houston, Texas. On the heels of the school shooting in Uvalde, Texas, thousands of protesters converged on the event shouting and confronting attendees. Some violent incidents were reported.
In the weeks leading up to the Indianapolis meeting, city leaders made clear there would be a strong police presence at the Indiana Convention Center, and violence would not be tolerated.
As Worthington spoke, five police cars were parked nearby, and one police car cruised the area.
Periodically, drivers passing by on W. Maryland Street would honk their car horns or shout obscenities from their windows. But no violent acts were reported.
Worthington said if violence had been threatened, he would not have needed an AR-15.
"I don't need it to protect myself because I can handle myself," he said.
The NRA had no comment, a spokesperson said.