As a young man, Justin Sneegas survived cancer and being hit by a semi-trailer truck.
What ultimately claimed his life a decade ago, aged 35, was gun violence. But to his family's shock, his shooter was acquitted of second-degree murder after mounting a defense using Missouri's "stand your ground" law.
"We couldn't believe it," Sneegas' cousin, Linzi Breckenridge, told Newsweek. "My family, we thought that it was obvious that this was a crime of passion."
Missouri is among 30 states since 2005 that have enacted "stand your ground" laws applicable in public places, according to the nonprofit Giffords Law Center to Prevent Gun Violence. Those laws, using what critics say is a "shoot first, ask questions later" model, allow anyone who believes their life to be in danger to use lethal force in an act of self-defense, without any duty to retreat.
Eight states without those laws permit people to use deadly force in self-defense with no duty to retreat, based on judicial decisions and other factors.
Six states—Florida, Kansas, Kentucky, Oklahoma, South Carolina and Tennessee—have provisions in their self-defense laws that prevent police from even arresting a person who claims they shot someone in self-defense.
Recent shootings—including that of 16-year-old Ralph Yarl—have put those laws back in the spotlight. Pro-gun groups such as the National Rifle Association say that they allow people to defend themselves and deter criminals. However, experts told Newsweek that "stand your ground" laws do not deter crime, but actually encourage violence, pointing to research that shows they drive up homicides in states where they are enacted.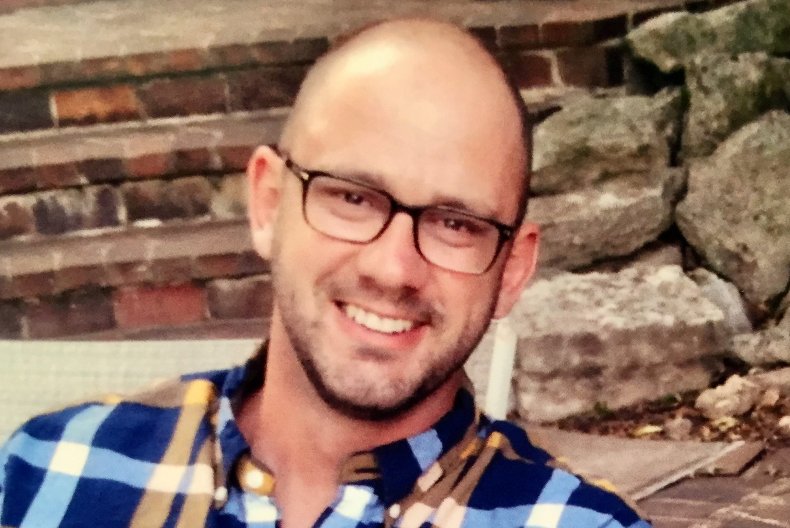 'Shot Naked, Unarmed, in a House He'd Never Been In'
Breckenridge said her cousin was like a brother to her. He was a man devoted to his family, a "fun uncle" and animal lover. "He was such a sweetheart. He had this huge heart," she said.
Every Sunday, he would be at his mom's house for family dinner. But on September 15, 2013, he never showed up.
In the early hours of that morning, Sneegas had gone home with a woman he had only recently met. They were lying in bed at her parents' home in Independence, Missouri, when just before sunrise, her boyfriend, Nick L. Cannon, then 28, arrived there with their four-year-old daughter.
Armed with a handgun, Cannon removed the key to the front door from the mailbox, and walked into the bedroom to find his girlfriend and Sneegas in bed shortly before 6 a.m.
Cannon later admitted shooting Sneegas after his girlfriend ran and locked herself in the bathroom.
Cannon said he opened fire after seeing Sneegas roll over to the side of the bed and grab something, according to a probable cause statement reviewed by Newsweek. Fearing for his daughter's safety, he said, he shot Sneegas three times.
He then kicked in the bathroom door, confronted Stevenson and fled the scene. Stevenson called 911, but Sneegas was pronounced dead in hospital later that morning.
Cannon later turned himself in. It was months before he was charged.
He couldn't describe the item that he said Sneegas reached for, but told police he knew that his girlfriend's parents kept a firearm in that room, according to the probable cause document.
He requested and was granted a bench trial, Breckenridge said, and the judge concluded that it was "reasonable" for him to feel threatened since he was aware that Stevenson's parents kept a gun in the room. Newsweek has contacted the judge for comment via email.
"Justin was shot naked, unarmed, in a house he'd never been in," Breckenridge said.
"It wasn't until the verdict came that we realized, 'Oh my God, he's going to be acquitted.' It really was just resting on the fact that Nick believed, he perceived that there was a threat… and because that was reasonable enough for him to fear for the life of him and his child, even though he was angry, he got a gun, he went to a house that wasn't his."
Newsweek was not able to reach Cannon for comment.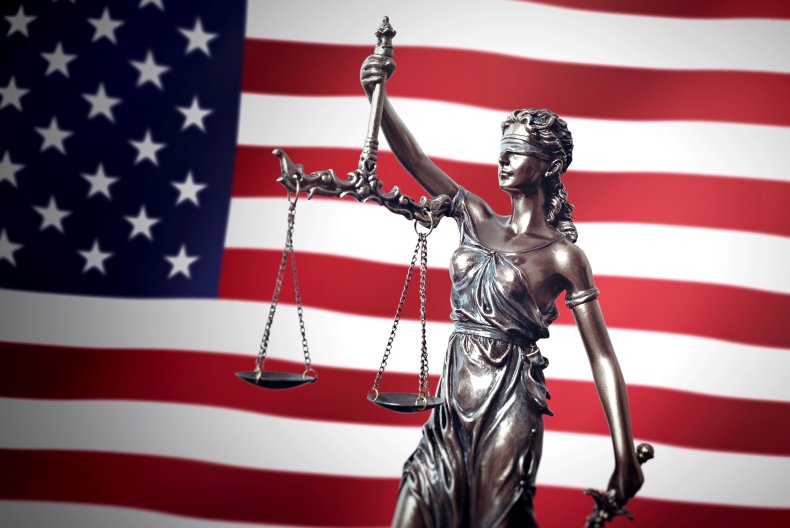 Ralph Yarl and the 'Castle Doctrine'
Breckenridge said her family are struggling to find peace knowing that the man who killed her cousin was not held accountable because of Missouri's "stand your ground" law.
Yarl's shooting has renewed debate about that very law, which allows a person to use force to protect themselves without having any duty to retreat. The 16-year-old Black teenager was shot at Andrew Lester's front door in Kansas City, Missouri, on April 13, after the teenager confused the address with the one where he was supposed to pick up his younger twin brothers.
Without saying a word, 84-year-old Lester, who is white, opened fire on the teenager, shooting him once in the head and again in the arm as he was lying on the ground.
Lester told investigators he was "scared to death" when he shot Yarl, thinking he was trying to break in—which may have laid the groundwork for a defense under Missouri's "castle doctrine" law as he faces charges of first-degree assault and armed criminal action. He has pleaded not guilty.
Missouri's "castle doctrine" law allows the resident of a house to shoot an intruder they believe is attempting to forcefully enter their home with the intent to cause harm.
Lee Merritt, an attorney for the Yarl family, said he believes that defense has little chance of success, noting that Yarl did not attempt to enter the home or pose any threat to Lester's safety. "He would first have to establish the 16-year-old boy he shot was a threat to his home or his property, and I don't think he'll be able to establish that," Merritt told reporters.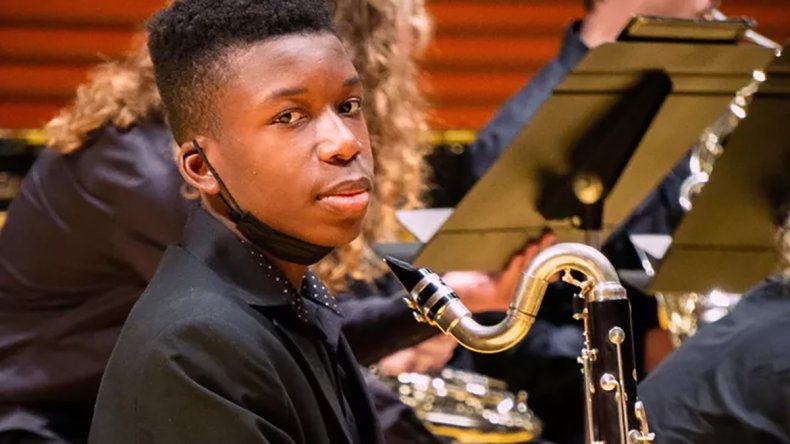 Legal experts told Newsweek echoed that sentiment, noting that Missouri's law states that the force used must be "reasonable" to the threat.
Lester "must have reasonably believed he was at risk of death or serious bodily injury when he shot Yarl," Neama Rahmani, an attorney and former federal prosecutor, said. "That is going to be a tough hurdle for Lester to overcome."
But the danger of "stand your ground" laws is that they "create this type of ambiguity" when it comes to what is deemed reasonable, Allison Anderman, senior counsel and director of local policy at Giffords Law Center to Prevent Gun Violence, told Newsweek.
"So for example, if you live in a dangerous neighborhood, and a Black person comes to your door, is it reasonable for you to be afraid?"
That "flies in the face of centuries of legal history and tradition," Anderman said.
She pointed to research that concluded "stand your ground" laws had made people less safe, encouraging violence and driving up homicides in states where they are enacted—both gun-related and not.
States with "stand your ground" laws saw an 8 to 11 percent in monthly homicide and firearm homicide rates, contributing to an extra 58 to 82 deaths a month, according to a study last year led by a team from Oxford University, the University of Pennsylvania and the London School of Hygiene and Tropical Medicine. It was published in the journal JAMA Network Open.
The largest increases in violent deaths—between 16.2 and 33.5 percent— were linked to the enactment of "stand your ground" laws in Alabama, Florida, Georgia, and Louisiana.
An earlier study by the same institutions and published in the same journal found that Florida's law—the state was the first to enact a "stand your ground" law by statute in 2005—was associated with a a 24.4 percent increase in homicide and 31.6 percent increase in firearm homicide between 2005 and 2014.
"The law increased both justified and unlawful homicide rates," Anderman said. "So stand your ground kills."
The Second Amendment Foundation says that such laws can "protect people from unjust, malicious or politically motivated prosecutions after they acted in self-defense." It is a view shared by many gun-rights supporters.
However, Yarl's shooting is not the only recent case that demonstrates the impact of "stand your ground" laws: he is among four unarmed Americans who have faced terrible consequences for making everyday mistakes.
Two days after Yarl was wounded, 20-year-old Kaylin Gillis was shot dead after a man opened fire on the car she was riding in after it mistakenly went to the wrong address while looking for a friend's house in upstate New York.
Then on Tuesday, two cheerleaders were shot and injured in the parking lot of a Texas supermarket by a man after one of them mistakenly got into his car, believing it to be her own. Adding to the disturbing trend, a Florida couple said they were shot at after pulling into the wrong driveway while delivering a grocery order earlier this month.
The race aspect of Yarl's shooting has led to his family's attorney and some civil rights leaders to call for Lester to be charged with a hate crime.
Clay County Prosecuting Attorney Zachary Thompson said there was a "racial component" to the case, but that Missouri's statute is considered a lesser felony than first-degree assault, and carries a less severe penalty.
That comment "was intended to convey the fact that he understands the racial components and context that surround a case like this," Alexander Higginbotham, an assistant prosecuting attorney in Thompson's office, told Newsweek. "However, on a strictly legal basis, there is not a racial element to the legal charges that were filed."
Higginbotham said Lester has been charged with an A felony charge, which is higher than a hate-crime enhancement could elevate a charge. "As such, there would be no way to attach a hate crime as an enhancement to these charges," he said.
The Link to Racist Violence
As well as encouraging the use of deadly force in situations that do not warrant it, Anderman says "stand your ground" laws do increase racist violence.
She pointed to analysis by the Urban Institute think tank that found cases with a white perpetrator and a Black victim were 281 percent more likely to be found justified than cases where both the perpetrator and victim were white.
"I think because of, essentially, the inherent racism in our country, people are more likely to think you were reasonable in being afraid of the Black person than the white person," Anderman said.
"And that's why these laws essentially let people get away with murder, and much more so of Black people because of this reasonableness standard."
Breckenridge noted how the cases of George Zimmerman—whose acquittal in the shooting of 17-year-old Trayvon Martin gave rise to the Black Lives Matter movement—and Kyle Rittenhouse—who was acquitted in the killing of two men and the wounding of a third during a night of protests in the summer of 2020—show how the system works in favor of those who say they acted in self-defense.
"We are just like let down every single time when this violence is excused," she said.
"When we look at the research and how these laws get applied when race is a factor, when gender is a factor, when sexual orientation is a factor, it is not protecting these vulnerable populations."
And that danger of such laws is further exacerbated when coupled with weak concealed-carry laws in a county where there are more guns than people. For instance, Missouri allows those 19 and over to carry a firearm, whether openly or concealed, without obtaining any kind of permit.
"We have had more Americans buying guns in the last few years because of fears related to the pandemic and the movement for racial justice," Anderman said. "And that fear is stoked by the gun industry that sells a narrative that everyone should be afraid at all times and that we need guns everywhere and anywhere, always to react."
Some states have weakened their gun laws so that people are allowed to carry guns in public without any training on when it is legal to use a firearm, she said.
"The result is people using guns offensively, not defensively, and thinking that they have a constitutional right to shoot someone at any mere provocation," she said.
Breckenridge said: "There's just kind of this this gaping hole and and just disbelief that we are prioritizing gun ownership over protecting people. Where our priorities have been as a country is very concerning and watching the level of homicides and suicides by firearm go up and up and up every year, it's really disheartening."
When people hear about what happened to Sneegas and how the person who killed him was allowed to walk free, Breckenridge said they find it difficult to believe.
"We see it in their faces, there's this feeling of well, there must be more to the story," she said. "And there's not. This is the danger of these laws."