In any technological advance there is a golden age in which, for pioneers and believers, remaking the world seems within their grasp. For social media, that moment was just over 20 years ago, when to digital evangelists it felt like a new generation of "citizen journalists" – bloggers – might create a connected utopia of transparency, sweeping away those crusty media "gatekeepers" who had – the theory went – so long kept us all in the dark. This imagined paradise was a place in which no one had yet heard of cat memes and dick pics and Andrew Tate; where anti-vaxxers and anonymous "patriots" still just wrote furious letters to editors in green ink in their bedsits; where likes and follows and trolls and gifs and pile-ons were not yet the stuff of life.
Ben Smith was in his mid-20s when the first wave of that revolution was breaking – "Bliss it was in that dawn to be alive, But to be young was very heaven!" – making his way as a political journalist in Washington and feeling the media landscape shift beneath his feet. Having been political blogger at the website Politico in the early days of that turmoil, he launched the newsroom of BuzzFeed in 2011 and established it as a credible and groundbreaking source of internet-only news, before leaving in 2020 to take up a role as media columnist of the New York Times. In April, having gone through successive waves of cuts and redundancies, BuzzFeed finally shut down its news operation. It felt like the end of an era.
It was also a perfect moment for Smith to launch a book – that stubborn printed "legacy format" that refuses to go away. Traffic: Genius, Rivalry and Delusion in the Billion-Dollar Race to Go Viral is an eyewitness account of that social media revolution in news, a rise and fall of the always-on empire. Speaking via Zoom from his home in New York last week, Smith agreed that it was now a story with a beginning, a middle and an end, but also one that had changed our world for ever.
In his book he argues that the key moment in that ancient history of 2003 was the realisation that news stories could not only be actively spread across the internet like viruses, but also that the attention they received – traffic – might be measured in real time. The two pioneers of this discovery, he suggests, were Jonah Peretti, back then a graduate student at the MIT Media Lab, and Nick Denton, a British journalist who had reported for the Financial Times in California during the dotcom boom.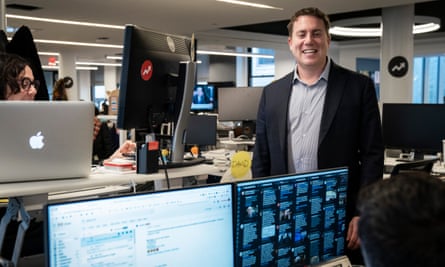 Both men were instinctive disruptors. Peretti had his first taste of internet fame in 2001 when he responded to a Nike promotion to customise sneakers by asking for the word "sweatshop" to be emblazoned on them. He tried to sell his email exchange with Nike corporate affairs to Harper's magazine; when it refused, he posted it on a blog and then watched, amazed, as it spread across his friendship network and then the world. Peretti bet his college friend $2 that he could work out precisely how to do that again. A decade later, his findings were valued in the hundreds of millions.
Denton's interest in the new possibilities of global sharing was a little different. He decided he would trade in that most lucrative of 21st-century commodities, gossip. Specifically, he would apply the techniques that the British tabloid press had applied to Hollywood – cruelty, intrusion, comedy – to the young plutocrats of the internet age. Gawker, a hub of gunslinging bloggers, was his attempt to "bring the news revolution to New York".
What followed for both men was, in Smith's absorbing account, both an extraordinary success story and a profound cautionary tale. Peretti's first experiments with "contagious media" suggested it could be a "power to the people" progressive social force: one early project was a crowdsourced campaign to block the National Rifle Association's attempts to overturn a ban on assault weapons. From such beginnings Peretti developed analytical tools that helped to show what made people share content: basically stuff that reflected well on them, about their idea of themselves.
His insights made him a natural hire for the socialite Ariana Huffington who, alarmed by the success of the rightwing news aggregator Matt Drudge (whose Drudge Report had come of age with the Monica Lewinsky scandal), wanted to create a liberal alternative. Peretti's skills helped to launch the Huffington Post, for a while the hottest news site going. His pioneering understanding of how stories might become viral "memes" quickly looked like gold dust to media and advertising executives used to relying on editors to tell them what people cared about, and his own site, BuzzFeed, followed soon after.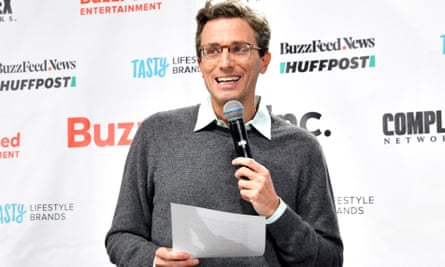 Denton was also interested in politics, though his ideal story, as Smith relates, "had always been to out a gay Christian Republican senator, and thus reveal rightwing hypocrisy in its most naked form". He learned from Drudge the idea of "stickiness" in an attention-deficit world, one of the currencies of things to come. He was "obsessed with a type of reader who opened the Gawker when they woke up and continued to go back to it all day".
To begin with, the Huffington Post and Gawker, and then BuzzFeed and Vice Media and others, seemed to have that playing field to themselves. Not only were mainstream news organisations such as the New York Times reluctant to embrace the idea that much of what mattered in public life now happened online rather than the corridors of power; they were blindsided by the speed of that change. Digital media could create instantaneous loops of news stories that fed on themselves. BuzzFeed was a place where users, not paid editors, could not just track trends, but "launch buzz". The greatest ever day on the internet, Smith argues, was 26 February 2015. It began with the viral news of two llamas that had escaped from a retirement home in Arizona and ran wild in live footage before they were apprehended by hapless humans. It ended with a request to BuzzFeed from a Scottish folk singer called Caitlin McNeill, who posted a picture of a dress worn by a friend's mother at a wedding. "Some people see it as blue and some people see it white, can you explain because we are going crazy?" The question, boosted by BuzzFeed's understanding of virality, received more than 4m answers. It was, Smith claims, "the last, greatest, totally harmless moment of internet culture".
---
Smith himself had come a little late to the party created by Peretti and Gawker and fuelled by Twitter and Facebook. He "was never a theorist" of the revolution, he says. "I was a reporter." But still, "it wasn't theoretical to realise that you could run circles around the legacy media by putting things on the internet… We definitely all had the kind of arrogance of feeling like we had struck oil." Working at Politico, he'd copied the new tone of Gawker, which told news as if it were always mid-conversation, without much context or introduction: "Not necessarily the cruelty, but the speed of it, the transparency… I think Nick Denton's core insight was that the American media was incredibly boring. There was an opportunity just to have more fun."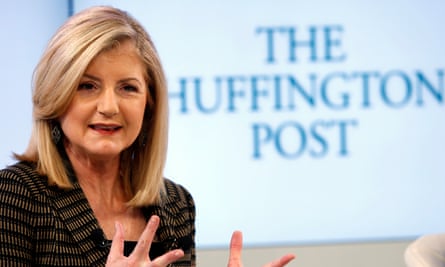 That race for traffic quickly became something of a race to the bottom. BuzzFeed was synonymous with "10 things you didn't know" listicles. Denton was not alone in realising that "bored office workers weren't clicking around the internet looking for articles about inequality", they were looking for pictures of celebrities, preferably naked. Smith pitched for the job of news editor at BuzzFeed with the idea that seriousness could also be sticky.
"BuzzFeed has the structure and the tone of a website that could be central to people's lives," he wrote. "But it's built on sharing everything BUT the big stuff." BuzzFeed News was born. Using Peretti's tools to measure real-time traffic to real-world stories, it felt for a while, he says, as though up to then "we'd been flying without instruments". It was the first true "dataset about what people are really interested in".
In his book, he describes well the cognitive shift that saw people outsource their attention to the device in their pocket for the first time. He recalls how "I spent my distracted days only half listening to the people I was talking to. What was happening on Twitter often felt more real than the person in front of me." Did alarm bells ring for him?
"Mostly," he says, "I kind of loved it. I mean, as a reporter, you had this incredibly close connection with your audience and to your sources. But yeah, I mean, as a father, there was a moment when my kid threw my BlackBerry in the toilet."
The effect of applying old news standards to new media was both exhilarating and problematic. "It was flattening," Smith says. "It's a medium that reduces every story to the same size." The "collapse of context" for stories became problematic, when memes and snippets were shared. "Inside conversations and in-jokes became offensive attacks on outside groups. There was this endless outrage cycle."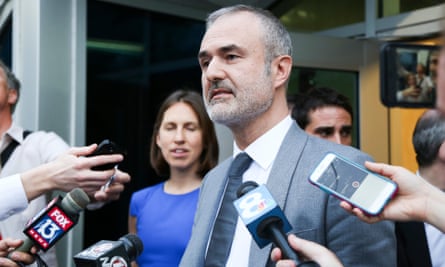 To begin with, Peretti and Smith – and Denton – believed they were leading that cycle. As it developed, however, they realised that there were other, larger forces at work. Looking back, he quotes a line from Tom Stoppard's play Rosencrantz and Guildenstern Are Dead: he and Peretti, he realises, were bit part players in a larger tragedy. "Where we went wrong was getting on a boat." BuzzFeed fell victim to the algorithmic leverage of Facebook and Google, which corralled advertising revenue; Gawker's test of free-speech limits was curtailed by one of its targets. The PayPal billionaire Peter Thiel, outed as gay by Denton's site, took revenge by bankrupting the site in a $140m lawsuit (in which Thiel secretly backed the wrestler Hulk Hogan's lawsuit against the site for publishing a sex tape he featured in).
Money became mesmerising. In 2014, with BuzzFeed traffic at 130 million unique visitors a month, Peretti turned down a $650m takeover bid from Disney, believing the company, yet to turn a serious profit, was worth more.
"In retrospect," Smith says, "we were crazy not to sell the company in 2014. Anyone reading that chapter goes out of their way to tell me that this is the stupidest business decision they've seen in their lives." The money was based on the prospect that the social news companies would inevitably eclipse older media giants. In fact, the New York Times and the rest began to learn their lessons.
"The whole ethos on which BuzzFeed News had been built had kind of lost its footing," Smith says. "There is a sort of a mundane issue which is that when you're a news division of a media company it's quite hard to get the attention of the advertising side."
The other issue was that the idealism of the original David versus Goliath pioneers was hardening into something more problematic. To begin with, Denton observed that bloggers of all political persuasions were in some ways united "in opposition to the stultifying mainstream media". The Huffington Post had surfed a wave of liberal optimism around the election of Barack Obama. Another of its original "traffic" pioneers, alongside Peretti, was a young coder called Andrew Breitbart, who had learned his skills on the Drudge Report. Breitbart, Smith shows, was among the first to demonstrate that the elements that made social media sticky and profitable – anonymity, division, anger – could easily be harnessed to different ends. Breitbart, Smith says, "would emerge as a kind of John the Baptist to Donald Trump, seeding the ground for a new media that would direct its anger at the media itself".
Smith was able to watch that constituency forming live. In the run up to the 2016 presidential election, Facebook allowed BuzzFeed to access its new data-monitoring tools, which analysed reaction to the candidates in the primaries. "It gave us this window to see which candidate people were talking about," he recalls. "And the answer was: only Donald Trump. One hundred per cent of the time. No one else was relevant at all. In the end," he says, "Facebook switched off the data feed because I think they were pretty uncomfortable with what they were finding."
Social media platforms "certainly became engines of division and conflict", he says. "Part of that was human nature. We are terrible in many ways. Part of it was the fact that they made engagement a core metric [in driving traffic]. They thought that onscreen engagement meant you were connecting meaningfully to a piece of content. But really what you might well have been doing was telling me to kill myself 17 times in the comment section. The algorithm read that as 'Wow, you're very passionate about this. Let's show this content to everyone …'"
Despite this fatal flaw he is, nevertheless, reluctant to suggest that the rise of rightwing populism across the world was a social media phenomenon. "I don't feel qualified to say that without social media the 2010s would have been a placid decade. I think partly journalists spend all their time on the internet, then think the internet is responsible for everything in society."
Smith left the New York Times last year to set up a new online news service called Semafor, which has none of the compulsive clickbait of BuzzFeed, and which plays its reporting straight. The post-social news era – with the growing interference of AI-generated content and fake news – requires, he suggests, above all, a certain level of humility; Semafor aims to be a place "that is not the single source of truth, but which brings in different points of view and doesn't try to settle every argument".
The potted conclusion of his book might read: be careful what you wish for. As he admits, the "social energy" that Peretti and Denton and others had hoped to harness had instead begun to "destroy any institution, from the media to the political establishment that it touched". There is, he argues, a new, urgent task for politicians and journalists and tech bros alike: to figure out "how to build [new institutions] that are resistant to the forces we helped unleash".