A Texas Republican has hit back at people who criticize lawmakers for sending thoughts and prayers in the wake of a mass shooting.
Rep. Keith Self appeared on CNN after a gunman opened fire at an outlet mall in Allen on Saturday afternoon.
In an appearance on CNN, host Paula Reid asked Self for his response to criticism that "prayers aren't cutting it" when it comes to preventing gun violence.
Self, whose district includes the site of the deadly shooting, replied: "Well, those are people that don't believe in an almighty God who, who has, who is absolutely in control of our lives. I'm a Christian. I believe that he is."
The shooting at the Allen Premium Outlets sent hundreds of shoppers and employees fleeing in panic. Authorities said the gunman, who has not yet been named, killed eight and wounded seven others before being killed by a police officer who happened to be nearby.
On CNN, Self told Reid that he was "absolutely" concerned about the rise of mass shootings across the country, before referring to "violence" in big cities including "the trashing of stores in Chicago."
He then went on to blame mass shootings on the closure of mental health institutions.
Self also said he "would like to stay away from the politics" and focus on the shooting victims.
"Prayer is powerful in the lives of those people that are devastated," he said. "I know people want to make this political, but prayers are important, and they are powerful in the families who are devastated right now."
Reid noted that it would be "difficult" for Self to stay away from politics as he is a politician and elected representative.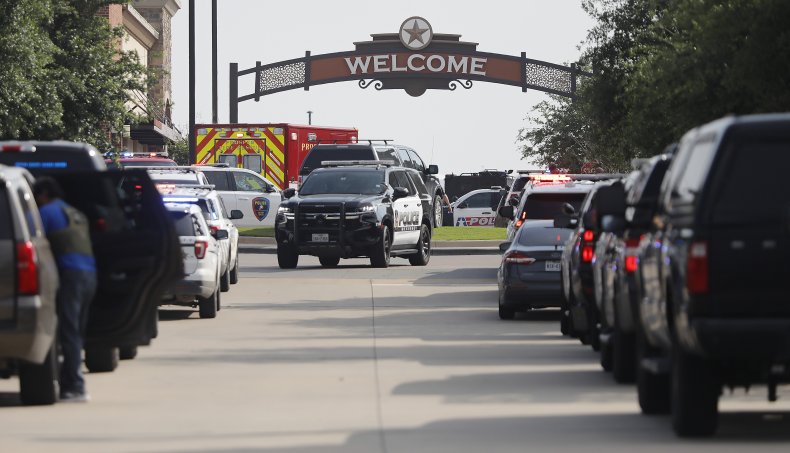 "Congressman, I believe it is possible to both pray for the victims but also think ahead as a politician, as an elected representative about how you keep your community safe," she said.
"We'll do that, but today, we are focused on the families and the victims, praying for them that they are comforted in their loss, in the tragedy that they suffered today," Self said.
Self garnered criticism for the interview after a clip went viral on Twitter, amassing millions of views.
"Dear @RepKeithSelf, please explain to me why an almighty God who is absolutely in control of our lives wants children to die of gunshot wounds. I have never understood this," journalist Helen Kennedy wrote.
Rachel Vindman, co-host of the Suburban Women Problem podcast, wrote: "This is infuriating. Then why wear seatbelts or take blood pressure medicine or safe drinking water? Let's just rely on the almighty to control our lives as they see fit."
Samuel Perry, a sociologist, wrote that Self's response was "just reciting the same list of diversionary talking points."
Perry added: "Responses like this aren't just cowardice. They're evil."
Bradley P. Moss wrote: "When your fealty to the NRA requires deciding that god wanted children to die today in a shooting."
Rep. Ted Lieu, a California Democrat, tweeted that the "GOP policy of doing nothing other than issuing thoughts and prayers has failed.
"We must pass universal background checks, a ban on assault weapons, a ban on pistol braces and other gun safety reforms into law now."
Earlier this week, Georgia Sen. Raphael Warnock called on Congress to take action after a mass shooting in his state.
"As a pastor, I'm praying for those who are affected by this tragedy, but I hasten to say that thoughts and prayers are not enough," he said.
"In fact, it is a contradiction to say that you are thinking and praying and then do nothing. It is to make a mockery of prayer. It is to trivialize faith. We pray not only with our lips, we pray with our legs. We pray by taking action."
Newsweek has contacted Self's office for comment via email.