Minnesota Gov. Tim Walz on May 19 signed into law a sweeping gun control bill that includes universal background checks and a "red flag" measure that lets law enforcement intervene if someone is deemed at high risk of injuring themselves or others with a firearm.
The gun control measures were folded into a broader public safety bill, SF 2909, which also includes funding for the Bureau of Criminal Apprehension to fight violent crime, imposes limits on no-knock warrants, and provides tens of millions of dollars in grants to community-based crime prevention efforts.
Walz, a Democrat, signed the bill after it was narrowly approved along party lines in the state Senate last week.
"As a veteran, gun-owner, hunter, and dad, I know basic gun safety isn't a threat to the Second Amendment–it's about keeping our kids safe," Walz said in a statement, calling the bill "common sense, life-saving legislation."
"There's no place for weapons of war in our schools, churches, banks, or anywhere else people are just trying to live their lives," he continued. He also said that signing the measure into law represents "meaningful action to create a safer future for our kids."
The National Rifle Association's Institute for Legislative Action (NRA-ILA) called SF 2909 a "kitchen sink" gun control bill for its sweeping provisions, including the red flag law that allows authorities to ask courts to grant what are known as "extreme risk protection orders" to take someone's guns away temporarily if they're deemed a threat to themselves or others.
"We strongly oppose these provisions, as they unfairly target law-abiding citizens without deterring criminals or improving public safety," the NRA-ILA stated.
Walz's decision to sign the measure into law was hailed by Gabby Giffords, a former Democrat congresswoman who became a gun control advocate after being shot in the head in 2011.
Giffords, who was present at the signing ceremony along with legislators and other gun control campaigners, gave a brief speech in which she called for more efforts to stop "gun violence."
"Stopping gun violence takes courage," Giffords said. "Now is the time to come together. Be responsible. Democrat, Republican, independent—we must never stop the fight."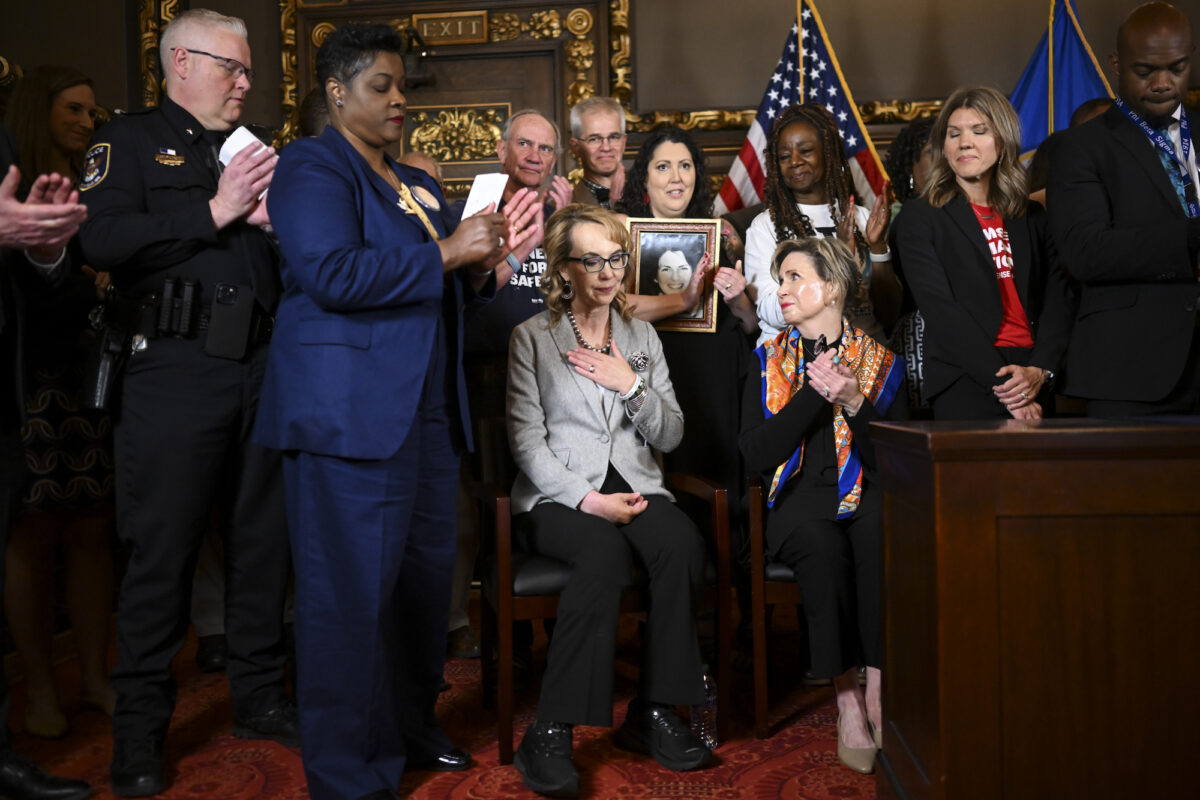 Opponents of the measure said that it infringes on the Second Amendment and will be ineffective at reducing crime or rates of suicide.
Rob Doar, a lobbyist with the Minnesota Gun Owners Caucus, told The Associated Press in an interview that the policies are more likely to criminalize "common conduct among peaceful gun owners" such as loaning firearms between friends or hunting partners than they are to affect the market for illegal guns.
"Really, it comes down to how these are applied," Doar told the outlet. "If we see a clear violation of somebody's due process rights, then we'll certainly take legal action."
The bill cleared the state Senate by one vote after Democrats gained a one-seat majority in the November election, giving them control of both chambers and the governorship.
Before the Democrats secured trifecta rule in Minnesota, the Republican majority in the state Senate blocked much discussion on gun control proposals.
With Walz's signature, Minnesota joined 19 other states that have implemented red flag laws.
More Details
The newly signed measure introduces a series of provisions meant to bolster public safety more broadly while targeting crimes committed using firearms.
Key provisions include red flag laws and implementing universal background checks for private transfers of pistols and semi-automatic weapons, with exceptions for hunting rifles and transfers between immediate family members.
The bill also allocates more than $43 million to the Bureau of Criminal Apprehension to fight violent crime, with funding for lab analysis capabilities, analytics support, and maintenance of partnerships with local law enforcement.
The measure also imposes restrictions on the use of no-knock warrants, stipulating their use only under specific conditions that present a potential threat of great bodily harm or death.
Other provisions in the bill include an investment of $87.2 million to modernize community supervision systems and a $70 million allocation for community-based crime prevention programs.
The bill also allocates $5 million in the coming fiscal year for the Intensive Peace Officer Education & Training Program, while providing $35 million over two years for juvenile-justice efforts.
"By signing a red flag law and universal background checks into law, we are saving lives and building a better, more hopeful future for our kids," Minnesota Lieutenant Gov. Peggy Flanagan said in a statement.
Last year, President Joe Biden signed the Bipartisan Safer Communities Act into law, providing financial incentives for states to adopt red flag laws while expanding the use of background checks.
Biden signed an executive order in March to further ramp up gun control.
In a statement on March 14, the White House touted Biden's efforts on gun control, stating that he had taken more executive action to restrict firearms than any other president at the same point in a presidency.