Maine legislative committees are scheduled to consider bills LD 1557, to allow concealed weapons on school property, and LD 1696, which would allow lawsuits against the gun industry from persons harmed by "abnormally dangerous" firearms.
While he supports one bill but not the other, John Merrill, president of the Pine Tree State Rifle and Pistol Association, doesn't trust the legislature to address Second Amendment issues adequately.
"Most of the legislators can't explain what an 'assault weapon' is," Merrill told The Epoch Times.
LD 1557 would allow holders of valid concealed weapons permits to carry firearms on school grounds. The Maine Joint Standing Committee on Education and Cultural Affairs will consider the bill on May 24.
State Rep. Reagan Paul, a Republican, sponsored the bill. Paul did not return a text message seeking comment.
According to the Maine Legislature website, 86 people have submitted written testimony about LD 1557. More than half are not in favor. The Maine Education Association, the Maine Chapter of the American Academy of Pediatrics, the Maine Principals Association, and the Maine Children's Alliance oppose the bill.
Most of the written opposition reviewed by The Epoch Times cited child safety. Merrill said that, based on recent events, safety would likely be enhanced by the presence of armed adults. Merrill said controls such as designating schools as gun-free zones and depending on school personnel to keep doors locked have not stopped attackers.
Referencing school shootings in Texas and Tennessee, Merrill said allowing concealed carry on school property should be only one part of an overall security plan, including hardening facilities and training school personnel.
"We can train teachers," he said. "We've tried everything else in schools so far, and it hasn't worked."
The Maine Joint Standing Committee on Judiciary will consider LD 1696 on May 25. State Rep. Rebecca Millett, a Democrat, sponsored the bill to allow lawsuits against businesses in the firearms industry for damages from the "sale of abnormally dangerous firearms."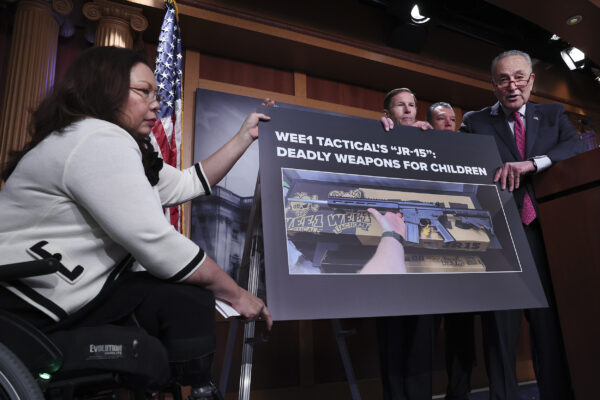 According to the bill, firearm-related products are considered "abnormally dangerous" if they are "most suitable for assaultive purposes instead of lawful self-defense, hunting, or other legitimate sport and recreational activities."
The definition includes products designed or marketed to promote the conversion of legal products into illegal products or those marketed to minors or other individuals who cannot legally access the products.
On May 23, 11 people submitted written testimony to the committee; 10 opposed the bill.
Millett did not return a call seeking comment on LD 1696.
Merrill opposes the bill for several reasons. He said the term "abnormally dangerous" is not clearly defined. He agreed with the National Rifle Association that the bill is an attempted end run around the Protection of Lawful Commerce in Arms Act (PLCAA).
The PLCAA was written to protect the firearms industry from lawsuits designed to hold gun makers accountable for crimes committed with guns.
Merrill said people hurt by defective guns can still sue gun makers for their injuries. He said Millett's bill would hold gun makers responsible for damages they did not cause.
According to Merrill, the proposed law is an emotional response to real tragedies. He said this law would set a precedent to punish other industries for the criminal misuse of their legal products.
"We could do the same thing with automobiles and liquor. We need to pass intelligent laws, not emotional laws," Merrill said.
"They put too much emphasis on the gun and not the loose nut behind the trigger."