CNN
 — 

The man accused of fatally shooting five people in Philadelphia on Monday night told police in sum and substance that he carried out the attack to clean up the neighborhood, two law enforcement sources told CNN.
Authorities are also investigating a since-deleted social media page believed to belong to the accused gunman, 40-year-old Kimbrady Carriker, that includes a series of posts about guns, the Second Amendment and the "loss of freedoms," according to a law enforcement source.
The most recent public post on the page was made at 10:49 a.m. ET Monday and showed a video advertisement for a tactical weapons accessories company. The video shows a man in tactical gear, holding what appears to be a military-style rifle.
In May, Carriker shared posts from pro-gun groups supporting former President Donald Trump and the Second Amendment. In June, he shared a mocking video of a speech by President Joe Biden and added his view that Biden was trying to "take our arms."
He posted on the same day, "The only thing more terrifying than blindness is being the only one who can see."
Also, other witnesses said Carriker had been exhibiting "abnormal behavior for quite a while," Philadelphia Assistant District Attorney Joanne Pescatore said at a news conference Wednesday.
Other people who lived in the same house "thought he was getting more and more agitated as the days were passing," Pescatore said.
There were seven other people living in that house with Carriker, according to Assistant District Attorney Bob Wainwright.
In a court hearing Wednesday, Carriker was arraigned on charges of murder, attempted murder, assault, reckless endangerment and weapons charges, and he was ordered held without bail. He was not required to enter a plea.
The details about the suspect's background come two days after he appeared to fire randomly along several blocks of southwest Philadelphia's Kingsessing neighborhood.
Officers arrested Carriker during a chase on foot, and he had an AR-style rifle, a 9 mm handgun, a scanner that tracks emergency response radio traffic and was wearing a bulletproof vest and ski mask, authorities said.
Wainwright said it appears only the rifle was fired during the rampage.
Investigators found a will written in the suspect's handwriting and dated June 23 when executing a search of his home, according to Wainwright. He said the will did not describe any plans to carry out the shooting, to his knowledge.
Investigators also found a .380-caliber handgun, ammunition and live rounds that matched ammunition found at the scene of the shooting, Wainwright said.
The shooting is one of at least 350 mass shootings in the US so far this year, according to the Gun Violence Archive. CNN and the archive define a mass shooting as one in which four or more people are shot, not including the shooter. In addition, at least three people died and eight were wounded in a shooting Monday night in Fort Worth, Texas, and two people were killed and 28 were injured in a shooting in Baltimore the day before.
Both the AR-style rifle and 9 mm handgun in Carriker's possession were privately made weapons known as ghost guns, Philadelphia Police Deputy Commissioner of Investigations Frank Vanore said Wednesday.
The firearms didn't have any markings and are not traceable, Vanore added.
Mayor Jim Kenney told CNN's "The Lead with Jake Tapper" that ghost gun confiscations have increased 300% in the past three years.
Kits from which the guns are made are sold online without the buyer needing a background check and without serial numbers on the parts, he said.
"This is like a level of insanity that no one should ever deal with," the Democratic mayor said.
On his Facebook page, Carriker posted pictures of armed protesters dressed as Black Panthers taken at a 2020 Atlanta protest. He posted that they were "exercising their first and second amendment" rights.
There was also a meme featuring photos of actor Wesley Snipes dressed as the vampire hunter from "Blade" and as the drag queen Noxeema from the movie "To Wong Foo, Thanks for Everything! Julie Newmar." Above Snipes as Blade, the caption read, "Me at BLM protest." Above Snipes as Noxeema, it read, "Me at pride."
The page has references to God and prayer posted in the last week, including a passage from the book of Isaiah posted by Carriker that begins, "I alone am the Lord, the only one who can save you." Another post quotes Nehemiah: "But we prayed to our God and guarded the city day and night to protect ourselves."
In one post, he complained about what he believed was a loss of freedom. And in a repost this week, he pinned a quote that read, "So often we accept the loss of freedoms in the name of safety. But we never feel any safer and we never get the freedoms back."
He griped in a June 20 about crime in the community. "During community patrols I have notice a big shame. So many of our 50 + 60 + 70 year old elders are influencing the youth negatively. They are without a doubt promoting and participating in robbing, prostitution, scamming, and murder."
There are also a slew of inconsequential and humorous memes.
The Philadelphia Public Defender's Office, which is representing Carriker, said it would not be commenting on the case at this time.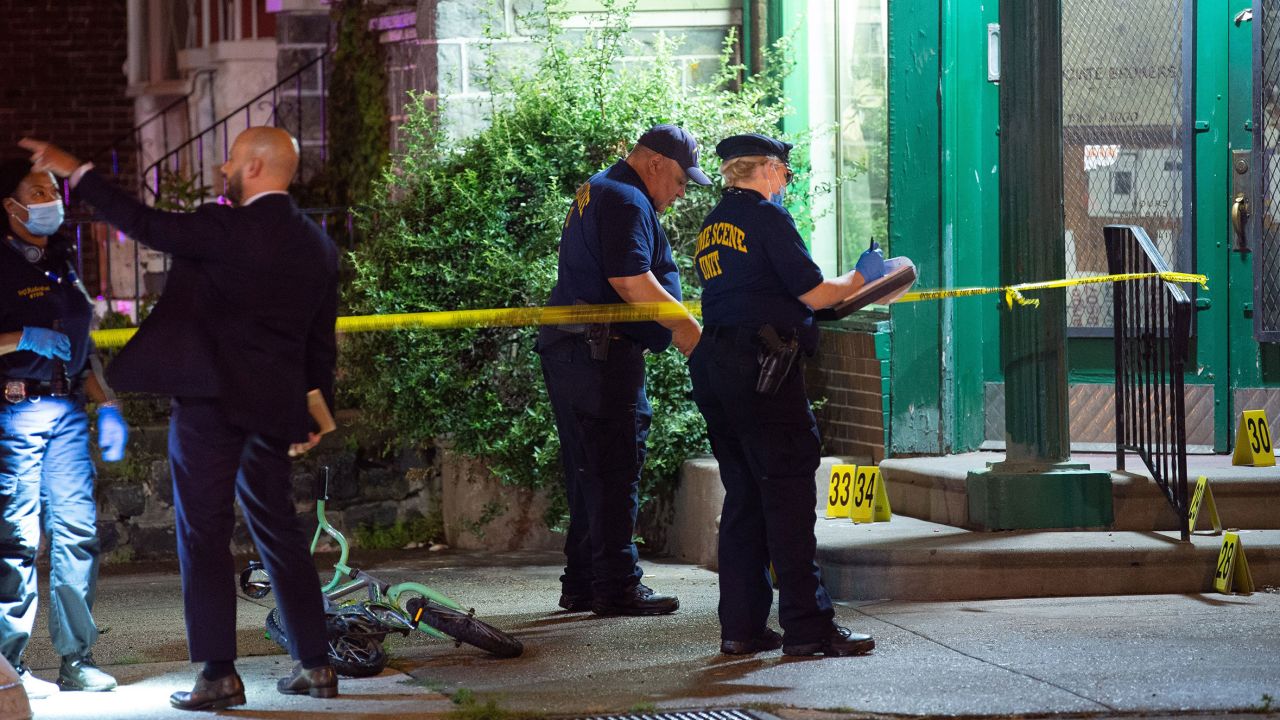 Killed in the shooting were Daujan Brown, 15; Lashyd Merritt, 20; Dymir Stanton, 29; Ralph Moralis, 59; and Joseph Wamah Jr., 31, police said. Wamah's body was found in a home early Tuesday, while the others were found Monday night, authorities said.
Two boys, ages 2 and 13, were shot in the legs and were in stable condition, police said. A 33-year-old woman and another 2-year-old boy were injured by glass, authorities said.
The two 2-year-old children are twins who were in a car with their mom when shots were fired at them, authorities indicated at a news conference Tuesday.
"On what was supposed to be a beautiful summer evening, this armed and armored individual wreaked havoc, firing with a rifle at their victims seemingly at random," Police Commissioner Danielle Outlaw said in a news conference Tuesday afternoon.
Carriker had a previous gun conviction, Philadelphia District Attorney Larry Krasner told CNN on Wednesday.
The shooting was a "random, premeditated deliberate killing carried out with an assault rifle," Krasner added.
"This was someone who set out to kill strangers which of course has become way too common in the United States," Krasner said. The suspect "appeared to have no connection to any of the victims," he said, and the victims did not appear to have connections with each other.
He said there was good reason to believe the AR-15 and other gun "may have been obtained illegally." The investigation into the legality of the gun will take time, he said, "partly … because the NRA has done a hell of a job trying to make it difficult for people to investigate the source of a weapon."
"He had a gun conviction back in 2003, and yet here we are looking at, you know, five people dead as a result of a mass shooting rampage, where he was well-armed and had another firearm back at his residence," Krasner added.
The district attorney's office initially referred to the suspect using they/them pronouns, based on information it had at the time, it said. The DA's office is now referring to the suspect as a male.
Marie Merritt is grieving the loss of the youngest of her five children – Lashyd Merritt – who was among those killed Monday.
Her son was heading to a store to buy a snack when he was shot, Marie Merritt told CNN affiliate WPVI.
"You took my son. You took my baby," she told the outlet. "He was my prize. He was my No. 1 prize, and he knows that. … I miss him so much."
Investigators believe Wamah, the victim who was found dead inside a home in Kingsessing, was the first person killed in the shooting, authorities said Tuesday.
Wamah's father found his body in a living room around 12:30 a.m. Tuesday, city police Chief Inspector Scott Small said.
Wamah had been shot several times, and responding medics declared him dead shortly after, Small said.