While the category of subcompact so-called "baby Glocks" such as the 9mm Glock 26 and the .45 ACP Glock 36 is a favorite, I wouldn't consider them to be true "pocket pistols."
Their so-called "Safe-Action" trigger design, though wonderfully conducive to fast and accurate shooting, is simply too much of a liability for holsterless carry.
Yes, handguns should ideally always be carried in a holster, but you never know when some sort of exigent circumstance and/or nonpermissive environment (NPE) might occur. Therefore, a double-action trigger is called for if one wants to choose a semi-auto pistol over a revolver where max concealability is the most important factor.
With that in mind, let's take a look at the 5 Best Pocket Pistols.
Beretta Model 21A Bobcat .22 LR/.25 ACP Pistol
As I've mentioned ad nauseam in multiple previous articles, Beretta, besides being the world's oldest gun manufacturer, is the world's oldest industrial firm of any kind. Besides the company's legendary Model 92FS/M9 that has served faithfully for 33 years as the U.S. Armed Forces handgun, Beretta has made its fair share of so-called "mouse guns," and the Bobcat is the newest and ultimate refinement of the concept, descended from the Beretta Model 950BS which in turn replaced the Beretta Model 418 that James Bond had carried before "M" (Admiral Sir Miles Messervy) forced Agent 007 to switch to the Walther PPK in Dr. No. 
As George Hill of the United States Concealed Carry Association (USCCA) notes, "It is just about as small as an auto pistol can get without being ridiculous. The magazine holds 7 rounds and you have an easy to use tip-up barrel to load the chamber so you don't have to work the slide. You tip the barrel up, load the chamber, and click the barrel locked shut again. Done. Your weapon is hot."
Massad Ayoob is a strong advocate of the tip-up barrel feature for the elderly and infirm who want to exercise their self-defense right but may be too compromised in hand strength to rack an autopistol slide or squeeze the heavy double-action trigger of a revolver. As for the puny .22 LR and .25 ACP caliber rounds, are they ideal for stopping power? Absolutely not—far from it! But, as the saying goes, "A hit with a .22 beats a miss with a .44 Magnum." 
Walther PPK .32 ACP (7.65MM)/.380 ACP (9mm Kurz)
Having already mentioned the Walther PPK in the preceding segment, that makes a convenient segue into its own space of this article. As already indicated, the gun is most famous for its usage by "The World's Most Famous Secret Agent," but the gun had already established a reputation for quality amongst military and police forces back in 1931. Available in .32 ACP, .380 ACP, and .22 LR, once again, they're not ideal for stopping power, but they'll do their part if the shooter does his/hers. The fact that the gun is still in production after 91 years is a pretty good testimonial.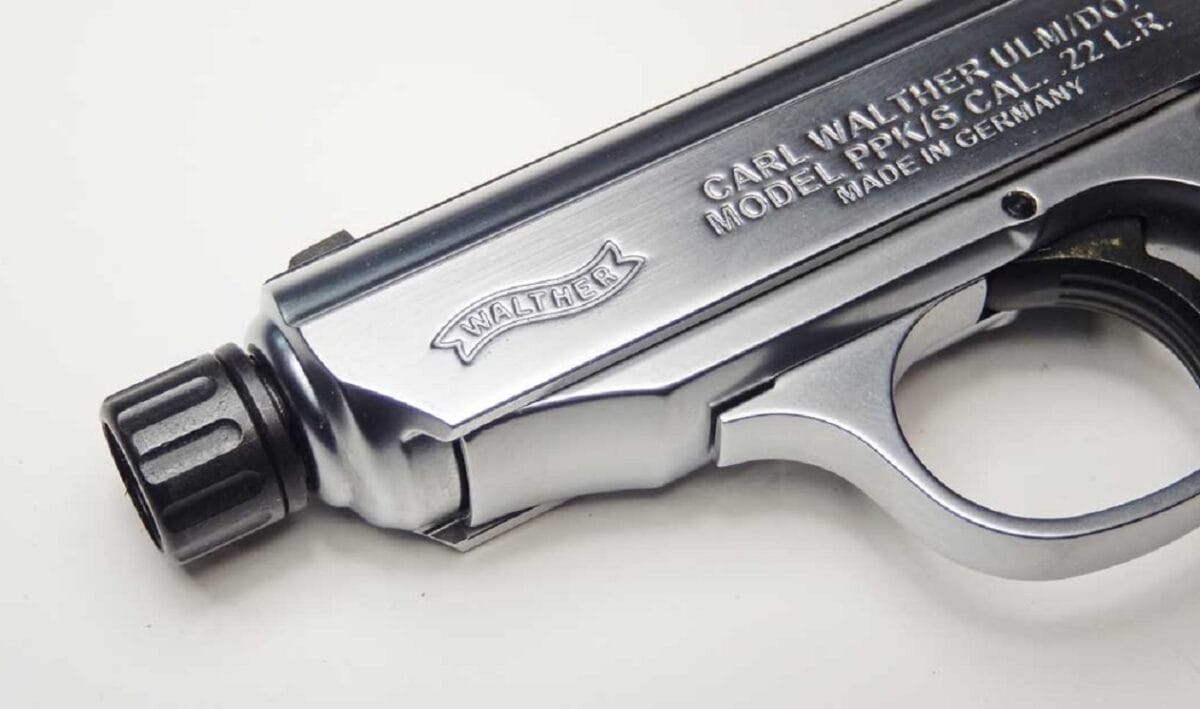 Back in 2005, Walther joined forces with all-American Smith & Wesson to produce the PPK under license. One major improvement with these "Smith & Walther" (so to speak) pistols is the more ergonomic grip tang, which better protects the web of the shooter's hand from the hammer-pinch and slide-bite that were the bane of older versions. I bought one – in .32 ACP as a proper tribute to Commander Bond of course – back in 2011 and found it to be a fine performer. 
Makarov 9x18mm
I have a sentimental attachment to the Russian Makarov – no "ballistic collusion" jokes please(!) – as it was my very first CCW pistol, purchased in October 2001. I've owned two different Makarovs in my lifetime (I eventually sold the Russian-made model and retained the Bulgarian-made one), and found them to be reliable, robust, and surprisingly accurate for a gun that was not meant for high-precision target work; 25-yard hard shots are readily obtainable with it.
The 9x18mm cartridge is arguably the most powerful cartridge one could put in a direct blowback pistol. Contrary to some wags' claims, the "Mak" is not a direct rip-off of the PPK; yes, they look somewhat similar, and yes, they both have a fixed barrel and an identical field-strip procedure, but they have different styles of magazine release, and their safety/decocking levers travel in opposite directions, not to mention the different calibers. 
The gun served as the standard issue sidearm of the Soviet/Russian armed forces for over 60 years, starting in 1951, and is still in use with the Ukrainian armed forces today.
Seecamp LWS .32 ACP
I've read and heard so many great things about the Seecamp that I just had to include it in the article. The gun hasn't been produced in large numbers, giving it an aura of Unobtanium of hideout pistols (and only slightly easier to find than hen's teeth). The gun has no sights, which reduces the likelihood of snagging. To quote one anonymous friend of mine lucky enough to own one, "It's a mouse gun that kicks like a mule, and it's definitely not fun to shoot. However, it's the best thing ever for concealed carry. I've carried it wearing a swimsuit and sarong."
SIG Sauer P230/232 .380 ACP
As my regular readers are aware, I'm not a SIG fanboy. But objectively speaking, they're definitely a time-honored brand with a well-deserved reputation for accuracy and reliability. By all accounts, the company's .380 ACP offering, the SIG P232 – and its predecessor, the P230 – lives up to that reputation. As the Sevengun website puts it, "When you do get to see one in person, especially the stainless model, it is striking.  All metal, well built, fits in the hand like it was made to be there … I think I will consider the P232 as a black tie CCW piece. Perfect for a night at the opera, or just the occasional date night with the wife."
About the Author
Christian D. Orr has 33 years of shooting experience, starting at the tender age of 14. His marksmanship accomplishments include: the Air Force Small Arms Ribbon w/one device (for M16A2 rifle and M9 pistol); Pistol Expert Ratings from U.S. Customs & Border Protection (CBP), Immigration & Customs Enforcement (ICE), and the Federal Law Enforcement Training Center (FLETC) Criminal Investigator Training Program (CITP); multiple medals and trophies via the Glock Sport Shooting Foundation (GSSF) and the Nevada Police & Fires Games (NPAF). Chris has been an NRA Certified Basic Pistol Instructor since 2011.  In his spare time, he enjoys (besides shooting, obviously) dining out, cigars, Irish and British pubs, travel, USC Trojans college football, and Washington DC professional sports.
From the Vault
The Second American Civil War Has Begun