The Supreme Court on Tuesday heard oral arguments in a case on domestic violence restraining orders and firearm possession, with the justices spending much of their time seeking clarification on how to define, refine and apply a Second Amendment ruling they made last year in the context of domestic violence and gun ownership.
The court's 2022 ruling, New York State Rifle & Pistol Association v. Bruen, set a new standard for gun regulation; writing for the majority in that case, Justice Clarence Thomas specified a need for a historical reference point from the time of the Second Amendment's ratification in 1791 for any gun regulation measure. 
This new standard is at the center of Tuesday's case, United States v. Rahimi, in which a Texas man is contesting a federal law that prevents him from possessing firearms because he is under a domestic violence restraining order.
In their brief submitted to the Supreme Court in advance of oral arguments, Rahimi's attorneys argued that the law in question is not constitutional because it unfairly strips certain citizens of their Second Amendment rights — and also has no legal precedent from the time of America's founding.
The big picture
Sabrina Talukder, director of the women's initiative at the liberal Center for American Progress and a former Legal Aid attorney, told The 19th she had three main takeaways from the morning's oral arguments. The first was that the justices and the attorneys were both confused about the parameters of the Bruen test, especially in regard to how far back in history it asks courts to find precedent. Justice Ketanji Brown Jackson went as far as to ask whether this historical test could apply to only colonial and foundational times, or whether post-Reconstruction Era history was also relevant, given the vast changes in terms of who was granted full rights as citizens. 
The second, Talukder said, was that a great deal of time was spent attempting to set a definition for a "law-abiding citizen" and the distinction with an irresponsible citizen, given that civil courts rather than criminal ones issue protective orders like the one in Rahimi's case. During this discussion, Justice Amy Coney Barrett read from the protective order issued against Rahimi directly, calling attention to the fact that he was instructed to stay at least 200 feet away from his partner and child because of the physical risk he was determined to pose to their safety. 
And lastly, Talukder stressed that it was the four women justices — Jackson, Coney Barrett, Elena Kagan and Sonia Sotomayor, all liberal except for Coney Barrett — who brought the conversation from the bench back to the realities of domestic violence and the way it proves so often to be fatal for women. 
Uniting all three of these key elements from oral arguments for Talukder is one through line: "The main takeaway that I'd want people to know is that the justices were unsure of how to apply their own test," she said.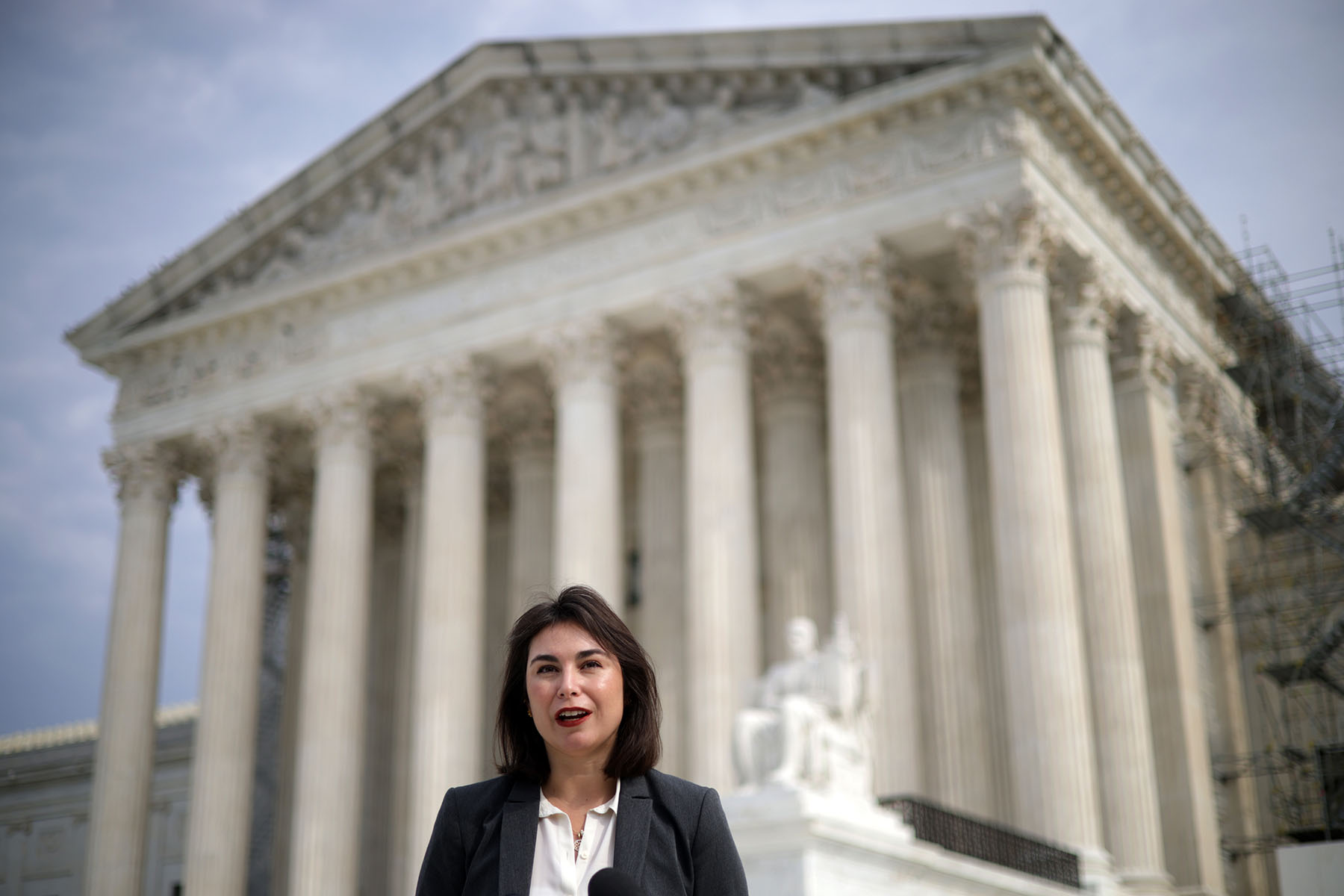 Defining history
Joan Meier, professor of clinical law and director of the National Family Violence Law Center at the George Washington University Law School, was in the courtroom at the Supreme Court Tuesday Meier said she believed that Kagan asked "the most important question of the morning," specifically requesting feedback from Solicitor General Elizabeth Prelogar, who represents the United States in front of the court, on how the court could clarify the historical test set by Bruen and what clarification was needed to avoid outlier results moving ahead. Prelogar asked the courts to look beyond legislative history for clear guidance for the lower courts to look for principles from history, not just laws that offer a one-to-one comparison; and also for guidance clarifying that when history is silent, this fact cannot be used as a presumption against the government. 
Nick Suplina, senior vice president for law and police at the gun safety law, policy and advocacy group Everytown for Gun Safety, agreed, telling The 19th that one of the main takeaways of the day was how clear it is that "several justices are frustrated with the Bruen test and how it's been applied."
Suplina said that Prelogar made clear her concern that lower courts are now seeking an exact historical twin law from the founding and also limiting the history they are consulting to regulate firearms. In doing this, she also stressed the impact the Bruen test has created, pressing some lower courts to find additional meaning in the absence of a "historical twin."
Jackson, from the beginning of oral arguments, "was pointing out the sort of absurdity of a historical test that goes to a time where so many citizens were denied basic rights," he said. "I think it was good for her to use her time and arguments that way."
Talukder said that since joining the Supreme Court, Jackson has "carved out a lane of redirecting historical frameworks" applied by the court, repeatedly asking for clarification about what time period is being referenced and calling attention to exactly who and who did not have constitutional rights then. "I think what she's doing is really strategic and it gets to the heart of the case that we cannot be historians, as justices," Talukder said. On Tuesday, Talukder said, Jackson drove home "the real crux of the case: that there is no domestic violence firearms ban from this time period. That's why Prelogar said so brilliantly that the absence of this regulation shouldn't be used to punish us." 
What it means to be 'dangerous'
On a call with reporters this afternoon, Esther Sanchez-Gomez, litigation director of the Giffords Law Center to Prevent Gun Violence, noted how neither the government nor any of the justices made any comments to undermine the public safety issues in this case. Sanchez-Gomez told reporters that Prelogar cited the statistic that women are five times more likely to be killed when a gun is present in the home during a domestic abuse incident and took great care to differentiate between the terms "law-abiding," "responsible" and "dangerous."
While pushing Rahimi's lawyer on what terms would need to be met to qualify a person as dangerous and in need of being dispossessed of their weapons, Chief Justice John Roberts pointed to the facts in Rahimi's case, saying, "Someone who's shooting at people. That's a good start."
"I did not hear any justice vehemently disagree with the idea that dangerousness is an important, important interest that was rooted at the founding — that a dangerous person can be denied access to a firearm," Suplina said. 
At one point, Justice Samuel Alito asked about more specifics about what it takes to issue a protective order, asking Prelogar if these are frequently "he said-she said" situations, resulting in a civil family court issuing a restraining order against both parties. 
"The government did a nice job of saying we have a presumption of regularity and of course we can't presume that [this process] is being done wrong," Meier said.
Thomas spoke less than his peers on the bench Tuesday, but when he did it was to echo questions raised in the amicus brief filed last month by the National Rifle Association (NRA). The NRA raised concerns about  the validity of using a civil order — with a lower burden of proof than a criminal conviction — to determine dangerousness. Thomas asked whether a "predictive" measure from a civil court should be held to a different standard than a criminal decision — and for clarification on the legal framework through which these civil orders are issued and to what effect. In talking with Rahimi's lawyers, Thomas flagged the ability of a civil protective order to determine dangerousness, asking for additional clarification. It was this question that prompted Coney Barrett to reference the order in question in Rahimi's case, and the amount of evidence the petitioner submitted for it. 
Talukder called Thomas' line of questions "an argument from the gun rights movement." 
"To me, that discussion today shows how much corporate gun lobbyists matter. It shows how much one amicus brief that was very, very recently filed has picked up so much momentum and that there was so much back and forth on this," she said. "There was, in so many ways, less discussion about domestic violence than there was about civil versus criminal proceedings."
Gender, domestic violence, and freedom
Crystal Justice, the chief external affairs officer for Survivor Justice Action, was at the rally outside of the Supreme Court with survivors and advocates Tuesday morning, listening in to oral arguments from there. As a survivor of domestic violence who has had to petition a court for a domestic violence protective order, Justice said it was important to know that many survivors do not file for a protective order until they are leaving an abusive relationship — which is often the most dangerous time for them. 
"Today during the rally, we heard from multiple survivors who told their story, where there had either never been physical violence or any threats of firearms until they let their abusive partner know that they're leaving," Justice said. "And that is when gun violence happens." Justice said she was able to get a protective order only after receiving a voicemail from her abuser threatening to kill her. 
Meier also called out the presence of the women on the Supreme Court bench, both in terms of the "degree of equality" they bring to the court and also the way in which "they were having none of this" in terms of the defense's argument that protective orders themselves are unconstitutional. 
"I usually feel that there are two sides on the bench, that there's some passion and people feel strongly on the bench and are pushing one direction or another. I did not get that feeling here. Not at all, not from anyone other than the frustration from Justice Jackson, about the [historical twin] test…There was really a sense of, 'We have to figure out how to do this, but there's not a battle here,'" Meier said.
Justice said she was relieved by the amount of attention on the question of the historical standard test raised by Bruen and the way that it made clear that "looking at a historical framework can be important, but it's not more important than the people's lives who are going to be at risk right now." On Tuesday, she said, she heard from the justices echoes of the reality that at the time of the Constitution's writing, laws "were not put together with women in mind. They were not put together with people of color in mind. They were not put together with the LGBTQ community in mind — and yet our lives matter today. If you think about what we do really stand for in this country, it is freedom."